At a Glance
Expert's Rating
Pros
Easy to use
Transfers more than just contacts
Cons
Both phones must be connected at once
The idea of upgrading to a shiny new smartphone sounds appealing … until you consider all of the data residing on your older handset. From the pictures and videos you've captured to the thousands of text messages you've exchanged, your aging smartphone is a virtual treasure chest. But Wondershare MobileTrans makes it a breeze to take most of those treasures with you when you move up the smartphone food chain.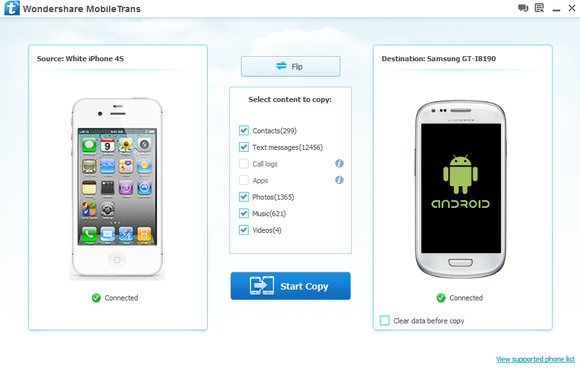 MobileTrans allows you to transfer content between Android, iOS and Symbian smartphones, no matter which network they run on, as long as you use a PC as a go-between. Syncing your contacts to a new phone can be easy, especially if you're using a service like Google to manage them. And iTunes can bring some of your old data to your new iPhone. But bringing over all of your other data, such as pictures, call logs, and text messages, is a challenge, especially if you're changing phone platforms.
With MobileTrans, you simply install the utility, connect both your source phone and destination phone, and you're in business. Both phones must be connected at the same time, which means you can't use MobileTrans to back up the contents of your phone and transfer them at a later time—so if you're planning to exchange an old phone for a discount on a newer one, you're out of luck.
But if you can keep both handsets for the transfer, you'll be pleased with just how easy MobileTrans is to use. The neat, clean interface makes it easy to see that your phones are connected, and the application walks you through any necessary steps you'll need to take—such as enabling USB Debugging mode on an Android phone—before the transfer can complete.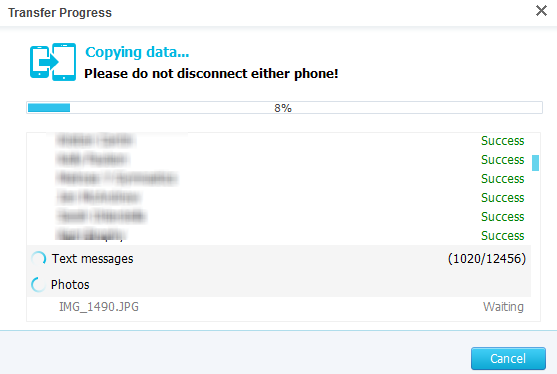 MobileTrans can transfer contacts, text messages, call logs, apps, photos, music, and videos between most phones. Apps, of course, can be transferred only between compatible devices, and MobileTrans is smart enough to block any incompatible moves.
The transfer can take some time, depending on how much stuff you're bringing over to your new phone. Transferring more than 12,000 text messages (!) from an iPhone to an Android handset took several minutes, and moving 1,350 photos took even longer…more than an hour. But the results were perfect: Everything showed up on the shiny new Android phone, as expected.
Using MobileTrans with an iPhone has some limits: the software can transfer text messages, contacts, music, and photos between those two devices. But when used with two Android handsets, those limits are gone: You can move all apps, music, videos, contacts, texts, pictures and call logs.
Wondershare has made a habit—and it's a good one—of releasing mobile phone utilities that are easy to use and make life just a bit easier. Its MobileGo application works well as a PC desktop tool for managing an Android device, and Dr. Fone recovers iPhone files you thought were gone for good. MobileTrans shares a family trait with these utilities: Until you use it, you never realized just how much you needed it.