Chrysler's Uconnect service bets that mainstream drivers will love connected cars—and the apps and services they deliver—enough to pay for the data plans they require. Uconnect debuted in the 2004 Chrysler Pacifica as a basic, hands-free Bluetooth connection, and it has been a mainstay in subsequent Dodge minivans and Chrysler sedans. The recently launched revamp of Uconnect is a digital hub that vastly improves on prior generations.
But it costs $20 per month after a free one-year trial. A Wi-Fi hotspot option costs $10 per day, $20 per week, or $35 per month. This is how it works for all automakers offering connected cars—mostly luxury brands—except Tesla, which offers free 3G in the Model S.
Is it worth it? We spent a week with Uconnect in a 2014 Jeep Grand Cherokee to find out. We used the built-in Yelp service to search for pizza joints. We tapped into a live weather map. We even downloaded an entire Hollywood movie. Some Uconnect services handled tasks better—or offered more features—than corresponding smartphone services do. We could get used to this kind of service. But it does cost money.
On the road with Uconnect
Uconnect's interface runs on an impressively responsive, 8.4-inch touchscreen. Along the bottom of the screen, you'll find buttons for radio, navigation, and the Uconnect apps. For now, the only apps are Yelp and Travel Link. Chrysler says more will become available in the coming months, including Pandora, Slacker Radio, Aha, and iHeartRadio.
Travel Link worked well. You can drill down through menus and see the latest scores for your favorite sports teams. You can obtain weather forecasts and even ski reports. When you check fuel prices, you get nearby stations and current costs per gallon. Travel Link is a fairly common add-on that you'll see in other SUVs like the Ford Explorer, as well as in premium sedans like the Lexus LS 600h.
Yelp worked like a charm when the Grand Cherokee was standing still. You can type in broad search terms like 'pizza' or 'parking' and see a quick list of nearby suggestions. The best feature: When you find a point of interest (POI), Yelp displays a quick call button and a map icon for getting directions to it. We searched for coffee shops and, a few minutes later, went to the drive-through at a nearby Starbucks. Slick.
With the vehicle in motion, Yelp was less successful. You control the app by voice as you drive, but most commands ended in failure. We tried to find a "sports store," but Uconnect thought we had said "eighty four" and accordingly changed the climate control to that temperature. Blast of hot air! A Jeep rep told us the voice control should have worked far better. We tried it at low speed with no road noise, and with other people's voices, without much success. We also waited until the voice prompt beeped as instructed, using the microphone icon on the display and the speech button on the steering wheel. No luck—but also no different from the struggles we've had with other cars' voice-control systems.
Wi-Fi quality wobbles in more remote locations
For Wi-Fi access, the speed varied considerably depending on where we drove. On a lonely country road, webpages crawled down the iPad in slow motion. In an urban area, sites popped up much faster. Downloading Iron Man 3 from iTunes took about 3 hours. For the same price, however, you could easily add hotspot service to your smartphone.
The Uconnect Assist feature somewhat resembles OnStar. You press the Assist button on the rearview mirror to talk to an adviser. If you request roadside assistance, you'll be connected to an agent who can help you get a tow. There's also a '911' button for emergencies. Unlike OnStar, however, Uconnect Assist doesn't connect you to an adviser who can place a phone call, aid in an emergency, call the police, or send you directions.
Uconnect offers a basic Web portal for accessing the vehicle. Once you add the VIN number at MoparOwnerConnect.com, you can check the actual mileage, look for part recalls, and check the maintenance schedule for things like an oil change or an air filter replacement. The DriveUconnect.com site keeps you posted on the status of Uconnect services—such as when (or if) they add the Pandora app—not that I'm waiting or anything.
Uconnect's Access features include an app that you can use to lock or unlock the car, or sound its horn. Another, called Voice Texting, can read your incoming text messages. You can choose a canned response (such as "Call me back later") or dictate something. Unfortunately, the service uses Bluetooth Message Access Protocol. The only phone we had that works with that voice-texting service was the HTC One smartphone on the Sprint network.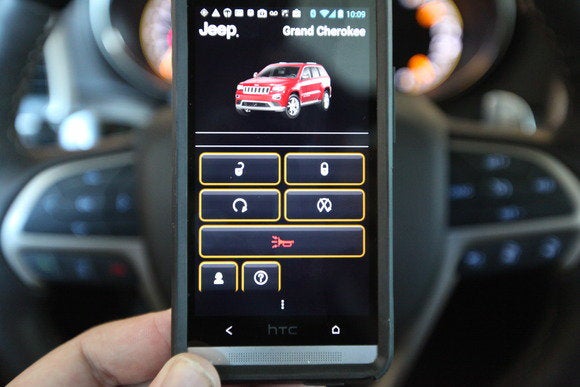 For the most part, Uconnect worked reliably. But at $20 per month, it costs about a buck more than OnStar while offering slightly less extensive emergency services—and the Wi-Fi hotspot costs yet more.
"Drivers in general do not want to pay," says Luca DeAmbroggi of IHS. The only services that customers seem willing to pay for, according to DeAmbroggi, are essential data such as traffic information and gas prices. But the idea of buying a data plan for your car is still new enough that he saw room for experimentation. "Several business models will be used," DeAmbroggi expected: "freemium [offering a free limited service and a fee-based upgraded service], pay as you drive, or spot-based service, such as for POI."
The apps may be the thing
Future apps and services that are currently in the planning stages could justify Uconnect's subscription cost, if those apps prove to be compelling alternatives to their smartphone versions. The Yelp functionality in Uconnect shows how a car-centric app that integrates with the navigation system can work better than a phone-based Yelp that doesn't know it's in a car. The pace of app development for cars remains glacially slow, however. By the time Uconnect adds the apps it promises (did I mention Pandora?), there will be newer apps to tackle. Chrysler and the other automakers have a thankless task ahead of them as they ramp up their app ecosystems—but no one will pay anything unless they do.