As our digital lives shift more and more to the cloud, more and more of the Web merges into the desktop. Consider the humble Web browser: Once a mere renderer of static HTML, today's browsers come chock-full of capabilities that can transform webpages into something downright desktopian.
Think I'm laying it on thick? Check out these eight killer features found in modern browsers and see for yourself. Fair warning: When you're done, any preconceptions you have about the impossibility of living life in a browser may well be shattered.
Killer 3D graphics
Say goodbye to the colorful two-dimensional sprites of Maple Story. Today's browsers take full advantage of hardware acceleration and the powers of WebGL—a JavaScript API that lets your browser tap your graphics processor—to deliver robust 3D graphics with minimal hiccups and no plugins (assuming, of course, that your Internet connection is up to the task). Check out the Internet Explorer test drive page (especially Hover!), Google's Chrome Experiments (especially Cathedral!), or this nifty in-browser demo of the classic Quake 3 to see what WebGL and its brethren can do.
Firefox, meanwhile, has recently been focusing on a JavaScript subset dubbed asm.js to turbo-charge its graphics. That endeavor has been so successful that the popular Unreal Engine now plays nice on the Web, as beautifully evidenced by Epic's gorgeous "Citadel" demo.
Face-to-face communications

Forget the Skype app, too. Chrome, Firefox, and Opera all support the WebRTC API, which can deliver real-time voice and video chats and peer-to-peer file sharing in-browser via everyday HTML5, without the need for pesky plugins or desktop programs. You can see a demo of it below.
A lot of folks are excited to see WebRTC become commonplace, but its widespread support among browsers is still fairly new. If you want to try the tech out for yourself, head over to talky.io for a free demonstration. (You'll need a buddy—or at least another PC—to play along.) Webmasters can head to WebRTC for info on how to add the cutting-edge protocol to their sites.
Native video playback
Speaking of ditching plug-ins and discrete programs, websites can now natively play video using HTML5, which could one day render Windows Media Player and Flash superfluous. Some big names are on the native bandwagon: YouTube offers an optional HTML5 mode, while Netflix leans on the language in Windows 8.1's Internet Explorer 11 browser—and that browser alone.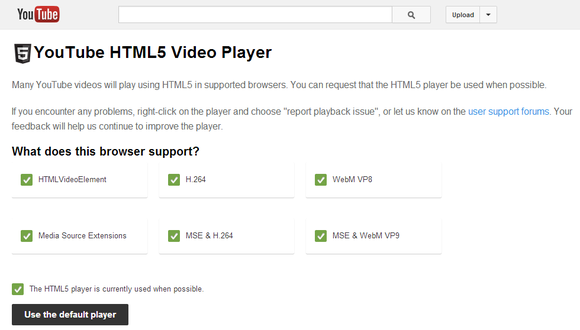 Why the cold shoulder to all the other browsers in the land? Simple: HTML5 has no official media-protection support. The World Wide Web Consortium is working to change that with a new Encrypted Media Extensions addition, however—and it's doing so over the howls of the Electronic Frontier Foundation and Internet activists who loathe the idea of adding DRM to an open standard. IE 11 got the early Netflix nod because Microsoft included a yet-to-be-official implementation of EME in its PlayReady DRM.
Drag and drop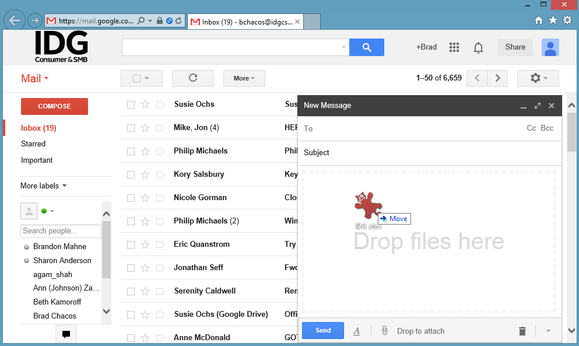 Dragging and dropping files—what's more desktop than that? Compiling source code, maybe. But while your browser may not be able to roll its own binaries just yet, it can let you drag local files into online webpages, thanks to some behind-the-scenes HTML5 magic. Watch the lines between online and offline blur as you drag and drop files into Google Drive, Imgur, your Facebook status, or email messages that you compose in Gmail or Outlook.com.
Notifications
For websites that want to get really fancy, Chrome and Firefox support the ability to push desktop notifications to users, popping up little windows in the lower-left corner of the screen. Users have to grant explicit permission for the feature, and few websites take advantage of it—but for the websites that do, it's a handy way to stay on top of things when you have a gajillion tabs open.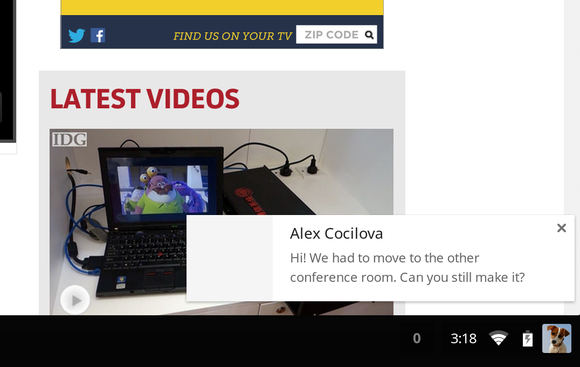 I've allowed Gmail and the HipChat website to push notifications to my desktop, and doing so has made my workdays easier. Rather than opening their respective tabs whenever new messages arrive, I just glance at the notification and continue on my merry way.
Edit docs, images, and more
Need a decently robust photo editor? Try the amazing Pixlr. Tune-twiddlers can perform basic tweaks with a website like Soundation or TwistedWave. When the boss comes a-calling, you can get docs, spreadsheets, and more done in Google Drive or Microsoft's Office Web apps, both of which also offer real-time collaboration. And did I mention Prezi's awesome presentation-making capabilities?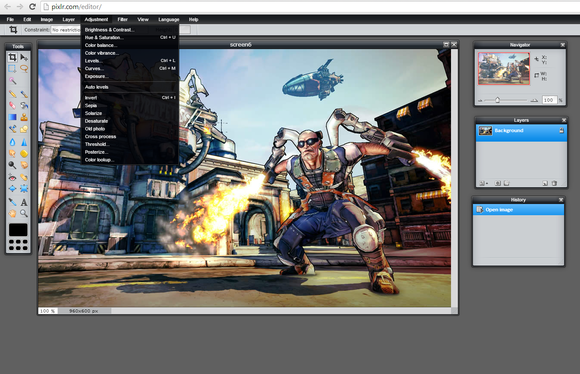 Web apps used to be ho-hum also-rans that played second fiddle to tried-and-true desktop software. No more! The growing power of the Web makes all but the most demanding tasks doable in-browser.
Work offline
"Pfah," I hear you pfahing, "Get back to me when these supposedly wonderful Web apps work without an Internet connection." Consider this your wake-up call.
Google now enables offline functionality for all sorts of apps in its Chrome browser. The entire Docs suite lets you view files offline—after some prep work—and you can even edit documents, spreadsheets, and drawings sans connectivity. Gmail can work offline, too.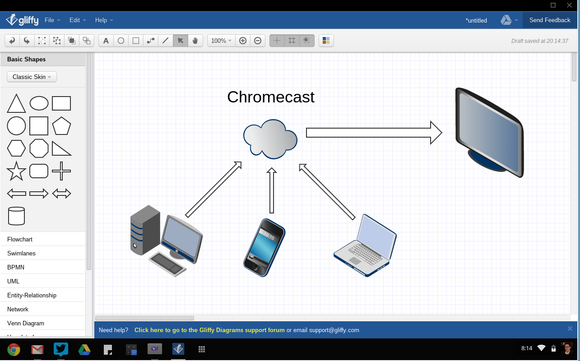 Chrome's offline functionality doesn't end with Google-sanctioned tools, though. Any developer can create an offline-capable Chrome App, complete with the ability to do desktop-ish things like storing data locally and interacting with your PC's hardware. (Bluetooth compatibility? Check.) Google even released a Start Menu–esque App Launcher to let you launch Chrome Apps right from your taskbar.
Want to try the best the offline Web has to offer? Take a look at PCWorld's list of the best no-Net-needed Chrome Apps available today.
Be an operating system unto itself: ChromeOS
With that, we come to the pinnacle of the Web browsing mountain: ChromeOS. Google's operating system is essentially a glorified Chrome browser (surprise!) and powers a legion of low-cost notebooks that are among the few bright spots in today's PC market.
ChromeOS loses some functionality when you're away from the Web, and it won't run traditional Windows desktop programs. But glancing over the potent browser features highlighted in this article, you have to ask yourself: How much longer will that matter?
For now it does. Many of the nifty browser tricks mentioned here involve relatively young technology that is far from widely adopted. But as time marches on and Web browsers become even more potent, Chromebooks will become all the more viable—and the line between the browser and the desktop will become increasingly blurry. Online? Offline? Before long, the distinction might be moot.