Edward Snowden. Widespread NSA surveillance. Mass metadata collection. Direct taps into private Google and Yahoo server connections—and the backbone of the Internet itself. Broken illusions and broken encryption and secret court orders abound.
Yes, the last six months have brought many troubling revelations about the U.S.' Internet surveillance activities to light—and now, Google's taking the government to task in a blistering blog post penned to introduce the company's latest transparency report.
The U.S. government requested user information from Google a whopping 10,918 times over the first six months of 2013, which is more than the next nine nosiest countries combined. What's more, the number of U.S. information requests has nearly tripled since the latter half of 2009 and account for just shy of half of all global government requests. (Worldwide, the number has "only" doubled in the same time frame.)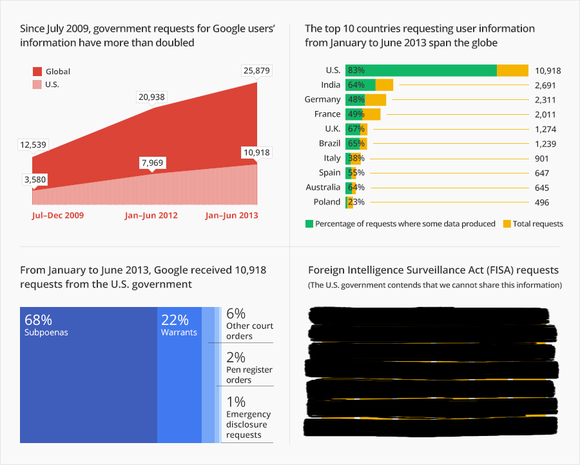 For comparison, Microsoft's latest law enforcement requests report was issued in late September, and the Redmond company said it received 37,196 data requests from governments. Nearly 8,000 of those came from the U.S. government,and those requests revealed data for more than 22,000 accounts
To shine an even clearer light on things, Google is breaking out detailed data about the specific kinds of U.S. orders and warrants its being served: Emergency disclosures, wiretap orders, pen register orders, et cetera.
But the elephant in the room is the lower-right slide in the infographic above: Secret demands for data requested under the contentious Foreign Intelligence Surveillance Act.
Here's what Google legal director Richard Salgado had to say about FISA requests:
"We want to go even further. We believe it's your right to know what kinds of requests and how many each government is making of us and other companies. However, the U.S. Department of Justice contends that U.S. law does not allow us to share information about some national security requests that we might receive. Specifically, the U.S. government argues that we cannot share information about the requests we receive (if any) under the Foreign Intelligence Surveillance Act. But you deserve to know."
Lawyering up
The company's putting its lawyers where its mouth is, too: In June, Google asked the Department of Justice to allow the company to disclose details about the number of FISA requests it receives. Microsoft, Yahoo, and Facebook soon followed suit. The DoJ refused those requests earlier this month, only providing the companies with a heavily redacted version of their arguments. The companies are pursuing the matter in court.
Earlier this month, Apple joined the calls for transparency, filing an amicus brief with the Foreign Intelligence Surveillance Court and releasing its first-ever Report on Government Information Requests. Apple joined Facebook and Microsoft in including FISA information requests as part of an unclear aggregate count, as the U.S. government has mandated must be done if a company wishes to include FISA request information in transparency reports. (Google and Twitter refused to do that, saying "Lumping… categories together would be a step back for users.")
Apple's numbers echo Google's and Microsoft's: The U.S. government is the most frequent visitor to the well, making between 1000 and 2000 requests for information involving between 2000 and 3000 user accounts. The next most-needy government, the United Kingdom, only issued 127 requests for data.
What's not in these reports
And remember: All of these transparency reports are only the official requests for information. Edward Snowden's revelations have shown that the U.S. government is willing to obtain wider swathes of user data via… less direct methods, as well.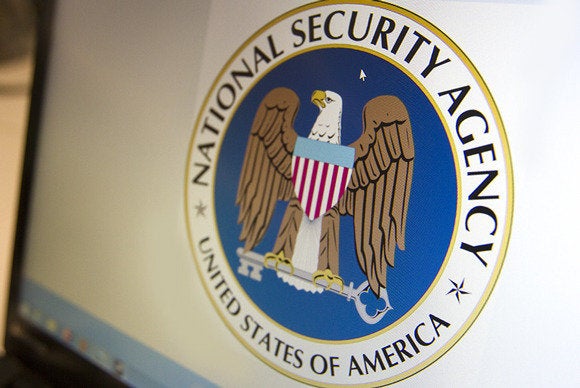 The NSA's MUSCULAR program, as revealed by the Washington Post in late October, taps the private links between Google and Yahoo's respective data centers. In the span of a thirty day period in late 2012, the MUSCULAR program collected 181,280,466 new records about Yahoo and Google users, many of whom are Americans.
"We are outraged at the lengths to which the government seems to have gone to intercept data from our private fiber networks, and it underscores the need for urgent reform," Google chief legal officer David Drummond told the Post.
To combat the pervasive monitoring, Google has begun enabling encryption by default for many of the services people use, including basic Google searches. Meanwhile, it was recently announced that the next-gen HTTP 2.0 protocol will require HTTPS encryption.