I've been talking to Rand Miller, co-founder of Cyan Worlds and co-creator of the Myst franchise, a lot recently. If you haven't heard, Cyan is back from a long hiatus. They've got a Kickstarter project running for a new game, Obduction.
You can read the entire transcript of my interview with Rand here. WARNING: ~6,000 words about Myst, Riven, optimal studio sizes, swingsets, New Mexico, the Oculus Rift, throwing up, and abduction. Yeah, it gets weird. Weirdly awesome.
But if you don't have time to read 6,000 words, well, first of all you should probably reexamine your priorities. Then, go read all 6,000 incredible words.
If you're still determined to do this the easy way, though, I've pulled some choice tidbits from the transcript. The blue pages, if you will.
Exploring new worlds
"Obduction was one of the first ideas we had for a non-Myst game after Robyn left," says Rand Miller, CEO and co-founder of Cyan Worlds. "Now, like any of the ideas we do here we start with a seed idea and we have a group of people who churn on it. The team we've got now working on this has already gone down some new paths and it's already evolved into its own really unique flow."
It's been eight years since Cyan Worlds put out its last large game—the semi-prophetic Myst V: End of Ages. In the world of game development, eight years is an eternity. Eight years is the entirety of this (far too long) console generation. It's also, hopefully, the perfect amount of time for nostalgia to kick in.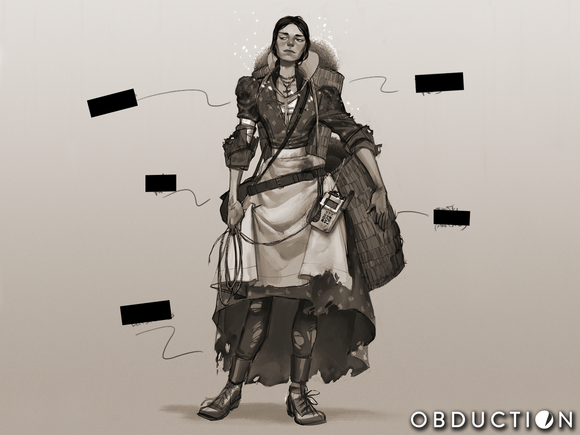 Cyan is funding Obduction, its Next Big Project, through Kickstarter and like most crowd-funded projects it's heavily reliant on nostalgia. But not, perhaps, the nostalgia you'd expect.
You will be Myst
Cyan could've easily announced Myst 6: Pick Up Sticks and raked in the cash, so why pitch an entirely new property instead?
"The early discussions we started down a Myst path doing another Myst game and in some ways I just…I came to one of the meetings and I just said, 'Guys, I don't think I can do this,'" said Miller.
"The very thing that gives you the rich history of story for Myst also starts to press in. The sides start to close in when you're doing a new design and new development. You try to push back on those walls closing in, and with Myst in particular they don't give very well. There's the canon you have to watch for, and there's the fans that know the story and they're not going to be forgiving if you break lots of rules. It felt smothering."
"When we switched gears and said let's just start from a blank slate, from the white paper on the table, and we brought up the Obduction idea, it's like the air cleared. The fog was gone, the walls opened back up, and it felt like the right thing to do," he continued.
So what is "the Obduction idea"?
"It has to do with going to interesting places. For heaven's sake, I just explored New Mexico and it's the same feeling I have exploring New Mexico that drives me to want to explore or build these places to explore that are really strange and unique and they feel real but they're so odd and strange you're just not sure where they came from."
"New Mexico I can most of the time explain where things come from," said Miller. "In Obduction? It'll be a little more complex to fill in those blanks."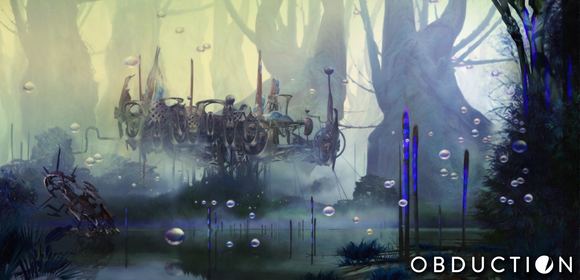 "I love science fiction. I've loved it since I was a kid, so it's a natural leap to take the idea of being abducted, wondering how you got to a particular place—and frankly, I love that idea. It just lends itself so well to interactive. What would you do? What do you do if you're abducted?"
And that's all you're going to get in regards to the story! At least for a while. In classic Cyan fashion, we're probably not going to hear much about the story of Obduction until it's out.
"With the Kickstarter, we realize that we may be withholding information from our development, from the design, that other people would be able to put out there and we're a little concerned that we get dinged for it," says Miller. "So far it's been great. I think people understand the kind of entertainment we do, and they realize it'll be a better experience for them if they don't know."
A game for the masses
Myst was built in a program called Hypercard—a Mac tool originally intended for databases and simple form-building that also happened to be perfect for point-and-click adventure games. Part of the reason Myst sold so many copies, Miller believes, is it was accessible even to people who never played games.
Obduction will be built in Unreal Engine 4, not Hypercard, but Miller wants to make sure the same audience is available.
"I'm personally answering a bunch of the Kickstarter questions and I actually just answered probably less than fifteen minutes ago a question where someone said, 'My wife gets sick using 3D dynamic games. I do fine but she gets sick. Are you going to address that in Obduction?' And I said, 'Crazy thing, I get sick too,' so we've got a few ideas for at least helping a little with that," says Miller.
The answer actually came from the company's recent revitalization of RealMyst—the real-time 3D version of Myst Cyan built back in 2000.
"We don't want to mess with Myst that much, Myst is a classic. But RealMyst? It's technology-driven and it was kind of showing its age with the old engine and the old textures and stuff. We're updating that with a lot of new stuff and a day/night cycle and a few other bells and whistles that are kind of fun," says Miller.
One of those bells and whistles is a hybrid control scheme that should also find its way into Obduction.
"We went into the real-time 3D version models and mapped every location from the original Myst that there was a shot," says Miller. "We put a node in there, so you can play the new RealMyst version exactly the way you played the original Myst but it's all in real-time so you flow from place to place and when you turn around it's in real-time 3D and everything is dynamic like it should be."
"It's kind of the best of both worlds in a lot of ways," he continues. "It's very inclusive. Most gamers are going to play in free-roam, but I can sit my mom in front of it like she was able to play Myst because it's so simple. Here's a mouse. Point. Click. Oh there you go. She can play a real-time version of RealMyst now, which is kind of satisfying."
Cyan is also examining the potential uses of the Oculus Rift, in both Obduction and RealMyst. "We hooked it up [to RealMyst] and you're able to wander through Myst Island," says Miller. "It was actually pretty cool; I did not go to the bathroom and throw up afterwards." Still, there's a caveat. "There's a lot of questions you have to ask yourself with Oculus Rift. We want to make sure we do it well."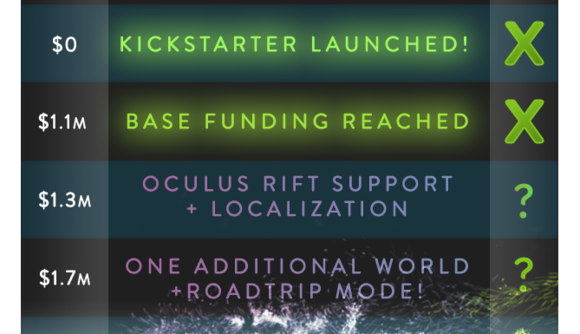 Oculus support is the first stretch goal for Obduction, and it's likely they'll reach it. There's a bit of time left in Obduction's Kickstarter, and Cyan is still pulling in money. According to Miller, a million dollars should help make a game a little larger in scope than Myst, though probably smaller than Riven ("We were basking in the Myst royalty checks at that point," he jokes).
"I think the word around here is regardless of the outcome, as much as we would love it to go great guns and give us way more than we need, it has been really satisfying and gratifying—and humbling—to see the comments," says Miller.
"We kind of sit here in the great inland Pacific Northwest and a lot of times I think we're not sure if people even have fond memories of Myst that much. That alone has been really, really encouraging and energizing to see that we got so much support and kind comments from people. That's been really cool."
You can find Obduction's Kickstarter page here, and if you'd like to read the rest of my interview with Rand Miller click here.