At a Glance
Expert's Rating
Pros
Extremely fast—at everything
Outfitted with the best CPU and GPU money can buy
Great keyboard with three lighting zones
Cons
Very, very heavy
Mediocre touchpad and speakers
No touchscreen
Our Verdict
If money is no object, Origin offers one of the most powerful gaming notebooks we've ever benchmarked.
I'm a gamer. And, like most gamers, I prefer huge, liquid-cooled, multiple-graphics-card-sporting desktops to laptops (even gaming laptops). But sometimes you need a machine that's as portable as it is powerful, and that's where Origin's extreme gaming laptop, the EON17-S, comes into play.
This hulking desktop replacement is pretty sexy, considering it's an 11.25-pound monster. That's without the two-pound power brick you won't be able to ditch, because the EON17-S gets only two hours of battery life, despite the presence of a mobile Haswell CPU (then again, we're talking about one of Intel's Extreme Edition parts).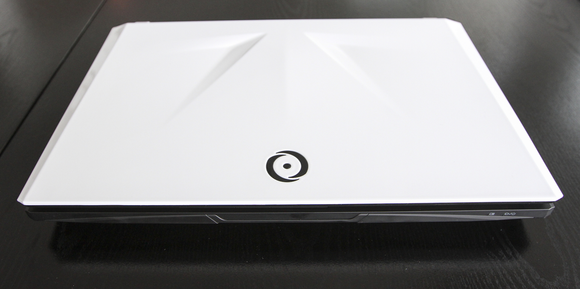 The base model EON17-S is pretty reasonably priced (for a gaming laptop) at just $1,616. But our review model isn't the base model—it's the EON17-S on steroids, and it'll set you back a whopping $3,760. That's actually not a bad price for its impressive specs: A fourth-generation Intel Core i7-4930MX Extreme Edition processor, 16GB of DDR3/1600 RAM, a discrete Nvidia GeForce GTX 780M graphics card, 240GB of solid-state drive space, and a 750GB hard drive that spins its platters at 7200 rpm. The EON17-S also features a Blu-ray writer and runs Windows 8.1 Home.
Performance
The Core i7-4930MX processor doesn't disappoint: In our Notebook WorldBench 8.1 benchmark tests, the EON17-S scored a 449, which means it's more than four and a half times faster than our baseline test model, an Asus VivoBook S550CA with a third-generation Intel Core i5 processor and integrated graphics.
The Micro Express NB5720 did slightly better, with a Notebook WorldBench score of 483, and a couple of other gaming laptops came close, including the Asus G750JH Gaming Notebook (435) and the Toshiba Qosmio X75 A7298 (430). All three of these EON17-S competitors feature Haswell processors and Nvidia 700 series graphics cards, but the Origin is the only one to feature Intel's most powerful mobile CPU.
But WorldBench scores aren't everything—far from it, in fact. While WorldBench tests how well laptops perform everyday tasks (such as surfing the Web, juggling multiple open applications, and running PowerPoint and Excel), it doesn't test a laptop's gaming potential—namely, its graphics skills. And graphics are where the EON17-S dominates, thanks in part to its Nvidia GeForce GTX 780M graphics card.
In our Bioshock Infinite graphics test, the EON17-S manages 214.2 frames per second (low-quality settings, 1024-by-768-pixel resolution). By comparison, on the same test the Asus manages a similar 208.9 fps, while the Qosmio and the Micro Express manages 165.3 and 63.9 fps respectively.
In other words, the laptop that beat the EON17-S in WorldBench (the Micro Express) gets owned when it comes to graphics tests. In fact, the Micro Express manages a barely-playable 27.5 frames per second on our Dirt Showdown graphics test (low-quality settings, 1024-by-768 pixel resolution), while the EON17-S whisks along at a speedy 123.6 frames per second. So don't judge a notebook solely by its WorldBench score.
Design and usability
Excellent performance aside, the EON17-S hasn't changed much from its previous iterations. It's housed in a chunky, yet cool-looking chassis, with a glossy, glacier-white cover (customizable, of course). Inside, it has a full-size, backlit keyboard with a dedicated numeric keypad, a large touchpad sporting a glowing Origin logo, a fingerprint reader, and Onkyo speakers.
The keyboard is comfortable to type on, thanks to its pseudo-island-style keys. The keyboard features three custom lighting zones (you can change each zone to the color of your choice), which is a nice option if you happen to be playing a game with lots of shortcuts. The touchpad is pretty mediocre: It's laggy, even when you speed up the pointer, and the discrete buttons are shallow and offer little physical feedback. A crappy touchpad isn't really a concern on a gaming notebook, though, because most gamers use external mice.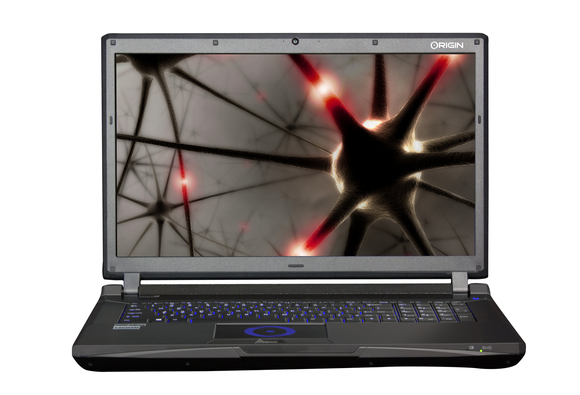 The speakers are just okay: loud, but lacking in bass and depth. They're also a bit noisy at higher volume levels. Let's just say these are not the best speakers I've heard, especially not on a desktop replacement. Luckily, audio through the headphone jack is clean and offers excellent sound. The speakers are located above the keyboard and offer their own funky lights: bright blue and audio-based, they pulse with the sound.
The EON17-S has a large, 17.3-inch, matte-finish screen with a native resolution of 1920 by 1080 pixels. The screen looks very good: It's very bright, images and text are crisp, colors look accurate, and blacks are deep. It's not a touchscreen, but that's to be expected from a gaming laptop (gamers don't need touchscreens, and touchscreens add quite a bit to the already hefty price tag).
The bottom line
Like I said, I'm a gamer who prefers desktops. But if I had to choose a laptop for my gaming needs, the Origin EON17-S would be very high on my list. This beast of a machine is expensive, but it's an absolute powerhouse.
It all comes down to what you're looking for. The EON17-S is definitely a desktop replacement that's not meant to be carried around day to day. But it's a great choice for college students or people who plan on moving every couple of years, since a laptop is much easier to pack up than a multimonitor desktop setup. It's also great for LAN parties, but really, who does that anymore?