Good news, gamers! Earlier this week, AMD announced that it would begin bundling Battlefield 4, the hotly anticipated EA game that showcases the potential of AMD's cross-platform Mantle API, with all of its new R9-series graphics cards—as we've already told you. Sweet, eh?
There's just one problem: That's not exactly accurate.
Despite being told that "If a gamer purchases any AMD Radeon R9 Series product starting 11/13, they will get a copy of Battlefield 4 with that purchase" from an AMD PR rep, it appears that very, very few of the Radeon R9-series graphics cards available for purchase actually come bundled with Battlefield 4, as first noticed by Legit Reviews and Forbes contributor Jason Evangelho.
AMD provided the publications with the following statement:
"While all AMD Radeon R9 series cards are theoretically eligible for the promotion (which is administered by AMD's channel partners), retailers and add-in-board partners ultimately decide which select AMD Radeon R9 SKUs will include a copy of BF4.

As with all limited promotions, it's important that customers ensure that the specific product they're purchasing qualifies for the promotion, and that they're buying from a participating retailer during the promotion period. Also, it is critical to note that this promotion is only valid while supplies last."
In other words, all R9-series Radeon cards are eligible for the Battlefield 4 package, but it's up to the individual card makers—Gigabyte, Sapphire, Asus, etc—to actually offer the bundle, and few are.
Forbes' Evangelho notes XFX is a delightful exception, and after trawling Newegg, I fond the Battlefield 4 bundle was also included with two Sapphire cards, one MSI card, and one Powercolor card. That's out of three pages—nearly 60 results—for Radeon R9-series cards.
I should also note that the products that do include BF4 are carrying a $20 to $30 premium over similar cards that don't include the game.
So much for the game being free.
Slippery words and slippery slopes
To be fair, AMD's PR representative did note that buyers should check the availability of BF4 with Radeon cards before buying, at AMD's Battlefield 4 splash page. (None of the links on the page are working, for what it's worth.)
Here's the thing, though: Virtually all gaming bundles include legalese disclaimers like that, but nevertheless, announced gaming bundles are always available with all supported cards. Always.
Don't take my word for it, though. Here are Newegg listings for GeForce GTX 780 Ti and AMD Radeon HD 7970 graphics cards, which have been announced to be part of Nvidia's Holiday Gaming Bundle and AMD's Never Settle Forever game bundle, respectively. The green text over each listing clearly shows every card coming supporting the bundles. (The "Save $100 with Shield" is part of the Nvidia bundle, which also includes three free games.)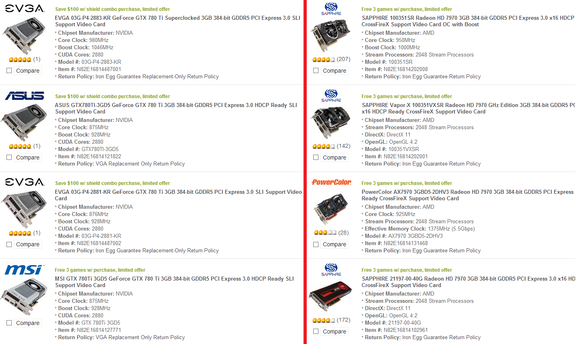 And for kicks, here a shot of Radeon R9-series cards at Newegg. Note the distinct and complete lack of any mention of Battlefield 4 whatsoever. No bueno.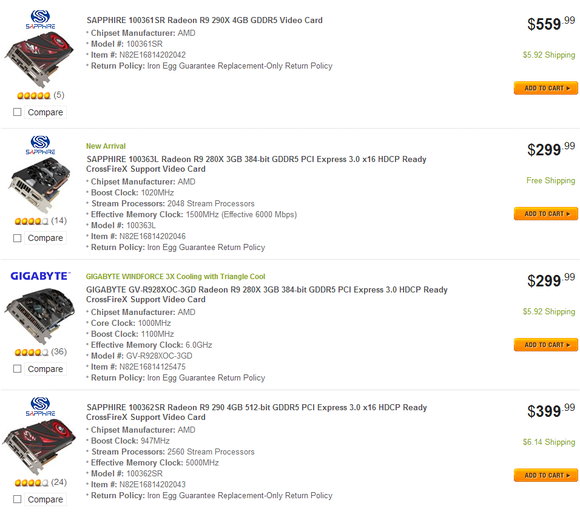 There's no two ways around it: This confusing situation completely sucks and reeks of borderline sliminess, though AnandTech suspects the issue is caused by particulars in AMD's contract with EA.
As a way to say sorry, AMD will be giving away 1000 copies of Battlefield 4 through its social media accounts, according to Legit Reviews and SemiAccurate—but that will do little to appease gamers who spent hundreds on a Radeon card only to wind up Battlefield-less.
AMD has not announced any plans to retroactively supply copies of the game to confused (misled?) Radeon buyers.