In a candid interview with the Wall Street Journal, Microsoft chief executive Steve Ballmer said that he was encouraged to hustle his transformation plan into motion, but ended up being pushed out the door.
Microsoft director John Thompson told the paper that the board "didn't push Steve to step down," he said. "but we were pushing him damn hard to go faster."
And that process, Ballmer revealed, ended with Ballmer concluding (or being forced to conclude) that someone else should lead Microsoft into a new era of computing. In August, Ballmer officially said that he would step down within the next twelve months, as the board set out to find a replacement.
Microsoft's board approved of Ballmer's "One Microsoft" reorganization plan. He just didn't move it along fast enough. "At the end of the day, we need to break a pattern," Ballmer told the paper. "Face it: I'm a pattern." The article appeared Friday afternoon on the Wall Street Journal's website.
Who's next?
Ballmer apparently planned to leave as early as May. After he told the board that Microsoft deserved "fresh eyes and ears," he broke the news to his family. All of them cried, the paper reported.
Ballmer was credited with milking dramatic profits from the company's business divisions.
But Ballmer, like Gates before him, either missed or whiffed on key trends: the rise of social media, tablets, even wearable computing.
It's filling those holes that the new chief executive will apparently be asked to address: the CEO possibilities include Alan Mulally, the chief executive of Ford, and Stephen Elop, chief executive of Nokia, among others.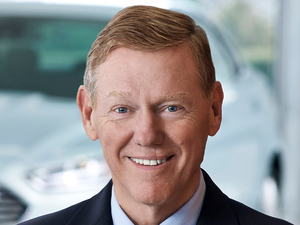 Bloomberg reported Friday that the board is seeking to narrow the herd of contenders to just three to five names in a Monday meeting, with outsiders—Elop and Mulally, presumably—preferred.
Now, Ballmer says that he plans to take six months off, then figure out what he wants to do next. The options are up in the air, he said—but not to run another big company.
Sure, these type of stories are partially driven by Ballmer's desire to write his own legacy. But in his final months and weeks, we're also getting to see a bit more of the man who led Microsoft for more than 20 years.