Sony's highly anticipated PlayStation 4 gaming console is finally here.
The $400 PS4 started shipping Friday in the U.S. and Canada and will be released in various other countries through December and in Japan in February. This is Sony's first new gaming console since 2006, when it started shipping the PlayStation 3.
The console's launch comes just a week ahead of Microsoft's Xbox One, which will ship on Nov. 22 for $500. Microsoft and Sony have been in a see-saw battle for dominance in the game-console market, with Nintendo being the third major competitor. The consoles also face indirect competition from mobile devices and gaming handhelds such as Nvidia's Shield.
Sony's PlayStation 4 is faster than its predecessor, and also is able to render more realistic graphics for a better gaming experience, according to Sony. It also provides a better streaming experience for online gaming and is better equipped for social networking. Users will be able to post game images and stream live gameplay video on social networking sites through the console and the "Share" button on the new DualShock 4 wireless controller.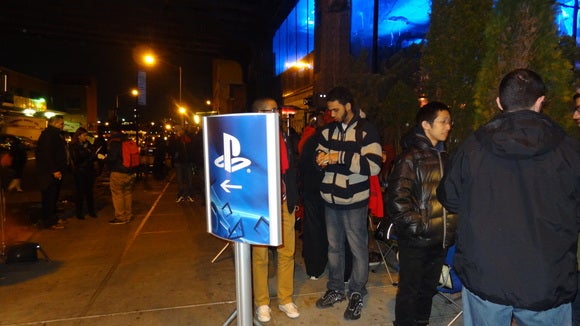 The hardware has eight powerful x86 CPU coress, code-named Jaguar, and graphics cores that deliver 1.84 teraflops of performance. Other features in the console include a 500GB hard drive and 8GB of GDDR5 memory. Sony has said that the PS4 has been "future-proofed" for up to a decade with the aim to give the console a longer shelf life.
The PS4 also has specialized hardware to speed up the delivery of online games. A remote play feature allows games to be transferred to the PlayStation Vita console, and Sony wants to make every PS4 game compatible with Vita in the future. Remote play features will also be available so games can be streamed from the PS4 to Android and iOS devices.
The game console is closely tied to the PlayStation Network (PSN), and users will be able to try games before they download them. Social networking sites including Facebook and Ustream have been integrated with the network. Users will be able to use an avatar or a real name to describe themselves.
There are about 180 games in development for the PlayStation, Sony said.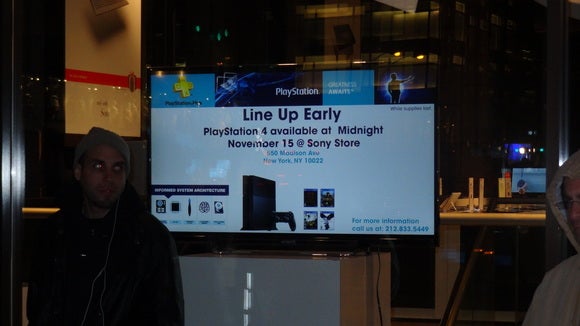 Steven Roberts, a resident of Queens, New York, can't wait to replace his PS3 with the PS4. He is a self-admitted PlayStation fanboy and Xbox hater.
Hardware improvements aside, he can't wait to play the new games that will be released with the new console. He was lined outside the Standard High Line hotel in New York City, where Sony sold a limited number of PS4 units.
"Watchdogs is definitely one for me," Roberts said.
Roberts also likes the improvements in online gaming, as he will be able to compete with more players simultaneously in shooters and other multiplayer games.
"I have PS3 right now, and there are like only 24 people online. With the PlayStation 4, it's 64 people online. That's insane," Roberts said.
The PS4 has improvements across-the-board on hardware and software, but the wireless features in PS4 are a disappointment for Miguel Estrada, who also lined up outside the Standard High Line hotel.
The PS4 has only 802.11 b/g/n Wi-Fi, and not the latest 802.11ac wireless technology. Also, he said the PS4 doesn't work on the 5GHz Wi-Fi channel, which has caused to him to modify his home networking equipment.
As a pure gamer Estrada just wants the hardware, and the social networking features don't make a difference to him. He also lined up to buy the PS3.
"I just want to play games. I don't want to share videos or upload to Facebook," Estrada said. "I'm sure people don't want to know what trophy you got."
Updated at 9:56 a.m. PT with a video report from IDG News Service.