At a Glance
Expert's Rating
Our Verdict
NAPS2 is a wonderful utility for users who want more manual control over their document scanning tasks.
Windows has built-in support for scanning documents. In fact, it not only supports scanning but positively embraces the endeavor, forcing you to save your scanned documents where it thinks they should go, and perform several extraneous steps every time you want to scan a page. If you find that annoying, you should check out NAPS2, which stands for Not Another PDF Scanner 2.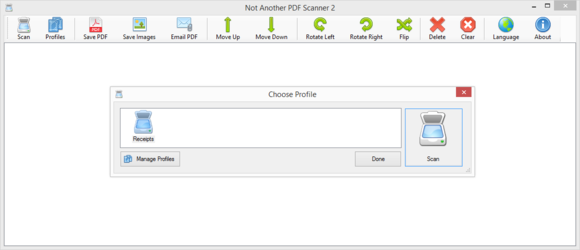 This free, open-source utility doesn't smother you with guidance. Its bare-bones interface lets you set up multiple scanning profiles, each with its own name, resolution, document size, scan source, and so on. When the time comes to scan, you just pick a profile and scan. The images scanned are imported directly into NAPS2, and you can then save them out as images or as PDFs.
NAPS2 supports several image formats, including JPG, PNG, and even TIFF. PDF support is basic and straightforward: Simply select a number of images and click the Save PDF button to produce a PDF that includes them, one per page. You can control the ordering of the pages via toolbar buttons, but you don't get to tune anything else about the PDF. It's as basic as it gets.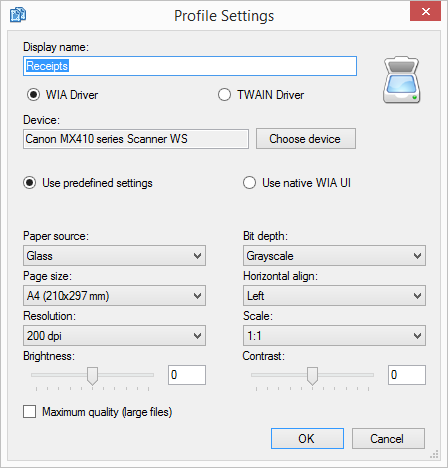 Not all profile settings work: Despite setting my Receipts profile to scan documents in greyscale, resulting images were in full color. You can resolve it with a third-party image editor like the free IrfanView, but it's still a minor drawback. I also crashed NAPS2 when opting to scan images using the TWAIN Driver, though WIA support worked well for the most part. You can even choose to use the WIA user interface, which lets you preview the image you are about to scan and optionally crop it prior to scanning.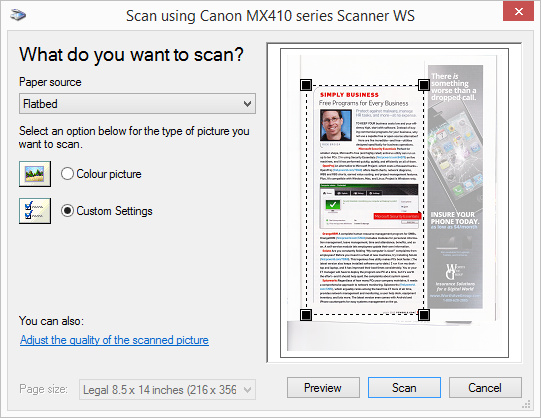 The only feature I really missed when using NAPS2 was image straightening: When scanning magazine pages, no matter how hard I tried to position the paper straight, it tended to deform as I closed the scanner lid. Many other scanning applications let you partially rotate the scanned page to compensate for this, but NAPS2 doesn't have such a feature. It does let you rotate the page 90 degrees right or left, but that's useful only if you incorrectly orient the page when putting it on the scanner.
Sometimes less is truly more. NAPS2 keeps a narrow focus, resulting in an app that's so simple it doesn't even have a Settings dialog. If you're simply looking to scan a few documents and like to make your own calls about how and where to save them, NAPS2 handily beats the scanning feature built into Windows 8.