At a Glance
Expert's Rating
Pros
Excellent voice quality
Supports multiple phone lines and extensions
Calls can be transferred to remote employees
Terrific price-to-performance ratio
Cons
Virtual receptionist's synthesized voice quality isn't the best
Must prepay for international calls
Only one greeting for business hours and one for off hours
Our Verdict
Ooma Office delivers nearly all the features a small business could ask for in a VoIP PBX, at a very affordable price.
Every business must interact with its customers via the telephone at some point. And it won't matter how great your employees are, or how superb your product might be, if your customers have a bad experience trying to reach the right people on the phone.
A full-featured phone system capable of handling multiple phone lines, conference calls, voicemail, and other features can lend a small office a larger and more professional air. But getting all these features can entail a significant capital expense involving custom equipment and professional installation. And a platform that supports remote workers can render the system even more complex and expensive.
Ooma has a better idea. The company has developed a business-oriented version of its very successful home-based VoIP (Voice over Internet Protocol) system. Ooma Office is a full-featured virtual PBX (Private Branch Exchange) that can support multiple phone lines, five extensions, and 15 virtual extensions at a very low cost (for both the equipment and the service).
This being a VoIP system, you probably want to know about voice quality before you read any further. You needn't worry: It's excellent. I can't say the same of the synthesized voice of the virtual receptionist, but there is an alternative. More on that later.
How much does it cost?
The Ooma Office starter pack includes a central Ooma base station, two Linx modules, one phone number (you can port your business's existing phone number for free), an online fax, and three physical extensions (one for the base station and one for each Linx module). The Linx modules communicate with the base station using the DECT 6.0 wireless protocol, so you don't need to worry about them sucking up your Wi-Fi network's bandwidth, or having just the right infrastructure for power-line networking.
The hardware costs $250, plus a subscription fee of $10 per month per user and $10 per month per phone number. The system will support two additional Linx modules at a one-time cost of $50 each. Buying additional phone numbers lets you map them to extensions, so that callers can reach your employees directly without going through the virtual receptionist.
You will, however, need to provide your own conventional handsets for the system (as fancy or as plain as you like, wired or wireless. Just plug one into the base station and one into each Linx.) You'll also need broadband Internet service (since that's how VoIP works). Calls within the U.S. and Canada are free. International calls are billed against a prepaid account (prepayments are made in increments of $25).
Features and functions
Now that you have a grasp of how much Ooma Office costs, let's take a look at the features it offers, and how well they work. Incoming calls can be routed to a virtual receptionist, or if you purchase additional phone numbers, you can route them directly to the extensions you assign. The virtual receptionist can greet callers with custom messages created with a text-to-speech converter, or with audio files that you record and upload.
The receptionist's synthesized female voice is good, but not great. Most businesses will likely prefer to record their own greetings—both for that personal touch and to make sure people can understand everything the virtual receptionist needs to say. But you'll need to provide your own mic and recording software to do this. You can also upload on-hold music in the form of an MP3 or WAV file, but you're limited to a stingy file size of just 5MB.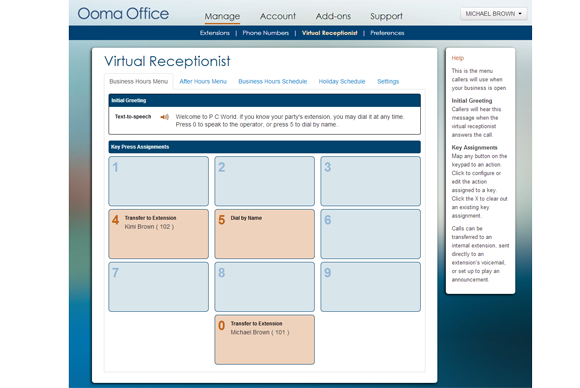 The virtual receptionist has separate menus for business hours and after hours, and you can assign commands to each of the 10 buttons on a phone (0 through 9). For example: "Press zero to talk to an operator," "For Sales, press 1," "Press 4 to reach [employee name]," "Press 5 to dial by employee name," "Press 8 to leave a general voicemail," and so on. If you prefer, you can configure the system so that incoming calls bypass the virtual receptionist, and are instead routed to a specific extension.
The system is very flexible at setting business and off hours. You can define a different schedule for every day of the week. You can also define a holiday schedule, and you can even define multiple time intervals for each day. But you can record only one greeting for business hours and one for after hours. An office that's closed for lunch from 12:00 to 1:00 each day, for example, can't record a message to inform callers that it's only temporarily closed.
Each phone connected to Ooma Office has its own three-digit extension. Incoming calls can be directed to these extensions via the virtual receptionist, users with physical extensions can use these numbers to call each other (outside workers with virtual extensions cannot), and all workers can transfer calls to each other—including to workers working at remote locations and using virtual extensions.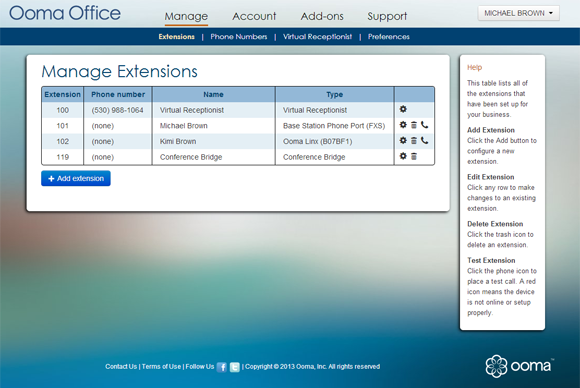 Each extension also has its own private, PIN-protected voicemail, and voicemail messages can be converted to text and emailed to the person assigned to that extension. If you have employees who travel frequently or who work outside the office, calls to their extensions can be automatically forwarded to another number, such as a cell phone. These virtual extensions can still be assigned voicemail accounts.
If you establish ring groups, multiple extensions will ring at the same time. If you have several sales people in the office, for example, you can program the virtual receptionist to announce "Dial 1 for sales," and the call will be simultaneously routed to several extensions, including virtual extensions. Whichever extension responds first, takes the call. The system is very easy to program using a Web-based interface.
Ooma Office supports three-way conference calls, placing calls on hold, and call waiting. The last major feature I'll cover here is the conference bridge. This enables a business to host its own conference calls for up to five participants. This feature is protected by a PIN to prevent unauthorized users from dialing in (the same PIN is used for all participants), but it does consume one of the available extensions.
This product is too limited for operations with more than a handful of employees, but operations with one to five employees—especially virtual businesses with employees who work remotely or who travel frequently—will find lots of value in Ooma Office. It can make a small business seem big, and it save small businesses lots of money on phone bills.