Microsoft released its second-screen SmartGlass app for its upcoming Xbox One game console on many platforms on Tuesday, which may be a bit more of a necessity than you might think.
Microsoft is scheduled to release the Xbox One console on Friday. SmartGlass, as Microsoft has said previously, adds "another screen" to the experience: midway between a second screen and a controller. Users can either download SmartGlass as either a Windows Phone application or as a Windows 8.1 app (as pictured above), as well as for most Android 4.0+ smartphones and iOS, to boot.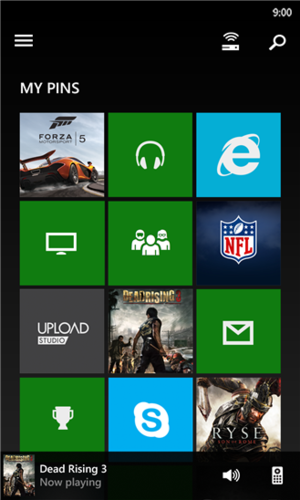 Microsoft has also released SmartGlass apps for the basic Xbox 360 on both the Android and iOS platforms.
While the older SmartGlass apps were used mainly to track the progress of your gamer buddies against your own achievements, the SmartGlass app for the One promises much more. Microsoft says that SmartGlass can be used to search for and pin content to your dashboard, navigate using an onscreen keyboard, surf the Web (which the previous SmartGlass app could do), and serve up "secondary experiences" on an app-by-app basis. Both the Windows Phone and Windows 8.1 SmartGlass apps appear to have roughly the same capabilities, according to Microsoft's descriptions.
In our limited experience with the Xbox One, we've found that a secondary keyboard may come in rather handy as a supplement to the One's voice commands as well as the physical controller. If you do happen to own a Windows 8.1 PC or a Windows Phone, consider downloading one app or the other to supplement the Xbox One's native capabilities. Frankly, trying to input text via a physical game controller stinks, whatever the platform.