You might think, having pored through all of the early launch coverage of the Microsoft Xbox One, that the new console was some sort of hybrid of a PC and a gaming machine.
Let me disabuse you of that notion.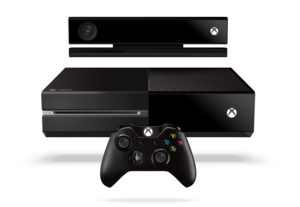 Oh, there are indeed many commonalities between the two machines. But don't believe for a second that an Xbox One will replace your gaming PC or your office PC—or even serve to supplement the PC itself. In some scenarios, in fact, a PC or a phone is almost a necessity for enjoying an optimal Xbox One experience.
Some people have described the One, which goes on sale on November 22, as a member of the last generation of consoles—and if the Xbox and the PlayStation 4 persist for a decade or more, that may turn out to be true. Some aspects of the Xbox One feel as if Microsoft is inviting us into the future. But in other respects, the Xbox stumbles over the basics.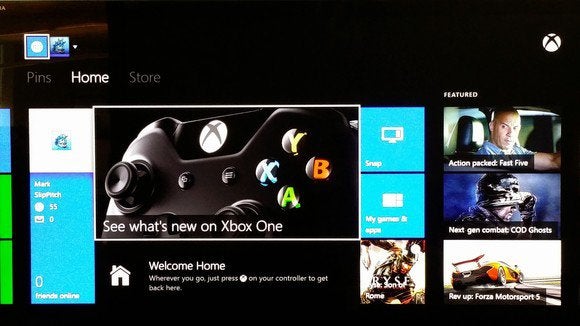 TechHive has posted a full review of the Xbox One as a game console. Here at PCWorld, we wanted to investigate a different question: Does it matter that the Xbox One is a Microsoft product, and will Xbox One users benefit from owning other Microsoft products and services? We ignored the way games like Ryse: Son of Rome played, and instead evaluated the Xbox One on the criteria that Microsoft currently champions: devices, services, ecosystem.
We give it a passing grade, no more. Why? Read on.
Kinect's magic eye makes logging in a breeze
"What if a single device could provide all your entertainment, and what if that device could turn on your TV, and turn on all of your devices in your living room?" Yusuf Mehdi, the corporate vice president in charge of Xbox, said at the launch. "And what if it was always ready and connected?"
With the One, Microsoft puts its best foot forward. A spoken command—"Xbox, on"—turns on the console. If you've owned a previous Xbox version, you own a Gamertag, your callsign within the Xbox world. Much as in the Windows world, Microsoft asks you to tie your Gamertag to your Microsoft account, a benefit that becomes apparent later on.
Kinect then displays a small video window showing what it sees, and it overlays your name and Gamertag over your head. Unless the Kinect sensor is off, the One will automatically recognize you—and, if you're the only player in the room, will sign you in and load all your content, automagically. You can verbally flip back and forth between users if a buddy walks by the Kinect camera. Its face recognition may not be bulletproof, security-wise (there's the issue of twins, for example), but I would love for my PC to include this feature. Imagine how different things might be if your Surface could recognize you from day one.
The Xbox One dashboard consists of three screens. The central, home screen shows your most recent activities, all using the familiar Live Tiles motif. Panning left brings up apps, music, websites, and other content gamers can pin to their dashboard. Panning right from the home screen guides users to TV, apps, music, and videos they either own or can buy.
Xbox? Xbox? Are you listening to me?
Users could orally command the Xbox 360 with Kinect, but Microsoft has tightly integrated voice recognition within the Xbox One environment. On balance, though, I found voice commands frustratingly inaccurate. (I discovered later that users can train the Xbox One to better recognize speech input, "learning" the acoustics of the room for improved accuracy.)
Speech is to the Xbox One as touch is to Windows 8—a supplemental form of input, genuinely useful in places, but annoying if you're forced to use it. The One understood basic commands readily. But you have to know the lingo: "Launch Ryse Son of Rome" plays the appropriate game. "Play Ryse" tells the Xbox to start hunting for music and videos. And God forbid I should want to surf the Web or hunt down a band—more often than not, the One simply didn't understand what I was looking for. You'll probably find yourself defaulting back to the controller as your primary source of input.
The One also supports hand gestures: Opening your palm toward the One projects a cursor that you can move on the screen. Navigating within the One's matrix of boxy squares is feasible, but trying to land on a tiny webpage link is nearly impossible. Could Microsoft's R&D team steal a page from Sony and include eye tracking? Or would that make console shooters too easy?
There's a bit of irony in the fact that speech recognition has been buried for generations of Windows PCs, while it's been placed front and center in the living room's Xbox. And whereas users have shouted and waved their arms at generations of Windows machines, that behavior is now actually encouraged.
Internet Explorer: The case for SmartGlass
Ever since Google launched Google TV in 2010, content firms have been looking for better ways to put the Web on your television. At the time, Google's promise of the "best of the Web on your TV" implied video-on-demand streaming from CBS, TNT, and other providers. But after CBS and others blocked their content from Google TV, streaming content languished—until Netflix, Hulu, and others picked up the slack.
Though surfing the Web on the One looks fantastic, actually navigating to a website is a hassle. By default, IE opens to Bing's website. I expected Bing to log me in, but instead I had to navigate to the upper right and log in manually to my Microsoft account and Facebook.
Even after I did so, my Favorites failed to load. Though it allows you to browse to sites using only your voice, the One seemed to recognize my voice commands about once in every dozen attempts. Forget trying to navigate to a subdirectory, or even clicking a link on a page: The typical webpage contains so many links that nailing the correct one is an achievement in itself.
Snapping apps Windows 8–style across one side of the screen—to play a game while you listen to music, say—provides a nice way of doing two things at once. But I never quite mastered the trick of moving from one window to the other.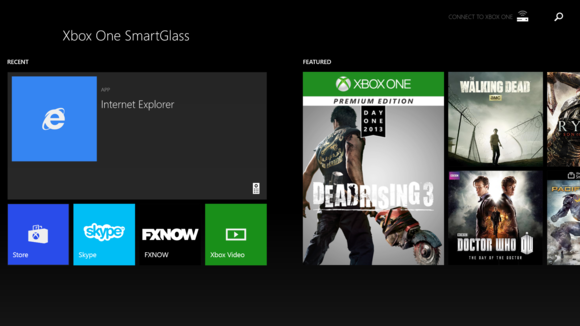 Here, however, the SmartGlass application comes through big-time.
Microsoft introduced the SmartGlass second-screen app for the Xbox, and the new iteration saves the Xbox One experience. SmartGlass steps in to smooth over the Xbox One's navigation issues. Instead of having to type a webpage URL, for example, you can use SmartGlass (now available for iOS, Android, Windows Phone, and Windows 8.1) to bring up your onscreen keyboard on your phone, or to use your laptop's keyboard.
Skype: Why do I need a chat headset again?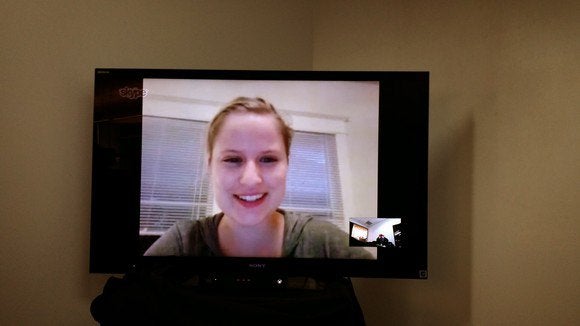 Previous iterations of the Xbox allowed players to talk among themselves, using the in-game chat powered by Microsoft's Xbox Live Gold subscription. Microsoft does offer the Xbox One Chat Headset ($25), available as part of some retailer bundles. But the One's Skype implementation is among its strengths, and it plays off the Kinect to best effect.
On screen, Skype looks almost exactly like the Skype app for Windows 8. It displays a list of your recent conversations, and your contacts. I was pleased to find that Skype, unlike Internet Explorer, automatically logged me in. You can also order your One to call a friend ("Xbox, Skype David"). Instant messages are displayed as popups, which some users may find distracting.
Skype handles video calls terrifically. It projects the image of the caller on screen, and the Kinect camera automatically pans and zooms, "focusing" on the person who's speaking. You don't have to worry about trying to sit closer to the screen so your aunt in Bangalore can see you, and you won't need a chat headset, either. Kinect does a fantastic job of adapting itself to the conversation.
SkyDrive: Pretty, basic
Microsoft's cloud services float inside two different hemispheres. In one, Microsoft stores everything about you: your name, identity, pins, content, et cetera. And then there's SkyDrive, your online closet for storing your stuff.
Though I prefer Google's method of consistently expanding storage, Microsoft's SkyDrive feels like part of my PC. Naturally, you can tap into SkyDrive if you own an Xbox One. But you can't pull in everything that you've stored in SkyDrive. Forget about viewing PowerPoint documents between bouts of Forza, for example. Instead, you can use SkyDrive to view photos and video clips.
While it's hard to imagine Xbox One owners using their TV as an oversize picture frame, high-resolution shots look great on an HDTV display. On the other hand, video playback stuttered repeatedly, pausing every few seconds.
For now, the lack of Twitch.tv integration means that users can't stream their gameplay experiences. The Xbox One is programmed to record video automatically as gamers play, and you can upload snippets to SkyDrive and later share them. Still, the Xbox comes up a bit short here, especially against the Sony PlayStation 4 and its dedicated Share button.
Xbox Music, Movies, and the Store
I was hoping that at least a few of the available Xbox-specific content channels would offer something unique, but you won't see much here that you haven't seen elsewhere already. Searching for a particular TV show will bring up a list of suggestions. But as at Sony's PlayStation-specific store, you can simply buy what you're looking for.
Unfortunately, playing a song on Xbox Music brings up the same bland interface you'll find on Windows 8, with occasional blank screens interspersed with shots of the band or artist. Couldn't Microsoft have spiced it up with a WinAmp-style visualizer? I hear the team's available.
Again, the magic here is in being able to order the Xbox One to find what you seek. Sometimes it works, and sometimes it doesn't. Content will also live within the Xbox One's app channel, a grid of upcoming TV shows and new content from Hulu, Xbox Video, and other apps. On Thursday, Google added a dedicated YouTube app for the One, another necessity.
How the One might evolve
I see Microsoft's devices-and-services business as a pool of content. Tilt the pool toward productivity, and a Windows 8 PC fills with Windows, Office 365, email, and more. Tilt it toward Windows Phone, and Microsoft's connectivity and communication apps come to the fore. The Xbox One collects Microsoft's entertainment services and serves them up to best effect.
That's the theory, anyway. In practice, Internet Explorer, Skype and even SkyDrive feel tacked on.
There's something to be said for kicking off your shoes, grabbing a cold beverage, and relaxing in your living room—which is probably the reason the One doesn't include a mail app—or for that matter, Office.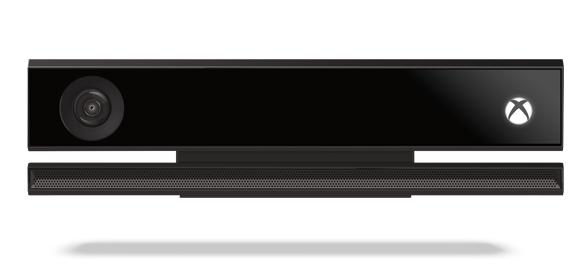 But Microsoft and its developers could do a better job of using the individual games and other types of content as planets for its services to orbit. For example: Microsoft has mentioned that an HTML walkthrough could be snapped alongside a game. Why, then, don't we see suggested webpages (walkthroughs, community forums) when a game is highlighted in the Store? SmartGlass allows you to read instant messages from your gamer friends, but why not tie it in with Skype instant messaging, as well? And gamers might appreciate an OnLive-style application to peek in and watch friends playing their games.
Many people will see the One strictly as a gaming console and will focus on its strong lineup of launch titles. That's fine. But if we view the Xbox One as potentially being something more, we reach a different conclusion: As it is now, the Xbox One offers too little value as a component of the Microsoft ecosystem. I'd say that Microsoft gets closer than almost every other vendor, but it still falls short.
Fortunately, there's room for improvement. And with Sony fanboys already gleefully suggesting that Xbox fans overpaid for their $500 console, Microsoft should do everything it can to convince them that they're wrong.