At a Glance
Expert's Rating
Pros
Cleans up your inbox
Saves time
Cons
Beta feature SaneCC doesn't always work well
Our Verdict
Sanebox has added new features, and remains a (mostly)useful tool for restoring sanity to the craziest of inboxes.
Sanebox has grown up since I first reviewed it a year and a half ago, adding some new features that (mostly) impressed me. It's suffering from a few growing pains, but it remains one of the few email services that lives up to its promise of saving you time by bringing order to your inbox.

The cloud-based Sanebox works with any IMAP-based email service. You simply enter your email address on their site and give the service permission to access your account. It then goes to work analyzing the contents of your inbox. You can connect social networks such as Facebook, LinkedIn, and Twitter in order to give Sanebox more information on which to base its decisions.
Those decisions are about which emails you need to see now versus those that can wait until you're ready to deal with them. And Sanebox does a remarkably good job of determining that: It whittled my Gmail inbox down to 86 unread messages. Impressive, especially when you consider that it started with nearly 1,000 unread items. Sanebox doesn't delete emails, but simply organizes them into folders it creates, called "SaneArchive," "SaneCC" (currently in beta), "SaneLater," and "SaneNews."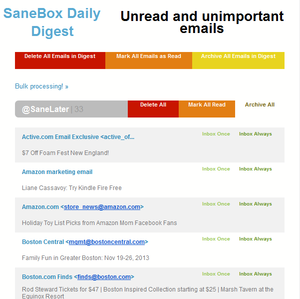 Once the service is activated, messages that belong in those folders are delivered right into those folders, rather than cluttering up your inbox. And Sanebox alerts you with a daily digest message so you can see which messages you may have missed and allows you to train the service, so that it will deliver future messages into the right place. You also can check these folders at any time to make sure you're not missing anything important.
And in the case of the SaneCC folder, you might have to. This feature, new since I last tested Sanebox, is designed to filter out messages in which your address is not listed in the "to" line. The reasoning is sound: if you're listed in the "CC" or "BCC" line, then chances are the email is more "FYI than actionable," Sanebox says.
But in practice, it didn't work as well. Friends and colleagues of mine often use email for group conversations, and in many of the replies, I was listed on the CC line. I thought I was missing out on messages until I realized that these messages were going into my SaneCC folder. Unfortunately, since it was a beta feature, I couldn't turn it off. The company promises that when this feature rolls out to everyone, it will have that toggle.

More impressive was the new Sane Attachments feature, which allows you to control whether attachments land in—and therefore clog up—your inbox. This feature, which can easily be turned on or off using Sanebox's Web page, lets you decide whether to remove attachments of a certain size from incoming messages, and have them sent directly to Dropbox, box, or IBM Smartcloud. (Users of other cloud storage services, such as Google Drive, are out of luck for now.) Instead of an attachment, you see a link to the cloud storage service. Sane Attachments not only saves your inbox from oversized files, but it also provides an easy way to sync important files directly to your storage service.
I'm still impressed by Sanebox and the amount of time it saves me when using email. I'm reserving judgement on SaneCC until I see that feature leave beta.