A brief YouTube outage on Monday was the one of the biggest recent glitches for the popular video site, according to a company that uses complaints on Twitter and other sources to measure the impact of online outages.
Around 3 p.m. Pacific Time, the site started displaying a plain-text page with a "500 internal service error" message that read, "Sorry, something went wrong. A team of highly trained monkeys has been dispatched to deal with this situation."
Google's YouTube division issued a statement but didn't immediately give a reason for the outage, which lasted about 10 minutes, or detail how many people it affected.
"Some people encountered errors, or a slower than normal experience on YouTube today," the statement said. "We worked quickly to address the issue and fixed the problem. We're sorry for any inconvenience this caused."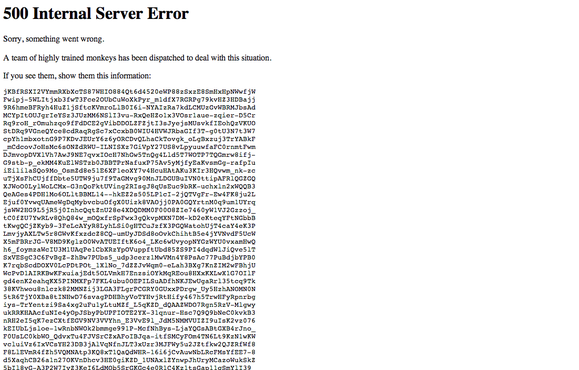 Downdetector's YouTube indexquickly spiked to 19,986 reports of problems on the site. Of the 10 previous YouTube outages that Downdetector recorded, which date back to Aug. 16, none generated even 1,000 reports. YouTube says more than 1 billion unique visitors use the site every month.
Web and Internet service outages are a growing worry as consumers increasingly rely on online entertainment and enterprises put more of their computing operations on cloud services. Outages at Amazon Web Services and other services this year have caused concern over business continuity for enterprises that use them.