Acer isn't giving up on its Aspire R7, the touch screen laptop with a Star Trek-inspired pivoting screen.
Five months after the R7 first launched, Acer is refreshing the funky-looking laptop with an Intel "Haswell" processor, active stylus support, beefier specs and a lower starting price tag.
Battery life was a major drawback with the original Aspire R7, which managed a meager four hours on a charge. With the upgrade to Intel's 4th-generation Core i5-4200U chip, Acer promises up to 6.5 hours of battery life. That increase makes sense, given the battery life difference we saw between Microsoft's Surface Pro and Haswell-powered Surface Pro 2.
Stylus support makes use of N-Trig's DuoSense technology, though the stylus itself won't be included. Acer will sell its own stylus for $50, with interchangeable tips and configurable side buttons.
Acer is also boosting some system specs. Hard drive capacity will double to 1 TB, and RAM will increase from 6 GB to 8 GB. The system will support Intel Wireless Display as well. Other specs are unchanged, with a 15.6-inch 1080p display, 720p webcam, three USB ports, HDMI output and an SD card slot.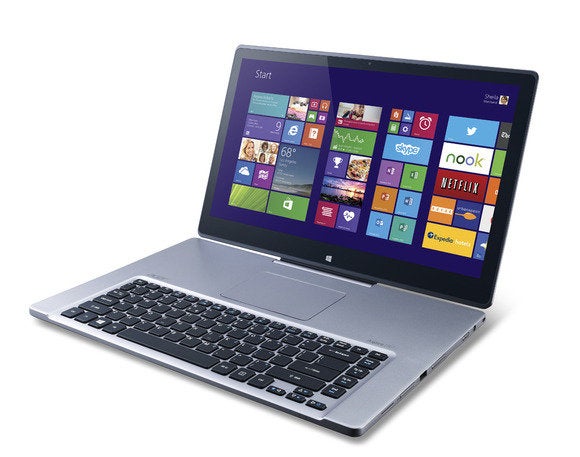 Unfortunately, Acer isn't modifying the core design of the Aspire R7, which is unique but flawed. The hinge still allows users to flip the screen around and fold it down into a table setting, or prop it up so it's facing the opposite direction. But as with before, the trackpad sits directly behind the keyboard instead of in front. This allows users to bring the touch screen forward without blocking the keyboard, but it makes regular laptop use tricky, as the keyboard prevents you from resting your hand behind the trackpad.
Acer will sell the updated Aspire R7 (officially dubbed the R7-572) for $900 exclusively at Best Buy in early December. That's $100 less than the original R7's starting price, though you can currently snag the original for $850 at Best Buy. The longer battery life and extra storage space alone should make the newer model worth the extra $50. It's just a question of whether you favor the R7's convenient touch screen positions over the less-awkward trackpads of traditional laptops.