At a Glance
Expert's Rating
Pros
Fun industrial design
Screaming-fast processor
Presents a serious alternative to Surface 2
Cons
It's a Windows RT tablet, and an expensive one at that
Flawed touchpad design
Our Verdict
Nokia has done an amazing job in releasing a 10-inch Windows RT 8.1 tablet that bears no resemblance to the Surface 2.
Well, this is awkward.
Nokia has launched a Windows RT 8.1 tablet that competes directly with Microsoft's Surface 2. It's a curious situation, as Microsoft recently acquired Nokia, and Nokia CEO Stephen Elop—his spotty track record in Finland notwithstanding—might soon become Microsoft's new chief executive.
What happens if the new Nokia Lumia 2520 is a better tablet than the Surface 2? Which hardware becomes Microsoft's flagship low-end tablet? And can both the Surface and Lumia tablet product lines survive the Microsoft-Nokia marriage, not to mention widespread consumer ambivalence to Windows RT tablets?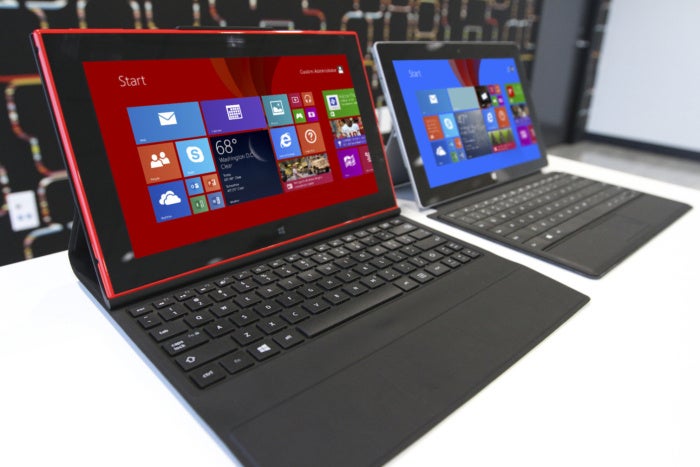 Those questions are fun to ponder, but ultimately the answers may not matter much. Microsoft just wants happy Windows RT users, and it doesn't care which hardware line brings new customers to the table. Surface, Lumia, whatever. May the best brand win. Hell, any win for Microsoft in the mobile arena is a step in the right direction, especially because no other manufacturers are throwing support behind Windows RT.
And the good news for Microsoft is that the Lumia 2520 might be able to attract a few buyers who checked out the Surface 2 but couldn't bring themselves to pull the trigger. It's a decidedly un-Surface-like slab of industrial design, and that's saying something meaningful given how difficult it is for one tablet, any tablet, to differentiate itself from another.
Groovy design, curious ports
Decked out in glossy red plastic, the Lumia 2520 evokes the pop-art whimsy of 1970s product design. Corners are soft. Edges are chamferless. Sitting next to the Surface 2, the Lumia tablet looks like Andy Warhol sitting next to Darth Vader. Nokia has done a great job in creating visual separation between its first foray into the tablet market and Microsoft's own tablet line, and from a purely aesthetic perspective, there's something undeniably inviting about the 2520's candy-coated shell.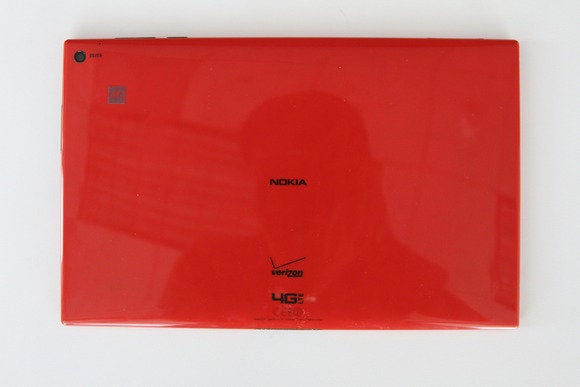 That shell, however, flexes a bit if you manhandle the 2520 with malicious intent. The Lumia 2520 can't match the Surface 2's steadfast resolve in the "Will it bend?" test, but although it's exactly as thick as the Surface 2 at 0.35 inch, it weighs a bit less—1.35 pounds to the Surface 2's clean 1.5 pounds.
Like most tablets, the 2520 is short on ports, but the ones it does include are notable. On the top edge is a tray for inserting a MicroSD card, increasing the stock 32GB storage capacity to 64GB. But that tray also plays host to a SIM card as well. That's right: While Microsoft's Surface line currently eschews the nation's wireless infrastructure, the Lumia tablet can link into AT&T's and Verizon's 4G LTE networks. Clearly, a handset company such as Nokia has a vested interest in pushing data plans, and if you purchase the Lumia 2520 on a two-year contract, the tablet's price drops from $500 to $400.
The 2520 also includes an HDMI port, a Micro-USB 3.0 port (no full-size port, sorry), a proprietary power socket, and a connector strip for Nokia's Power Keyboard. Yes, just like the Surface 2, the Lumia tablet has a fancy, bespoke keyboard accessory. More about that later.
Dazzling screen, speedy performance
One of Nokia's key selling points is "best-in-class outdoor readability." Sadly, during my brief testing sprint, I wasn't able to bathe the display in direct sunlight (see: San Francisco, seasons, unpredictability). But, yeah, sure. The screen is dazzling when set at full strength, and it renders slightly brighter, more saturated colors than the display of the Surface 2.
Nokia's screen is also a bit smaller than Microsoft's. Both hit the 1920-by-1080-pixel standard that we expect of all Windows tablets, but the Lumia rocks a 10.1-inch display, whereas the Surface 2 comes in at 10.6 inches. Nokia's screen doesn't feel particularly small in practice, and you'll notice the size difference only if you compare the two tablets side by side.
The 2520 also introduces a Qualcomm processor to Microsoft's tablet mix. Whereas the Surface 2 runs a quad-core Nvidia Tegra 4 clocked at 1.7GHz, the Lumia sports a quad-core Snapdragon chip clocked at 2.2GHz. On clock speed alone, the Nokia-branded tablet appears to have the upper hand, but we all know that clock speed is just one portion of the performance equation.
Real-world experience trumps all, and I found the Lumia 2520 to be every bit as fluid and zippy as the Surface 2, if not also various iOS and Android tablets. The user interface reacts with Johnny-on-the-spot urgency. Webpages load, scroll, and redraw like rapid-response teams. And all of the tablet's built-in Office apps open and churn through documents with a palpable quickness.
Without a doubt, a Windows RT 8.1 tablet may leave you wanting a lot more—a vibrant mobile-apps ecosystem is the first thing that comes to mind. But there's no disputing that the Lumia 2520 is one speedy machine.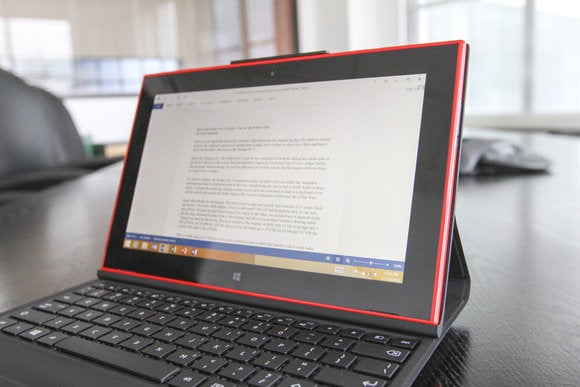 Can't anyone make a perfect keyboard cover?
Nokia says that the Lumia 2520's 800mAh battery, combined with the efficiency of Qualcomm's processor, is good for a generous 11 hours of video playback. In our own lab-based video rundown test, the tablet lasted 10 hours and 45 minutes. That's a great number, but it falls one hour and 20 minutes short of what the Surface 2 managed in the same PCWorld lab test.
Nokia says the 2520 charges from its minimum level to 80 percent in a single hour, and we were able to verify this claim. In fact, hitting an 80 percent charge took exactly 58 minutes.
If you purchase the Power Keyboard, the accessory will reportedly add an extra five hours of battery life to your 2520. During our own independent testing, we found the keyboard's battery was good for another four hours and 46 minutes of run-time (giving the combined tablet-keyboard cimbo a total run-time of 15 hours and 31 minutes). I spent some quality typing time with the keyboard, and I was struck by how dramatically different it is from the Surface's Type Cover.
Nokia's Power Keyboard (a $150 option) assumes the form of a journal cover—or, if you're old enough to remember them, a Trapper Keeper. When you're not typing, it can completely ensconce the 2520, wrapping the tablet in a significant amount of padding that's confidence-inspiring but bulky in a backpack. In addition to its built-in battery, the cover features two full-size USB ports.
Almost everything about the key layout, the key travel, and the overall key experience of the Power Keyboard felt more natural and familiar to me than Microsoft's Type Cover. That said, the Power Keyboard puts too much physical separation between the key layout and the touchpad for my tastes, and when you're deep in the throes of text entry, the touchpad flops around too much. For this we can blame the inch of flappy, nonfunctional material that wraps around the tablet to form the "cover" of Nokia's journal analogue.
Nokia emphasized that my Power Keyboard sample was a prototype, and could suffer some performance issues. I didn't discover any hiccups with the keyboard itself, but the touchpad consistently failed to register mouse-button taps. I'll take Nokia on its word that problems such as this will be fixed before the accessory hits the market, but consumers will still have to cope with the keyboard's floppy, appendage-like design.
So which keyboard is better, Nokia's or Microsoft's? That's a personal call, and I'm not your nanny. Both the Lumia 2520 and the Surface 2 make big promises about how much work you can get done in Office and other productivity apps, and all that activity is predicated on keyboard comfort. So before you purchase either tablet, try both keyboard covers in person. They're dramatically different, and what you discover could be the deciding factor in which tablet you purchase. Also be aware that Microsoft is planning to release a battery-packed Power Cover for the Surface in 2014 for $200.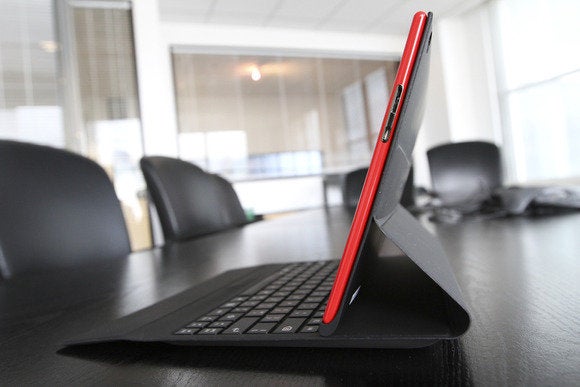 Nice camera! (Please don't use it)
I'm borderline offended that in this day and age, my duties as a product reviewer compel me to discuss the quality of a tablet's rear-facing camera. I've said it before, but it bears repeating: You should never use a 10-inch tablet as an image-capture device unless a criminal is pointing a gun at you and ordering you to do so. The phone in your pocket almost certainly boasts a better camera, and is small enough to prevent you from looking like a moron-jerkwad in public. Phones are also easier to aim. So put down the tablet, Dad. Seriously, put it down.
Nonetheless, Nokia is a bit obsessed with its mobile-camera tech (and why wouldn't it be, considering its successful deployment on Lumia phones), and it has married Carl Zeiss optics with the 2520's 6.7-megapixel rear-facing sensor. Does the scheme make a difference? I think the images look fantastic, and I've included two samples below. So take a gander. Stare at them. And then never bother me with your rear-facing tablet camera again.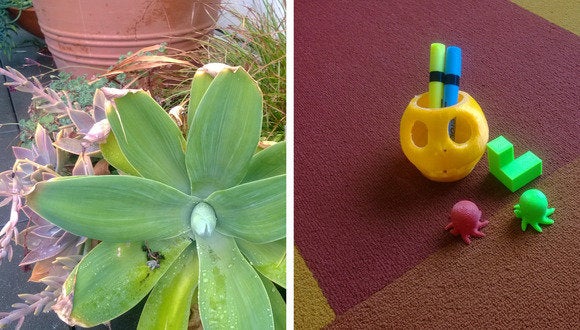 Between the camera, the keyboard cover, the processor, and the tablet's industrial design, the Lumia 2520 puts great distance between itself and the Surface 2, and that's an impressive feat considering that both tablets are essentially 10-inch Windows RT 8.1 devices. If you've read my Surface 2 review, you know that I'm no fan of Microsoft's ARM-based operating system, but I do see some value in any Windows-based machine that costs just $400.
Of course, that $400 price tag is subsidized. You'll have to commit to a two-year data contract to snag that deal, or else the Lumia 2520 jumps to $500—or $50 more than the Surface 2. So weigh your options. Test both tablets' keyboards, and see which device's industrial design gives you the better vibe in person. I don't recommend Windows RT hardware for anyone who has the cash flow to spend a bit more on a full-fledged Windows 8.1 tablet, and that's why I think the Lumia 2520 is a poor deal at $500. But at least the 2520 poses a legitimate challenge to the Surface 2.
And that's exactly what Microsoft needs right now: some energy in its mobile portfolio. Maybe a little competition between Microsoft's two in-house tablet lines will provoke a new path of innovation—and a positive consumer response. The 2520 is the anti-Surface, and right now that's not necessarily a bad thing.