In the retail stampede that now marks the holiday shopping season, Black Friday is being trampled right along with the occasional unlucky store employee. We now live in a "Black November" dystopia: a nonstop onslaught of deals that starts the first day of November and lasts the entire month.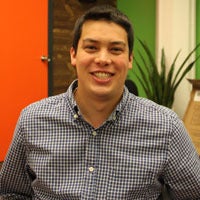 "Black Friday has outgrown itself as retailers have cannibalized the name 'Black Friday' and used it to promote deals all throughout the month of November," says Matthew Ong, a senior analyst at NerdWallet. "This is partially a response to the late Black Friday date in 2013, but this Christmas creep is a trend that's been ramping up in the last few years and [is] only likely to continue."
But it's not just about the timing. A closer look at the deals around Black Friday show how the date has become a buzzword to trick people into pulling the trigger on shoddy deals. Retailers are manipulating prices and the products themselves just to get you into the store. Once you're in the store, they've already won. So before you camp out in line, read on to learn the real deal about Black Friday.
[Related: How to stretch your savings when shopping on tech deal sites ]
Only chumps wait for Black Friday
Black Friday as the start date for holiday sales is gone. And that isn't just because a few stores are opening after dinner on Thanksgiving. Go to the sites for Best Buy, Target, or Walmart right now, and you can view every deal that will be available on Black Friday. In fact, Target's deals started on November 24, and Walmart's deals began even earlier.
Retailers are blithe about jumping the gun. "Black Friday 2013 is almost here, but we didn't want you to wait until the day after Thanksgiving for Black Friday deals, so we kicked off the savings a little early," says Amazon's Black Friday site. "We are counting down to Black Friday 2013 with, yes, even more deals, all day, every day."
Anyone who is waiting for Black Friday to get the best deals is a chump. The best deals are now, now, now!
Or at least that's what the retailers want you to think. The truth is that some of these deals aren't deals at all. "The Black Friday label tricks consumers into subpar deals, and that's exactly why retailers love the Black Friday brand, hype, and hoopla," says NerdWallet's Ong.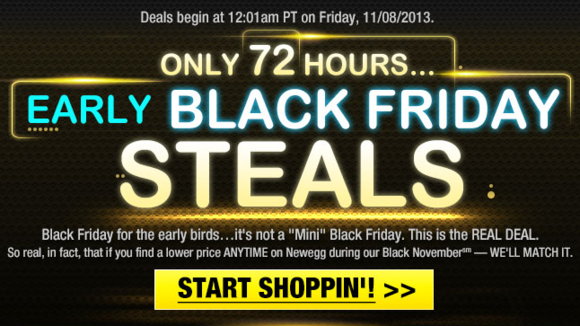 Sure, retailers offer a handful of doorbuster sales each year, where they go all out. This year, for instance, Target is offering a $100 Target gift card if you buy an iPad Air. Staples is selling the Samsung Galaxy S4 for a penny, and Best Buy has a great deal on the HTC One (save $170 with a contract). But to say that these doorbusters are "limited" in supply is still an understatement. You can count on each retailer's having a handful of these great deals in an attempt to entice you to come into the store.
NerdWallet's Ong analyzed the Black Friday deals for this year and last, and found that more than 90 percent of stores are offering at least one deal that's exactly the same as the deal the seller offered in 2012. "Many items in Black Friday ads are recycled deals from last year, or even selling at prices higher than they were at certain points throughout the year," says Ong. One of the most egregious examples we spied: GameStop offers Sony's PlayStation 3 controller for $40, the same price as last year, even though the PlayStation 4 came out November 15, and the PS3 is now outdated hardware.
[Related: Congratulations, you just won Black Friday with these 11 awesome tips]
Inflated original prices make discounts look bigger
Retailers also tend to manipulate prices to make sales seem greater than they really are by playing up the MSRP—the manufacturer's suggested retail price—rather than the actual market price. For instance, Newegg's November 8 promotional email led with a 23-inch Acer monitor for $110, advertising a savings of $70 off the normal price.
Except Newegg doesn't actually sell that 23-inch Acer monitor for $180. Nobody does. You could pick up that monitor on Amazon right now for $120, and the list price at Amazon is still only $140. Suddenly that $110 doesn't look like a huge savings.
And it's cheap because it's a cheap monitor. It has no HDMI ports. It gets a three-out-of-five rating on Newegg, with complaints in the user reviews about cheap build quality and washed-out colors.
Ong warns of further deception: Some of the "great deals" on electronics are actually products created specifically for Black Friday. They're designed to resemble standard consumer electronics, but they're manufactured with shoddier materials and fewer features.
And we haven't even discussed the trend NerdWallet noticed last year: Black Friday deals actually got more expensive from 2011 to 2012.
According to Ong, consumers seem not to notice these deceptions because they're too caught up in the excitement. Regardless of what they came in to buy, they'll pick up something else along the way. "Consumers often have an idea of what doorbusters or deals they're targeting before they enter the store, but in the instant-gratification culture of a Black Friday sale, many consumers pick up average or below-average deals as impulse buys," says Ong. And that's exactly what retailers want you to do.
Data from PCPartPicker also shows how little prices change over time, no matter how big the Black Friday discount seems. For example, here's PCPartPicker's analysis of a popular component from 2012's Black Friday, Intel's Ivy Bridge Core i5 CPU.

The bottom edge of the blue-shaded area in the chart is the lowest price for that component at any one time. You can clearly see that the Core i5 went on sale for the same lowest price in July and August as it hit in November and December—and then it stayed at that same low price from January through June 2013. The black line, representing the average price, is just as damning: It stays steady the entire time.
And even that lowest price represents a savings of only $20 to $30—hardly enough to justify the wait until Black Friday.
Let's take a more general example and consider monitors—specifically, 20-inch to 22-inch IPS displays. PCPartPicker says that a small price drop of around $30 occurs on Black Friday. However, more significant price drops take place throughout the year in February, March, April, May, June, July, and August.
"There are still deals to be had," says PCPartPicker owner Philip Carmichael, "but you need to be flexible to take full advantage. Waiting for a specific part to go on sale can be a gamble." Carmichael says that monitors, solid-state drives, and hard drives are your best bets—but you need to be willing to buy any model, not necessarily a specific version.
It's not a date, it's a brand
Although Black Friday has lost its meaning as a start date, it's as strong a brand for retailers as it has ever been—a symbol that they can flog shamelessly in their efforts to aim your gift-giving dollars in their direction. "It's probably too soon to write the actual obituary for Black Friday, as Black Friday 2013 will likely still feature strong sales numbers compared to the rest of the holiday season," says NerdWallet's Ong. Still, he admits that it's only a matter of time. "The brand 'Black Friday' has soaring name recognition," he says, "but the actual date itself is increasingly irrelevant."
Smart consumers will worry less about the date and more about whether a particular discount is as big as it seems to be. Just as in any other time of year, canny comparison shopping will help you snag the real deal, not some holiday gimmick.