When it comes to storage, many of us struggle with the decision of whether to buy speed or capacity. An SSD delivers speed aplenty, but you need a mechanical hard drive for capacity. Buy the SSD and rely on the cloud, or opt for the hard disk and just turtle along? Western Digital's Black2 combo SSD/HDD promises to deliver speed and capacity.
Marrying a 120GB solid-state drive and a 1TB mechanical drive in a single 2.5-inch, 9.5mm package, the Black2 fits in most laptops. Owners of thin-and-lights, on the other hand, won't benefit because that form factor typically accommodates only thinner, 7mm drives.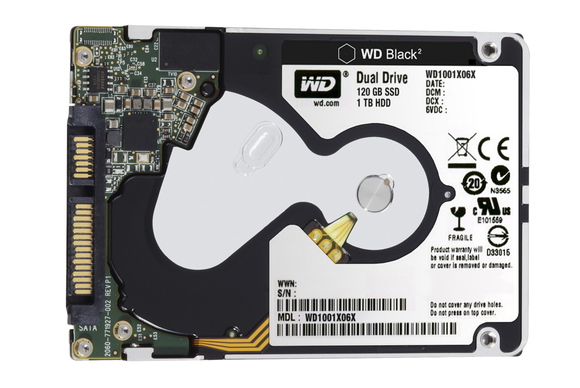 The Black2's SSD and HDD are treated as separate drives, with the idea that you install the operating system, applications, and frequently used data on the SSD and everything else (large files, movies, music, etc.) on the hard drive. This is basically what desktop and two-bay laptop users have been doing with separate drives since the advent of the SSD. It works far better than the hybrid concept (a hard-disk drive with a large NAND cache), which has never delivered on performance promises in PCWorld's real-world tests.
There are a few Black2 caveats: WD highly recommends a fresh OS install; the drive doesn't support Nvidia or ASMedia storage controllers, or the Mac; and the unit can't be used in RAID arrays due to the software component required to access the hard drive—only the SSD is visible without the driver. Mac users might get a driver down the road, but don't hold your breath on the other controllers; their relatively insignificant share of the mobile market doesn't warrant the effort. The driver isn't shipped in the rather stylish retail box; WD instead provides a USB flash drive that takes you online to download the software.
Being the only current product of its ilk, the Black2 is a tad pricey: $299 (about 26 cents per gigabyte). That's about $70 more than a 128GB SSD and a 1TB, 2.5-inch hard drive cost separately—not that you could fit both in the typical laptop or all-in-one. Regardless, the Black2 could be a boon for many users.
Stand by for a review in the near future, and we'll tell you how the concept actually performs.