A Boston-based company, Abine, is beefing its anti-tracking browser extension to let users shield their real credit card details, email addresses, and phone numbers during web transactions.
The new features are being added to "DoNotTrackMe," an extension for Firefox, Internet Explorer, Chrome, and Safari that blocks tracking technologies used by advertising and social networks and data collectors.
The latest capabilities, which were already in Abine's MaskMe password management tool, allow users to give out a one-time use credit card number to e-commerce vendors, along with a disposable email address and phone number.
Data collection is a brisk business these days. Companies sell personal data, share it with ad networks and business partners or transfer it to new companies if they're acquired, said Rob Shavell, Abine's co-founder.
Staying safe and anonymous
Facebook came under scrutiny last year for its partnership with Datalogix, which collects data on customer purchases from loyalty cards programs and matches it to specific Facebook profiles for targeted advertising.
Giving out disposable data gives users a greater degree of privacy and makes them less traceable across the web, Shavell said.
Email addresses and phone numbers are "widely used and far more relied upon to accurately track individuals because it's their most personal information," he said.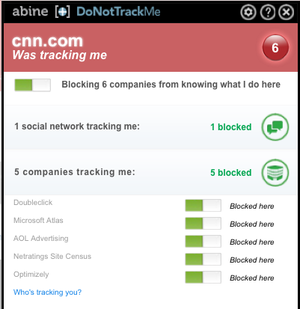 Abine acts as a proxy, receiving an email and then forwarding it to a user's real email address. Users can also turn off the forwarding if they grow weary of frequent communications.
The disposable phone number works in a similar way: Users get a number, and calls are then forwarded to their real number. Unwanted callers can be blocked. Abine supports proxy phone numbers for 20 countries.
With disposable credit-card numbers, consumers face a lower risk of fraud since merchants can't see their real card number, and the disposable number can be deactivated after a purchase, preventing further charges.
The DoNotTrackMe extension is free, but the new features will be sold by subscription at $5 a month or $45 a year. Through Dec. 26, Abine is letting users try them for free, Shavell said.