While the folks at Apple designed your iPad and iPhone to be used with the touch of a finger, the company's touchscreen devices beg to be used in other ways. Some people have taken up painting and drawing; others have made it their primary note-taking source. There are those few who revel in using their fingers for these activities, but let's be honest: for the rest of us, a stylus is going to be a lot easier.
We've spent months looking at styluses in all form, shape, and size, and here are our top 2013 picks for a great writing, sketching, drawing, or painting stylus.
What you need to know about styluses
If you've never used an iPad stylus before, here are a few things to look out for when picking one up this holiday season.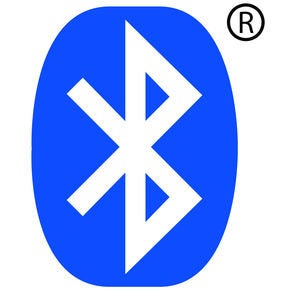 The iPad is not pressure-sensitive—but some Bluetooth styluses are: No, your iPad screen was not built like a Wacom tablet. Its sensors aren't detailed enough to detect light or hard touches, nor are they small enough to distinguish between a finger-sized implement and a tiny pen tip.
Manufacturers have attempted to combat this problem by augmenting the iPad screen's sensors with Bluetooth low-energy technology: Instead of your stylus pretending it's a finger and interacting with the iPad's touch sensors, it communicates via Bluetooth with code built into your favorite apps.
As app developers have to add this support into their programs before you can take advantage of it, not all Bluetooth styluses will work properly with every app out there. But every day, more apps support Bluetooth styluses and their special features—such as pressure-sensitivity, palm rejection, smaller nib size, and more.
One note on Bluetooth LE styluses: You'll need an iPad or iPhone with support for Bluetooth 4.0 in order to use them. That means you should own a first-generation iPad mini or later, third-generation iPad or later, or iPhone 5 or later.
Weight matters: Like any pen expert will tell you, the weight of a drawing or writing implement in your hand is almost as important as its nib. The weight of the stylus balances it in your hand—incredibly important for styluses used in apps that don't support palm rejection, where you must hover your hand above the screen in order to not make any extra marks.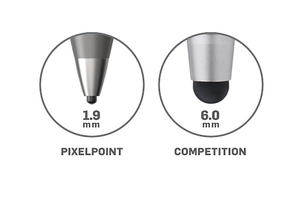 Nib size, shape, and texture: The average $10 to $40 stylus nib is made out of rubber or conductive fabric, 6mm-9mm in size—in short, it attempts to replicate the tip of an average finger. There are other non-Bluetooth styluses with slightly smaller nibs or different textures, but they generally must make compromises to do so: You'll have to push down harder to get the touch target on the iPad to recognize the stylus, or using the nib is more slippery than a traditional rubber nib.
Styluses with Bluetooth support can have a wider variety of different nibs due to the extra sensor technology, and they do: nibs include rubber, clear discs, and plastic penlike tips.
Which is best? It largely depends on your task. Rubber provides more friction on the screen: great for steadying your hand while drawing a line, but annoying when trying to write quickly. Fabric nibs, too, can drag against the screen, and can occasionally be squishy, providing poor accuracy. Plastic is much smoother, but can produce an annoying click-clacking sound against the glass of the iPad's screen.
Our picks run the gamut of nib tip material and sizes for each category, though we do note alternatives at the bottom of each section.
For writing
If you hate taking notes with virtual keyboards and finger painting, you'll love a precise stylus for quickly jotting down your thoughts. Our favorite note-taking stylus is the $75 Bluetooth-and-battery powered Jot Script by Adonit, which uses its Pixelpoint technology to help you write cleanly and quickly. There's no traditional rubber nib on this stylus—instead, you're using a tiny piece of plastic, which helps increase your screen visibility and precision.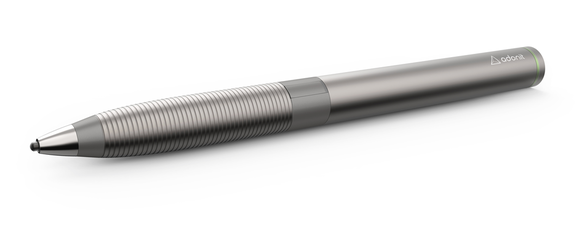 The Script isn't perfect by any means. It's a little slippery, owing to the plastic nib, and it only has one fully-supported app (Penultimate); though it performs admirably in Paper, other third-party apps may run into issues with pixel offset when you tilt the pen. But all apps will work with the Script—as long as you remember to turn it on, first.
The Script's build quality is excellent, and the Bluetooth integration is seamless—just turn it on and hop to it. It does require a AAA battery to function, but you shouldn't have to replace it very often, due to the Script's auto-idling feature and general low power draw.
Our pick: Jot Script, plastic 2mm nib, $75; Pros: Bluetooth-capable, quick writing, the most precise stylus on the market; Cons: Slippery against the iPad screen, limited third-party app support, no pressure sensitivity
The non-Bluetooth option: Bamboo Stylus Duo, 5mm rubber nib, $40; Pros: Quick, clean penmanship, 2-in-1 ballpoint option; Cons: Nib can wear through over time (though you can buy replacements)
For all-around use and sketching
When you're just diving in to the world of styluses and sketching, it's important to find a stylus that feels good in your hand, has great balance, and lets you doodle whatever you need—in whatever program you'd like to use. The Wacom Bamboo Stylus solo is a great all-around stylus; with a 6mm round rubber nib that provides good traction on the screen and fantastic balance, it lets you write, sketch, and navigate however you'd like.
The Bamboo isn't the most flashy stylus, and it runs into the same problems facing most rubber nibs: It's tough to do true precision work when a big rubber nib is in the way of letting you see what you draw. But it's built well, it's portable, and we haven't yet found an all-around stylus we like better.
If you're willing to shell out a bit more cash for Bluetooth and pressure support, however, there is a contender waiting in the wings: Ten One Design's $80 Pogo Connect ($120 with all nibs).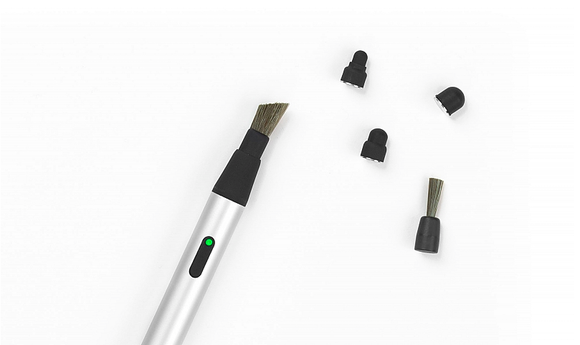 Not only does the Connect offer four different magnetically replaceable nibs for its stylus, but all of them work well, letting you change the type of stylus you're carrying around at the drop of a hat. The hundreds of levels of pressure sensitivity may be overkill for the average user, but it certainly doesn't hurt for those interested in sketching and drawing. And Ten One offers a special Pogo Connect app for updating firmware and locating your stylus.
There is one snag with the Pogo Connect: changes to the iPad Air have apparently rendered the stylus poorly operable with Apple's newest iPads. Ten One is working on a solution, but you may want to hold off buying a Connect if you have an Air. (The iPad mini should continue to work fine with all but one nib option: the R1.)
Our pick: Bamboo Stylus solo, 5mm rubber nib, $20; Pros: Great for baseline doodling or writing; Cons: Occasionally hard to see what you're drawing, nib can wear through in time (though you can buy replacements)
The Bluetooth option: Pogo Connect, 7.3mm rubber nib, $80; Pros: Multiple nib options (separate purchase), hundreds of levels of pressure sensitivity, palm rejection in certain apps; Cons: May be too much pen for most people looking for an everyday stylus, limited third-party app support for palm rejection and pressure-sensitivity, does not work with iPad Air
The "You know, for kids" option: Cosmonaut, 8mm rubber nib, $25; Pros: Big rubber body for easy grip, easy to use for kids and adults alike, surprisingly accurate for its nib size; Cons: Not as easy to write with, rubber body attracts dust easily
For precision drawing
For serious artists, there's nothing better than having a Wacom tablet hooked up to your computer. But you can still get some of that drawing expertise on your iPad with the Wacom Intuos Creative Stylus. Packed with 2048 levels of pressure-sensitivity and a sleigh-full of compatible apps, this Bluetooth pen can help you illustrate anything your heart desires—even if that's just a jolly stick-figure Santa.
The Intuos Creative Stylus also comes packed with a lovely carrying case and a bevy of replacement nibs—very useful for those who plan to draw a lot with their stylus.
There's not a lot to dislike about this stylus. It offers the lightest touch of any of the Bluetooth styluses, making it much easier to illustrate more precisely with an otherwise imprecise rubber nib, though we would caution that the nib can be a little squishy—pressing harder may make stronger lines, but it also lessens some of your precision. The stylus's programmable buttons can also be too-easily pressed if you like to hold your pen close to the screen.
Our pick: Intuos Creative Stylus, 6mm rubber nib, $100; Pros: Programmable buttons, 2048 levels of pressure sensitivity, lots of compatible third-party apps, Bluetooth support; Cons: Expensive, nib can be squishy, buttons too easily pressed if you like to grip close to the nib tip
The non-rubber nib option: Jot Touch 4, 6mm plastic disc, $90; Pros: Programmable buttons, super-precise lines, 2048 levels of pressure sensitivity, rechargeable via USB; nib takes a little getting used to, disc can be click-clacky against the screen
For painting
While there are plenty of talented iPad artists who paint solely with their digits, it's nice to add a little old-world skill to your new-world device. Both the Nomad and Sensu line of capacitative brushes let you put paint to digital canvas without ever having to worry about cleaning brushes or brittle tips. It's amazing how much more realistic painting on the iPad feels with either a Nomad or Sensu brush, though the iPad occasionally goofs a stroke if you splay the brush against the screen.

Nomad offers several variations on their capacitative brushes, though none are pressure-sensitive. The $35 Nomad Compose is our favorite of the line, offering a lengthier paintbrush tip for broad paint strokes and a short, angled tip for detail-work. Nomad also offers the $35 Mini 2, a retractable brush-and-rubber-nib option; the $30 Flex, a single-tip brush; and the $18 Nomad Play, a more whimsical brush option with a big handle for kids.
Sensu has a slightly softer range of paintbrushes than Nomad, and offers the $40 Sensu Artist Brush and Stylus, which contains both a paintbrush and rubber nib; and the $25 Sensu Solo, a paintbrush-only option.
Which brand should you choose? For us, it came down to texture and feel. The Nomad line has a slightly rougher feel against the screen than the Sensu, offering a little more resistance, while the Sensu glides smoothly while painting. If you want more give when painting, the Sensu's your pick; if you prefer a little pushback, pick up the Nomad.
The resistance option: Nomad Compose, dual paintbrush tip, $35; Pros: Easy to do both broad painting work and details with dual tips, solid grip; Cons: Brush can quickly get damaged if not taken care of properly, offers more resistance than other brush options
The smoother option: Sensu Solo, solo paintbrush tip, $25; Pros: Smooth glide on iPad screen, good control for detailwork; Cons: Brush can quickly get damaged if not taken care of properly
But what about all those other styluses?
We've tested over 75 styluses since the iPad's incarnation, and as such, there are quite a few that haven't made the cut into this buying guide. That doesn't mean they're not good devices; they just didn't perform to the best of their category, or had flaws that made us hesitant to recommend them. (Ellis Hamburger at The Verge quite likes the Maglus stylus for all-around use, for example; while we enjoy using the pen, the grip can occasionally provoke hand cramps after awhile, and overall we prefer the Bamboo. It does have excellent durability, however.)
We also haven't yet tested some of the brand-new entries on the market, such as FiftyThree's Pencil; keep an eye on our website for reviews of the Pencil and other new styluses as the holiday season progresses. If our recommendations change, we'll update our buying guide accordingly.
Updated on Wednesday 11/27 at 10:50 a.m. PT to correct Pogo Connect's levels of pressure, and to note a problem with it and the iPad Air; in addition, to provide some extra information about styluses that did not make the cut.
Intuos Creative Stylus
Price When Reviewed:
$100