For all that we already know about SteamOS and the Steam Machines it powers, Valve's ambitious effort to drag PC gaming into the living room has been mostly shrouded in mystery since its announcement. Consider the hardware: Sure, we know details about a handful of prototype devices Valve itself is making, but retail Steam Machines will be made exclusively by third-party PC makers, and we don't even know which PC makers are embracing Steam boxes—until now.
Late Thursday, custom PC maker iBuyPower unveiled a prototype of its own Steam Machine. Underneath the sleek white exterior—which the Verge says is "bigger than a PlayStation 4 but smaller than Microsoft's Xbox One"—lies a fairly potent gaming rig, with a multicore AMD processor, Wi-Fi, Bluetooth, a 500GB hard drive, and an AMD Radeon R9 270 graphics card (which costs about $180 retail all by its lonesome). More good news: The power supply is integrated within the body of the Steam Machine, rather than relying on a bulky external power brick.
iBuyPower told Engadget that the setup hits at least 60 frames per second for all currently available Steam titles at 1080p resolution. Higher frame rates mean a smoother gaming experience. and 60fps is considered silky-smooth. Common HDTVs max out at 1080p resolution, but you'll probably need to drop the graphics detail settings from "Ultra" to "High" to hit that 60 fps frame rate in the most cutting of cutting-edge games. In AnandTech's review of the Radeon R9 270, for example, the publication reached 46 fps in Metro: Last Light at 1080p resolution and High graphics details, and only eeked out 60-plus fps in Crysis 3 by dropping to "Medium" settings.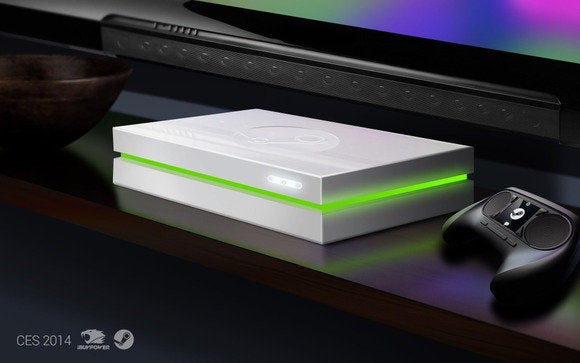 Those two particular games are particularly system-punishing, though, and dropping the eye candy a bit shouldn't be as much of an issue in the living room as it is on your PC, since you're sitting much further away from the display.
All in all, this first look at a commercial Steam Machine only whets our appetite for more details—especially considering its price. iBuyPower's box costs $500, or the same as an Xbox One console, and that figure includes one of Valve's funky Steam Controllers.
As enticing as iBuyPower's Steam Machine prototype looks, it won't be the only living room PC contending for your bottom dollar. Valve plans to unveil its first set of commercial hardware partners at the CES 2014 trade show in January.