At a Glance
Expert's Rating
Pros
Intelligent design
ECC memory
Very expandable
Cons
Only one PCI 3.0 x16 slot
Expensive
Our Verdict
HP's experience with PCs is put to good use in the Z230. It's cleanly and logically designed, available in a large number of desktop and workstation configurations, and carries a three-year warranty. But it's not for those on a budget.
Desktop workstations like HP's Z230 Tower are designed for work, not play. This one is powered by the Haswell version of Intel's Xeon processor, which can address more memory and has wider memory pipelines than Intel's consumer-oriented Core processors. The sample HP sent for review has a dedicated graphics processor that's optimized for 3D rendering and CAD operations. It's not gamer sexy, and you pay heavily for having the company assemble the components for you, but it is well designed and imminently powerful and practical.
Our test-configuration Z230 ($2700 MSRP) came with a 3.4GHz quad-core Xeon e3-1245 v3 CPU and 16GB of DDR3/1600 ECC (error-correcting code) memory. Since only two of the four DIMM slots are occupied, you can easily double the Z230's memory to 32GB.
The Z230 Tower has plenty of breathing space and more than enough drive bays, including one internal 2.5-inch bay, two internal 3.5-inch bays (one of which is occupied by a 1TB, 10,000-rpm WD Velociraptor hard drive mounted in a 2.5-inch adapter), one slim external optical-drive bay (occupied by a DVD burner), and two external 5.25-inch half-height bays (these make a convenient handle when vacant).
The tower configuration sports two USB 3.0 ports and two USB 2.0 ports in front. One of the USB 2.0 ports is always on for charging mobile devices. The front panel also has microphone and headphone jacks. The back has two additional USB 3.0 ports, four more USB 2.0 ports, and a single-link DVI port, along with gigabit ethernet, audio in/out, and microphone jacks. Support for legacy devices comes in the form of two PS/2 ports and one serial port.
The Z230 Tower's case opens easily via latches on the side of the unit, and it has plenty of cable clips to keep things neatly arranged inside. HP even provides a large retainer clip to hold the graphics card in place. This isn't absolutely necessary for the smallish Nvidia Quadro K2000 that HP selected, but it will be very handy if you move up to a larger card that might stress the motherboard slot with its weight and bulk. If internal expansion is not important, you might want to opt for HP's less-expensive "small form factor" (SFF) model to maximize desktop (or under-desk) space.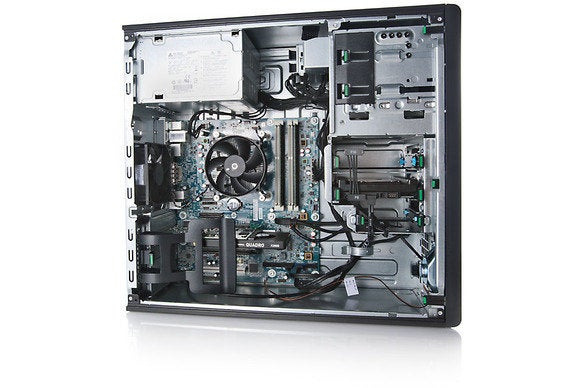 The HP-proprietary motherboard doesn't have a ton of open slots. The single PCIe 3.0 x16 slot is occupied by the aforementioned graphics card, and then there's one PCIe 2.0 x4 slot/x16 connector, one PCIe 2.0 x1 slot/x4 connector, one PCIe 2.0 x1 slot, and one PCI 32-bit.
Performance
The Z230 scored 242 on PCWorld's WorldBench 8.1 test suite, which is pretty good for a system that doesn't have an SSD. But you should keep in mind that WorldBench is designed with everyday computing and gaming in mind, not CAD. The Xeon processor offers what Intel refers to as its "Uncore" technologies, including extra memory channels and advanced floating-point instructions that are not available in its Core family of processors. When it comes to moving lots of information quickly, and calculating that advanced math used in CAD and computer modeling, those features make a difference.
OS, software bundle, and warranty
The Z230 ships with a minimal amount of software, including Cyberlink's Power2Go and MediaSuite for multimedia authoring and disc creation, and PDF Complete for handling that file format. You can order it with a wide range of operating systems, including several versions of Windows 7 (our evaluation unit came with 64-bit Windows 7 Professional), 64-bit Windows 8 Pro, SUSE Linux Enterprise Desktop 11 with a 90-day license, or a one-year license for Red Hat Enterprise Linux Desktop/Workstation that you can install yourself.
The standard warranty on the Z230 is a three-year, next-day service plan with free telephone support. A one-year plan is also available if you want to minimize your investment.
The Z230 is nothing if not versatile. You can configure it as anything from an entry-level desktop, to a high-end desktop, to an entry-level workstation. I was particularly impressed by the design of the midtower case and the fit and finish. The three-year warranty isn't bad, either.