I've sat through more than my share of demos and presentations that have been momentarily derailed by a mad search for the proper cable to connect a laptop to a projector. So when someone promises a device that can put an end to our VGA-or-DVI-driven crisis of confidence, I'm willing take a look.
That device is Prijector, which bills itself as a dedicated wireless presentation tool for conference rooms. The slender, orange-topped Prijector plugs into a display or TV monitor, offering its own Wi-Fi connectivity. Instead of having to physically connect to a projector, then, all presenters need to do is hop on Prijector's Wi-Fi network to beam their presentation from their laptop to the conference room display.
"We want to integrate everything needed in a conference room inside this box so that it becomes an essential tool," Prijector founder and CEO Sunil Coushik told me during a recent demonstration of the product.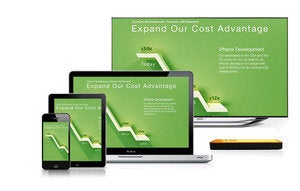 To that end, Prijector is certainly easy to set up. With the device hooked up to a display either through VGA or HDMI, it's simply a matter of connecting over Wi-Fi to get a set of on-screen instructions for sharing your presentation. You're required to download a built-in app from Prijector to get started—a bit of speed bump, admittedly—but once that app is running on your laptop, all you need to do is click a Share button to show off your presentation to the rest of the room.
One of Prijector's most appealing points is that built-in Wi-Fi capability. The device can act as guest wireless hotspot, saving visiting presenters from having to fumble with passwords and IT admins from another network security headache.
The current version of Prijector works with both OS X and Windows hardware; Coushik expects an app for iOS and Android devices to be ready in December. "No matter what device someone brings, they should be able to connect without bringing a cable," Coushik said.
To hear Coushik tell it, this is just the start—a dongle version of Prijector aimed at the mobile market could be on tap by mid-2014 with a version that targets trade show exhibitors by the end of next year.
For now, the makers of Prijector would be happy just to take control of the conference room, and they're pricing the device aggressively to do just that. Prijector debuted with a $119 price tag, a sizable discount from the $199 it will eventually sell for. The company sold out its first batch of presentation devices, with a second batch of $119 Prijectors set to ship in December.