Smarter car tech such as touchscreen displays, hands-free calling, and advanced diagnostics can be yours—even if your car is old and dumb. The car-stereo aftermarket is rife with touchscreen infotainment and GPS features, and dozens of devices and apps can work with your phone or tablet, plus your car's existing computer technologies, to help you drive and maintain your car. You can even add a HUD (head-up display) for your GPS, or replace your older car's computer. So don't give up on old reliable—make your beater better with a replacement or an add-on such as those below. You can get started for less than $100.
Hands-free calling (free to $100)
You can add hands-free calling to any car with a radio, though unfortunately the sound quality can be pretty bad. Bluetooth is the option that appeals to most users; for example, I hooked up Belkin's CarAudio Connect AUX ($80), which feeds to your in-dash unit via the auxiliary-audio input.
The CarAudio Connect AUX gets its power via your cigarette lighter (auxiliary 12-volt connector), but DIY-ers can easily create a more elegant power-feed setup by using any 12-volt wire under the dash, or by tapping the feed to the radio. I also tried JVC's $90 KS-BTA100 Bluetooth hands-free unit, which works exactly like the Belkin but draws power from the radio's wiring harness.
For top audio quality, or the cheapest option, you'll have to plug in. The easiest method is to run a three-pole (stereo) cable from your phone's headset jack to the aux input of your radio head unit. This arrangement gives you sound through the radio, and you use your phone's microphone. If you want to use an external microphone, shop for a breakout cable online.
Bare-bones infotainment ($50 to $200)
To stream music from phones and tablets, or to add hands-free calling, even a display-free, single-DIN (2 inches high) or double-DIN (4 inches high) replacement head unit (industry slang for a radio) will do. Prices range from $100 to $200. Mount your phone on the dash and use its apps for GPS and the like (a good argument for a large phone). I roll with the JVC KD-R520, a slightly older model that you can find for sale for about $80—not a huge sacrifice if it disappears from my car (I park a convertible on the streets of San Francisco). It plays music from flash drives and iOS devices, and I use the aforementioned breakout cable to plug in my phone and use it hands-free with a microphone mounted on the dash.
Midrange infotainers ($200 to $500)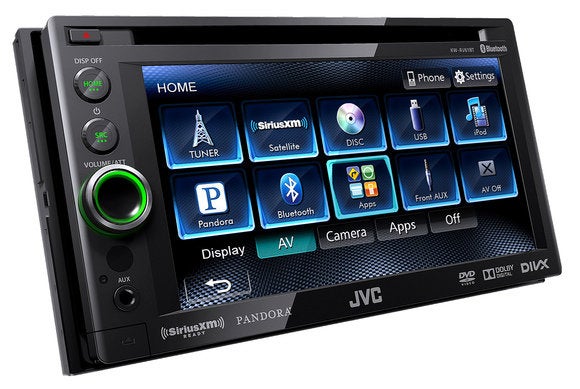 For healthier budgets, infotainment products that marry the old and new schools such as the $400 JVC KW-AV61BT and $400 Sony XAV-64BT sport 6.1-inch displays and removable faceplates (safer in urban environments), plus front-mounted USB and audio ports for easier device attachment. Midrange units also tend to have larger buttons and knobs, which, if implemented correctly, require significantly less time and attention to operate than the large-screen units currently in vogue—a boon to safe driving.
New-school infotainment ($500 to $1700)
If you want an infotainment system that mimics what you'll find in a new automobile, consider something like the $1400 Alpine INE-W927HD, the $1700 Kenwood Excelon DNN990HD, or the $500 Pioneer AppRadio 3 ($400 sans DVD player). These products sport 7-inch-class touchscreen LCDs and a raft of features.
The Kenwood DNN990HD is easily the most feature-laden unit of the three. It includes a direct interface to Ford's Sync via an optional iDataLink Maestro RR module for monitoring of your vehicle's health status (see the OBD section below for other ways to get this feature). It has a whopping three USB ports, Garmin GPS navigation, Wi-Fi connectivity, smartphone integration, DVD playback, and many useful travel apps. Oddly enough, the DNN990HD doesn't support MirrorLink, which mirrors your smart devices' apps onto your infotainment display, though the firmware is upgradable and Kenwood could add the feature down the line. The main drawback? The Kenwood device's display is cluttered and confusing.
The Alpine INE-W927HD has nearly as many features as the DNN990HD does, including integrated Garmin GPS navigation, smartphone integration, and DVD, video, and music playback. Its on-screen interface and its supplementary bank of buttons are easier to use than the DNN990HD's controls, and unlike the Kenwood unit it supports apps via MirrorLink.
The Pioneer AppRadio 3 has the cleanest and easiest interface of the three. Regrettably, it's feature-comparable to the Kenwood and Alpine products only if you have an Android or iOS device to attach to provide GPS navigation, music, and video (the company offers DVD and non-DVD models). The AppRadio supports its own app ecosystem as well as MirrorLink apps.
Note: Bleeding-edge infotainment isn't cheap (though it's certainly cheaper than a new vehicle), and you have to factor in up to $200 in additional costs, for a mounting kit (sometimes), proprietary cables to attach phones, and installation (unless you're a DIY type—it's not rocket science). You can save a bit by using inexpensive Amazon or eBay cables (I use Monoprice cables) for basics such as USB extension.
Line of sight and head-up displays
Aftermarket 7-inch touchscreen infotainment systems in your car's center console may be cool, but with tiny buttons and no knobs, they might draw your eyes away from the road for dangerous amounts of time. Their overly complicated interfaces don't help, either. Large buttons and knobs may not be sexy, but you can operate such controls by feel and sound alone. The haptic-feedback feature that some vendors are adding to touchscreens is no substitute.
The wave of the future may be products such as Parrot's $250 Asteroid Mini and $400 Asteroid Tablet, whose external, removable screens (3 inches on the Mini and 5 inches on the Tablet) may be easily mounted nearer your sight line. The Mini and Tablet are also unusual in that they use your vehicle's existing receiver for audio and radio, and they interface with your phone for hands-free calling, navigation, apps, and so on. The only possible problem with the Parrot devices is that as adjuncts, they require additional space inside your dash. It was a tight squeeze in my vehicle.
One solution to the line-of-sight issues that current infotainment head units cause could be a head-up display. The $150 Garmin HUD that we reviewed isn't an infotainment system, but its simple approach to projecting navigational directions onto the windshield shows how easily other data could display there.
Many high-end vehicles have secondary displays in the instrument cluster that mirror the infotainment display. We're guessing that eventually someone will combine the infotainment, instruments, and other items into one wrap-around view for the driver, perhaps even using the side and rearview mirrors. Are you listening, Tesla?
A word about GPS units: Though they're hardly the latest in car tech, they're constantly evolving and dropping in price. It's a bit puzzling why infotainment vendors charge so much more for the feature. Garmin, TomTom, and other companies play in this arena, and the larger displays on discrete GPS units are very helpful, but mounting your phone on the dash also works well.
OBD, ob-la-da
The On-Board Diagnostics II (OBD-II) port present in all cars sold in the United States since 1996 is your portal to accessing car data, from your vehicle's fuel economy to its range, speed, or fluid levels. To take advantage of all that information in an older car (and most new ones), you need an OBD-II adapter with USB, Wi-Fi, or Bluetooth to output the data, plus software to interpret and display the data.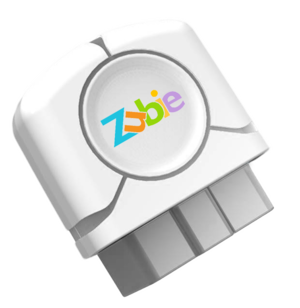 We tested a Zubie Key, which tracks your routes, driving behavior, and vehicle status to help you be a better-informed driver. (Whether the revelations of your better and worse habits actually lead you to become a better driver is up to you.) The Zubie Key beams data directly to the cloud using its own wireless service (for a yearly subscription fee of $100). It's fun to use this app to see how you and your car are doing. Future plans to marry the diagnostic data with information on local mechanics could well eliminate the mystery and distrust surrounding car repairs.
The more gearhead-oriented ScanTool.net OBDLink MX Bluetooth adapter uses the included OBDwiz software to show information such as engine temperature and mass airflow in greater detail, as well as the routes driven and the estimated gas consumption during a trip. The official cost is $200, though currently it's on sale for just $100. OBDwiz is an OEM version of TouchScan by OBDSoftware.net, and it's available for iOS, Android, and Windows.
If I only had a brain…
You do have a way to make older cars truly smarter, not just more entertaining or informative: a programmable, aftermarket ECU (engine control unit) such as those from Accel, Greddy, Link, and other makers. With a programmable aftermarket ECU, you can improve an older car's performance, emissions, and fuel mileage, or upgrade or improve your car's sensor technology.
How? Older OEM ECUs employ static and limited fuel-injector rates and spark-timing tables that are averaged to work decently with all engines coming off the line. A programmable ECU allows you to fine-tune the settings for greater efficiency with your unique or aging engine, as well as to take advantage of newer sensor technologies. My 1993 Mazda Miata's OEM ECU understands only a primitive, flap-operated airflow meter. My replacement ECU lets me ditch that for a newer intake-air temperature sensor that doesn't lag or restrict airflow.
A programmable ECU is a several-thousand-dollar endeavor that requires a lot of experience, or a professional tuner, to program or tweak the ECU while the car is on a dynamometer. The results can be startling. Note, however, that aftermarket ECUs aren't legal everywhere, even if you can pass emissions tests with them.
Don't let a smarter car make you a dumber driver
If you win a Tesla Model S in a raffle, by all means keep it. If you aren't that lucky, know that you have a wealth of aftermarket options available, with more and better products entering the pipeline as we speak.
An important caveat: Infotainment is cool, but it's also distracting. There are fixes and products that allow you to bypass the parking-brake lockouts on infotainment systems. We encourage you not to watch movies while you're driving—the life you save may be your own.