Prices of some laptops and tablets have already fallen, with others expected to drop starting with Black Friday year-end holiday sales in the U.S. this week. Some Chromebook laptops will be available for $199 and some Windows 8 laptops could come down to $250. The price of Windows 8 tablets and hybrids could fall to under $250, while Android tablets could be available for under $100.
Laptops
Finding a laptop under $200 would have been considered a steal during the holiday shopping weeks last year, but the number of products in that price range has expanded this year. Netbook-style Chromebooks running Chrome OS are the least expensive, while fully functional Windows laptops will cost more. Chromebooks are thin-and-light laptops with limited storage and without a full-fledged OS like Windows. They are intended for people who do most of their computing on the Web, with users likely to use online services for storage.
See PCWorld's picks for the best Chromebooks you can buy right now
Acer's Chromebook C720-2848 is the least expensive Chromebook, already priced at $200. It has an 11.6-inch screen, an Intel Celeron 2955U processor based on the Haswell microarchitecture, 16GB of storage, and offers 8.5 hours of battery life.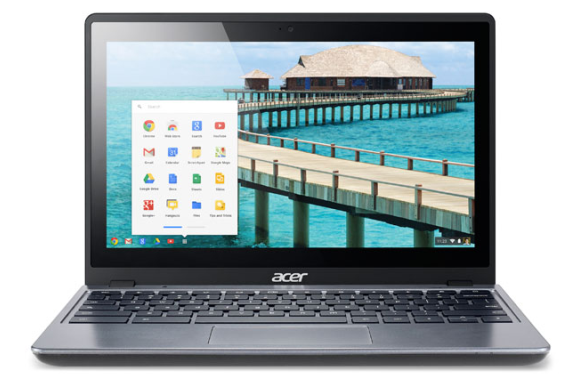 One possible upgrade is Acer's $300 C720P Touchscreen Chromebook, which has similar specifications to the non-touch Chromebook C720, but has a touchscreen and 32GB of storage. Other Chromebooks include Hewlett-Packard and Google's Chromebook 11, which has an ARM processor and is priced at $279. HP's 14-inch Chromebook 14 has an Intel processor and is priced at $299.
Deals for fully functional laptops with Windows 8 or 8.1 will pop up sporadically, with some laptops with 11.6-inch and 15.6-inch screens already priced at less than $300. Dell has listed Inspiron laptops starting at $199 for Black Friday and an Asus 15.6-inch laptop is on sale via Groupon for $280.
Beyond $300 laptops, HP will sell laptops Friday starting at $399. Toshiba is pitching deals for Friday and Cyber Monday. Prices have already been lowered on enterprise laptops and Lenovo is offering discounts on all ThinkPad laptops.
Before you shop for a notebook, read our laptop buying guide
Microsoft Store is now selling an Asus X102BA-BH41T Touchscreen Laptop with a low-end Advanced Micro Devices processor for $299.99. The company is also planning further discounts on Friday and there may be deals on its Surface RT tablet, which has been selling poorly. Prices of the tablet could fall to $199.99 at the Microsoft Store, Best Buy, Walmart and Staples, according to enthusiast site Neowin.
Tablets
Another way to get Windows 8.1 is through small-screen tablets such as Dell's Venue 8 Pro, which is an 8-inch Bay Trail tablet that for a limited time was available for under $230 at Walmart and TigerDirect. A source familiar with the product said the price of the tablet is expected to fall again.
The tablet has 32GB of storage, but the Windows 8 OS occupies a lot of that space. Other tablets such as the Asus Transformer Book T100 will be available with keyboards and could fall to under $300 in the coming days. Windows 8.1 tablets with 8-inch screens now cost about $350.
See our picks for the 10 best Windows 8 devices you can buy right now
For Android tablets, retailer Walmart as part of its Friday deals will sell HP's 7-inch Android tablet called Mesquite for $89. Many Android tablets could fall to under $150, an example being Dell's Venue 7, which is priced at $149, but was recently sold for $127 in a short-lived deal. Lenovo's S6000, an Android tablet with a 10-inch screen and quadcore ARM processor, is already priced at $194.
Pick the right device with our tablet buying guide
Online deals
Newegg, one of the most popular technology retail sites, is running Black Friday promotions and brick-and-mortar stories like Best Buy and Target are also offering online deals.
Deals will also pop up sporadically at sites such as Slickdeals and Dealnews, with products selling out quickly.