After prematurely letting the cat out of the bag with some weekend website leaks, Dell announced two new Ultra HD "4K" UltraSharp monitors on Monday: A 31.5-inch model as well as a 24-inch version, with both running at full 3840-by-2160-pixel resolution.
Dell's touting the 31.5-inch UltraSharp as the flagship model, but to be frank, 32-inch screens are, well, enormous when they're just a few feet away from your face, and 31.5-inch 4K monitors are nothing new. Witness the Asus PQ321 Ultra HD, which sports the same resolution and $3,500 price tag as Dell's new display.
The Dell UltraSharp 24 UltraHD appears more eye-catching, at least on its 183 pixels-per-inch surface. Besides being a more desk-friendly size, the monitor packs a $1,400 sticker price—still steep for a monitor, but far more budget-friendly than its 32-inch counterparts. The IPS display offers 178-degree viewing angles and an adjustable stand, along with 99 percent AdobeRGB and 100 percent sRGB color gamut reproduction augmented by a factory calibration and baked-in fine-tuning tools.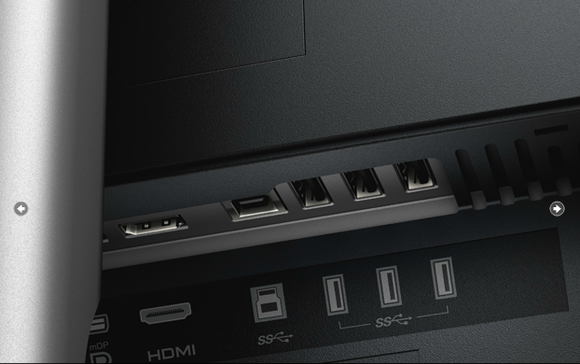 Port-wise, the 24-inch UltraSharp packs HDMI, DisplayPort, mini-DisplayPort, four USB 3.0 ports and a 6-in-1 media card reader. Meanwhile, the monitor's 3-year warranty includes a "Premium Pixel Guarantee"—basically, Dell will swap out the display if even a single one of those millions of pixels acts up.
The larger UltraSharp 32 UltraHD sports a largely similar spec sheet, though its viewing angles top out at 176-degrees.
Both 4K monitors are now available, but it's what's coming down the pipeline that's almost more exciting. Dell says a 28-inch 4K monitor will be available in 2014 with ports galore and a sub-$1,000 price tag.
Before you go getting too pumped about 4K monitors finally becoming available in desk-friendly sizes, keep in mind that Netflix trials aside, 4K-ready content is still fairly rare, and you'll need a similarly potent (and pricey) PC rig if you're hoping to get your game on in face-melting Ultra HD glory. Pushing all those pixels at playable frame rates takes a mighty capable graphics card. 4K displays have four times as many pixels as 1080p screens.