With a new pixie-styled 'do, a concert tour, and an equally chartismatic husband, who wouldn't want to use Microsoft's Bing to hunt down news of Beyoncé?
OK, put your hands down. But yes, Beyonce topped the list of the most searched-for people using Microsoft's search engine, hip-checking Kim Kardashian off her perch as the most searched-for person of 2012.
And no, there were no fireworks for Katy Perry, either. Despite a new record, the songstress disappeared from Bing's top-ten list, replaced by none other than the queen of twerking, Miley Cyrus.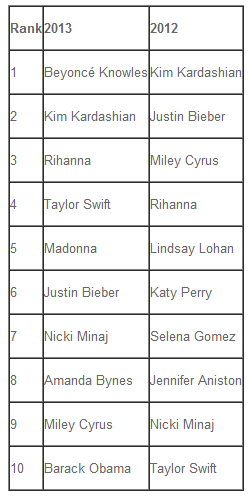 At year's end, the major search engines usually collect and collate a list of the most popular terms, both to reflect the year's zeitgeist as well as to promote their own search rankings. So far, Google has yet to release its own rankings, although the current Google Trends page for October puts Cyrus on top of the most-searched-for actors for October, the same spot she held for the last three months. Interestingly, Google placed Beyonce 13th in its list of musical artists for October, and tenth for September.
For now, however, Beyoncé sits atop Microsoft's list, followed by Kim Kardashian, Rihanna, Taylor Swift, and Madonna.
Notice a trend? The Web likes the ladies. Only President Obama and the rabid base of Beliebers pushed two men into the top 10. Obama was a newcomer to the charts, along with Madonna, and Amanda Bynes.
Bad news for Selena Gomez, Jennifer Anniston, Lindsay Lohan and Katy Perry, however, which tumbled out of the top ten. And poor Kate Middleton's rise to power (and a new baby boy) wasn't rewarded with a corresponding baby bump of interest—she finished at No. 22, Microsoft said.
Microsoft sliced and diced its search terms more than a dozen ways, from food to economic terms. A quick rundown:
Most searched-for athletes: Tim Tebow, Lindsey Vonn, Tiger Woods
Most searched-for song: Macklemore & Ryan Lewis' "Thrift Shop," Robin Thicke's "Blurred Lines," Rihanna's "Stay"
Most searched-for entertainment electronics: Microsoft's Xbox (surprise?), iPhone, Android
Most searched-for apps: Candy Crush, Angry Birds, Bad Piggies
Most searched for movies: Iron Man 3, Fast and Furious 6, Despicable Me 2
Most searched for TV show: Big Bang Theory, American Idol, The Walking Dead
Most searched for news stories: the birth of the royal baby, the Boston Marathon bombing, and the Cleveland kidnappings by Ariel Castro.
Stay tuned for more "who's the most famous one of all?" lists from Google and Yahoo.