Analyst firm A-V Comparative has released its November 2013 list of the antimalware programs that do the best job of removing malware from an already infected system.
What does this mean? As A-V Comparative notes, most PC users don't consider antivirus protection until their computer has already been infected, so its intent was not to review detection rates but rather how well these software packages clean malware they've already identified.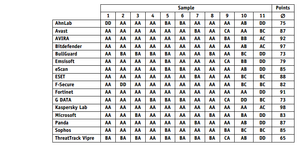 "Good malware detection is very important to find existing malware that is already on a system," the report states. "However, a high protection or detection rate of a product does not necessariy mean that a product has good removal abilities. On the other hand, a product with a low detction rate may not even find the infection and be able to remove it."With that said, several popular packages earned the top, three-star rating: Kaspersky Lab, Bitdefender, Avira, FortiNet, ESET, Avast, and Panda—listed in order of their performance. Kaspersky was ranked the highest of all of the packages tested.
Note that simply removing malware isn't a binary process; as the report notes, "removing" the malware may leave the system with anything from a compromised HOSTS file to a disabled task manager. The report also provides a handy list of "recovery disk" links in case your system gets seriously trashed. Some malware will block access to vendor websites, requiring the need for offline access. A-V Comparative made several recommendations to vendors to solve these security problems—which, to their credit, those vendors had implemented, A-V Comparative said.
So which vendors provide top-level detection protection and malware removal? Fortunately, the top vendors do both. Although malware and anti-malware are both contantly being upgraded and rewritten, A-V Comparative's real-world protection test for October 2013 found that Kaspersky, Panda, and Trend Micro detected everything that the site threw at it, generating its highest score. Avast and AVIRA also did well. And Microsoft? Unfortunately, although it caught 92 percent of the malware, it also finished next to last.
The latter details are good news for the budget-minded, since Avast is one of the most notable free antivirus solutions out there. Windows' own antimalware may do the trick in most cases, but be safe—invest in either Avast or a paid package.