On Tuesday, Microsoft updated its Lync collaboration software for Windows 8.1, a relatively minor update that still makes one wonder why Lync and Microsoft's Skype aren't a single product.
Upgrading to Lync for Windows 8.1 is easy enough: on your Windows 8.1-powered PC, Lync will upgrade itself over the next 24 hours. The upgrade adds a bit of functionality, including the ability to take control of a shared screen in a Lync meeting.
Essentially, Lync and Skype do the same thing: store a list of contacts, who you can communicate with either via instant message, audio, or video conferencing. Both Skype and Lync can share screens. One advantage to Lync is that the app maintains a list of upcoming meetings, along with a way to launch Lync directly.
In May, Microsoft linked Lync and Skype, meaning that the two platforms can talk to one another; video calls can't be made from one platform to the other, however. Microsoft has pitched Lync at enterprises, with about 5 million users in May. Skype, which straddles the business and consumer worlds, has far more: about 300 million users or so.
Still, the two services overlap so much that there's a strong case for merely killing one and keeping the other, as we argued earlier this year.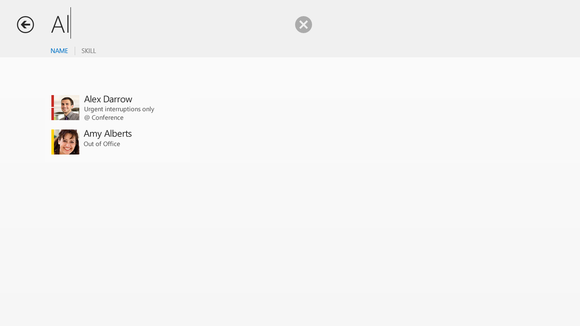 The feature list of the new Windows 8.1 version is relatively minor: users can take control of shared screens, contacts can be searched from within the app, and the login process has been improved. There's also the ability to adjust the volume of Lync calls from within the app itself without adjusting the master volume, and you can accept meetings and calls from the lock screen. Finally, users can snap Lync to one side of the screen or the other, a useful feature for an app which already has acres of unused space on a widescreen monitor.
There's also an odd quirk: Office 365 users can make Lync calls from one person to the other, but can't actually call work numbers, according to this Microsoft support page.
Still, if you're a Lync user, there's little reason not to upgrade. And if Microsoft continues its Skype-Lync collision course, the death of one app (probably Lync) won't seem as traumatic.