At a Glance
Expert's Rating
Pros
Full Windows 8.1 OS
Very thin and light
Solid build quality
Cons
Only one USB port for both charging and data transfer
Optional stylus doesn't live up to expectations
Our Verdict
Dell's 8-inch mini tablet packs full Windows 8.1 in a thin and light package with strong performance and battery life. The optional stylus is good only for short notes. not long handwriting or sketching.
Best Prices Today: Venue 8 Pro
Miniature tablets are becoming more and more popular, with devices like Google's Nexus 7 and Apple's iPad mini in the vanguard. Acer tried to bring Windows to the mini form with its Iconia W3 earlier this year, but that tablet was hampered by an awful screen, a bulky chassis, and a slow processor.
But it looks as though Intel's new quad-core Atom processor, formerly codenamed Bay Trail, has what it takes to make Windows a worthy tablet operating system. Dell's Venue 8 Pro is equipped with an Atom Z3740D CPU, 2GB of RAM, and 32GB of storage, and it runs the full version of Windows 8.1. The OS takes up quite a bit of that storage, leaving you with a little over 12GB of free space out of the box. Bumping up to the 64GB Venue 8 Pro adds $50 to the price tag, or you can supplement that storage with a MicroSD card.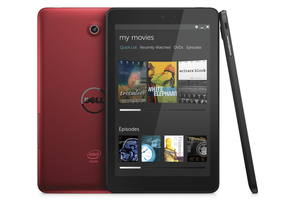 The Venue Pro's 8-inch touchscreen has a resolution of 1280 by 800 pixels—that's a far cry from the 1080p resolution of tablets such as the more laptop-like Microsoft Surface Pro 2, and it's even farther from the iPad mini with a 2048-by-1536-pixel Retina display.
But text and images look great on the Venue Pro's bright IPS display—or at least the Venue Pro's display can be bright, if you turn off Dell's overly aggressive power-saving auto-brightness. And the Venue Pro's $300 price tag is $100 lower than the Asus Transformer Book T100 (a 10-inch Bay Trail-powered hybrid with 64GB of storage and resolution of 1366 by 768 pixels) and its $200 cheaper than the 32GB iPad mini with Retina display.
So the Venue 8 Pro looks good on paper, but how does the tablet hold up in real life? I spend a lot of tablet time reading. The biggest advantage to the 8-inch Venue 8 Pro over a 10 inch tablet like the Surface Pro is that the smaller Venue 8 Pro is comfortable to hold in one hand in portrait mode for extended reading. Measuring just 0.35 inches thick and weighing just 0.87 pounds, it's easy to read all day. The tablet ran our battery run-down test for 7 hours and 44 minutes before expiring.
The 8-inch screen is less awesome when it comes to getting work done. I try to write my reviews on the device I'm reviewing, but even with a good Bluetooth keyboard, the Venue 8 Pro's display was too small to work comfortably while switching between OneNote pages, browser tabs, and other apps I use frequently, so I switched back to my laptop about halfway through.
The single Micro-USB port doubles as a data port and charging port. That means you'll need an adapter to plug in anything with a full-size USB plug, and you can't charge the tablet while you have something plugged in without yet another adapter. I've been perfectly happy to use Bluetooth peripherals with the Venue Pro 8.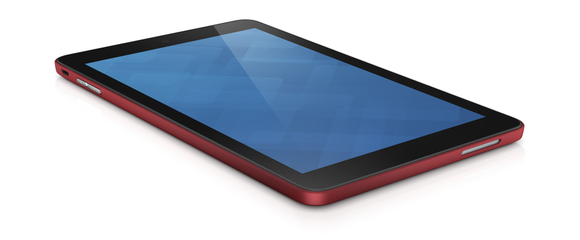 There's also no physical video out, not even the tiny Micro HDMI port that fits just fine in so many smartphones. The Venue 8 Pro does support the Wi-Fi Alliance's Miracast wireless display standard, but you'll need a compatible TV or projector—or an adapter—to make use of that technology. You can plug in headphones, but the sound is actually great over the single speaker in the back too. I have to crank most tablets all the way up to hear dialogue clearly, but I only had to set the Venue 8 Pro's volume to half way.
The pen
I'm glad that the Venue 8 Pro can recognize an active stylus—a $30 option—but the Synaptics active pen technology is new and not quite fully baked. You can take handwritten notes in OneNote with the pen, but it's not a smooth experience. I was able to get cleaner handwriting by slowing down and being more deliberate, which would be fine for short meetings or occasional note-taking, but I'm not sure I could keep up with a physics lecture.
Dell seems committed to improving the experience. They've already released a firmware update for the digitizer, but when I applied it, it only led to more issues. I was much happier with the experience after rolling back to the original firmware, although many users have reported better accuracy after the update.
The ecosystem
While you can run full-fledged Windows desktop applications but that's really not what these mini tablets were designed for. Your best experience is going to be with apps from the Windows App store that use the tablet and finger-friendly modern UI. The Venue Pro 8 comes with the full version of Microsoft Office Home and Student 2013—an excellent value.
The app selection in the Windows store is much smaller than more mature ecosystems such as iOS and Android, but I have yet to run into an app I wanted that didn't exist or didn't have a good equivalent. For reference, I primarily read news from RSS feeds (Modern Reader), read books and magazines (using the Nook or Kindle apps), write (using OneNote or Evernote), watch shows and movies (usually on Netflix or Hulu), or just waste time in general (reading and posting on Facebook). If you're thinking of picking up a Windows tablet, but you're not sure whether you can find the apps you like, you can browse the store here.
Should you buy one?
The Dell Venue Pro 8 will never replace your laptop, but that's not the point. For $300, you get full Windows in a mini tablet, and despite the low price, it's not cheaply done. It's well built, performs well, and will run all day on battery. The only big caveats are the lack of ports and the half-baked active pen.
Best Prices Today: Venue 8 Pro