At a Glance
Expert's Rating
Pros
Silky 3200-by-1800-pixel display
Performs both notebook and tablet roles well
Handsome industrial design
Cons
Weak typing experience (for a Lenovo laptop)
Limited selection of I/O ports
No ethernet; 802.11n Wi-Fi adapter (no 802.11ac)
Our Verdict
The Yoga 2 Pro combination laptop/tablet is a superior experience in either role, and its ultra-high-resolution display is awesome. But the dual design slightly compromises the typing experience.
Best Prices Today
Lenovo has come darn close to creating the perfect laptop/tablet combo design with its 3-pound, $1000-plus IdeaPad Yoga 2 Pro. It brings Windows users a better-than-Retina display, has speed to spare, is sturdily constructed, and is remarkably thin for a dual-role design. The only thing missing is Lenovo's famously excellent typing experience.
The first thing you'll notice when you boot a Lenovo Yoga 2 Pro is how silky, yet sharp everything on the screen appears. Even putting your eyes right up to the display, it's extremely difficult to spot the gaps between pixels. That's what happens when you put 4,560,000 (3800 by 1200) pixels in a mere 13.3-inch diagonal space. Movies, text, icons—wow. Aside from the glare produced by the touchscreen glass, it doesn't get any better.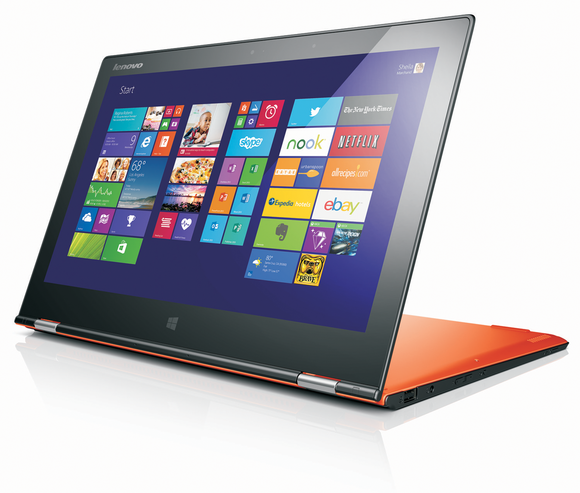 Design, components, and performance
The Yoga 2 Pro sports double-jointed hinges that allow the display to flip 360 degrees for use as a tablet. Since it's only 0.61-inch thick, it doesn't feel as awkward in that role as previous convertibles I've tested have. The design also lends itself to being propped open with the keyboard portion serving as base or kickstand. Flip it on end, and you can use it on a desk or table in portrait orientation as well. The Yoga 2 is currently available with a silver-gray or clementine-orange upper shell.
The very thin Yoga 2 doesn't have a whole lot of space for ports and switches. Indeed, the power switch on the front right (in laptop mode) is about as tiny as you'll find on a laptop. The only thing tinier is the Novo button next to it that initiates recovery operations when pressed to start the unit.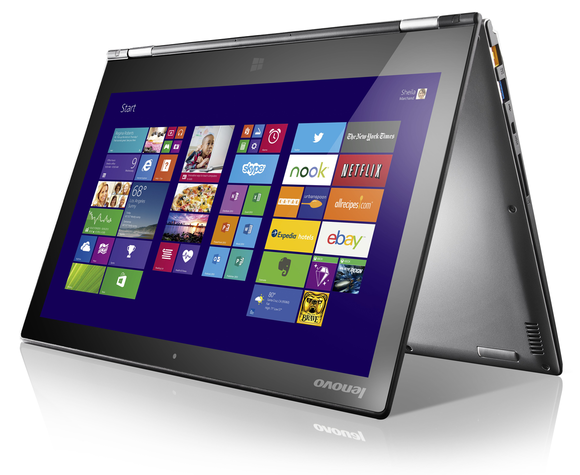 The right side also has the screen-orientation lock, the volume rocker button, a headset jack, and an always-on USB 2.0 port. The left side has a USB 3.0 port, a mini-HDMI port, and an SD memory card slot. The Yoga 2 has 802.11 Wi-Fi and Bluetooth 4.0, but the Wi-Fi is only 802.11b/g/n, not the newer, faster 802.11ac, which may cause regret in the future. There's no ethernet port, so you'll need a USB adapter if you need to work tethered.
Our review configuration came running Windows 8.1, with a Core i5-4200 CPU, 4GB of DDR3/1600 RAM, and a 128GB Samsung SSD as core components. A number of configurations are available, with the beefiest model on Lenovo's site sporting a Core i7-4500U and a 512GB SSD for $1500.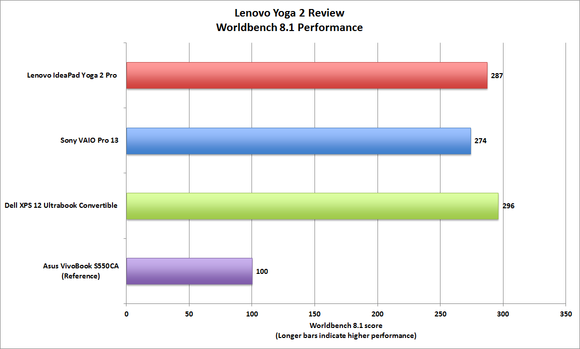 Our Yoga 2 Pro racked up a more-than-acceptable WorldBench 8.1 score of 289, with gaming frame rates typical of Intel integrated HD 4400 graphics. Games such as BioShock Infinite are playable at resolutions up to 1024 by 768. Tested battery life is 5 hours, 29 minutes, which is quite good.
Lenovo is renowned for delivering the best laptop typing experience in the business. The Yoga 2 Pro does not measure up to that level, though not for lack of effort. The dual laptop/tablet design forced the company to recess the back-lit, Chiclet-style keyboard further into the keyboard deck than usual. That makes for more finger travel and is initially disconcerting—especially when the key depresses below the bottom of the well. The unsculpted keys don't help.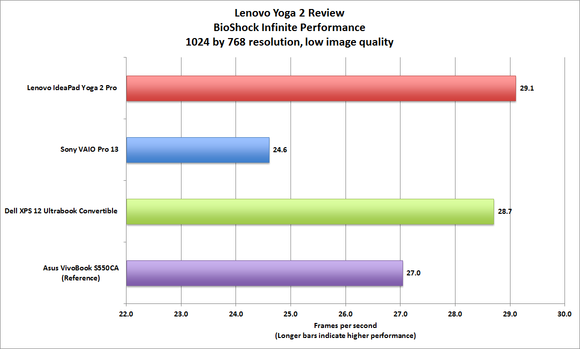 When I propped up the back of the laptop to tilt the unit forward, the tactile and aural feedback were okay, but I was still banging the joints of my thumbs on the keyboard deck every time I went for the spacebar. That's partly owing to my miserable typing habits, but the Yoga 2 is not a typist's laptop.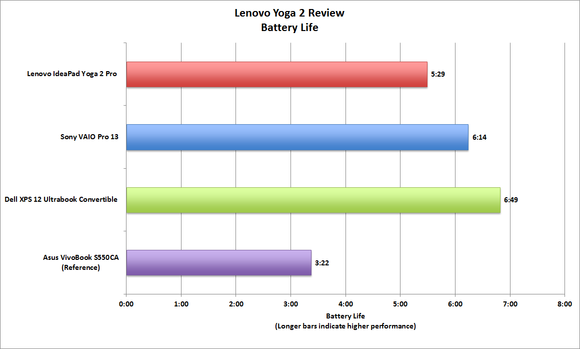 Some users have complained about being able to feel the keys when holding the Yoga 2 as a handheld tablet. My advice? Get over it. Currently, there's no way to address that issue in a laptop this thin.
The Yoga 2 Pro's touchpad, on the other hand, is supersilky to the touch and nicely, but subtly, distinguished from the keyboard deck by its rim and the rougher texture of the deck. The touchscreen is responsive, and the webcam's image streaming is as smooth as a baby's behind. Lenovo provides motion control for the camera as well as the company's usual array of mildly useful utility applications.
The Yoga 2 is a great laptop/tablet combo. Overall, it's one of the best I've seen at any price and quite usable in either role. Just don't expect the usual stellar Lenovo typing experience. I also wish Lenovo would do some future-proofing by offering an integrated 802.11ac adapter.
Note: When you purchase something after clicking links in our articles, we may earn a small commission. Read our affiliate link policy for more details.
Jon is a Juilliard-trained musician, former x86/6800 programmer, and long-time (late 70s) computer enthusiast living in the San Francisco bay area. jjacobi@pcworld.com