At a Glance
Expert's Rating
Pros
Delivers some of the benefits of an SSD
Provides 1.1TB of storage
Cons
Very slow SSD write performance
Driver required to access hard drive
9mm drive height won't fit in every laptop
Our Verdict
The WD Black2 is faster than a mechanical hard drive, but it's not nearly as fast as a comparably priced 500- to 512GB SSD. Its SSD write speed is particularly disappointing.
Western Digital's Black2 combo drive—an SSD paired with an HDD—is a great concept: SSD speed and hard-drive capacity in a single 2.5-inch package. But disappointing SSD write performance, a hefty $300 price tag, and the availability of much faster 512GB SSDs for just a few dollars more make the Black2 a difficult sell for laptop upgraders—unless you absolutely need its 1.1TB capacity.
The Black2 is essentially a 120GB SSD married to a 1TB, 5400 rpm hard drive. The package 9mm high, so it will fit in many, but not all laptops (most newer thin-and-lights can accommodate only drives that are 7mm high). The SSD and HDD share the same drive interface, but they're treated as separate entities, and Windows will assign different drive letters to each of them.
The SSD appears automatically when you attach the drive and boot up, but you must install a software driver to access the hard drive. This makes the Black2 unsuitable for NAS boxes and RAID. It is also not supported on the Mac OS.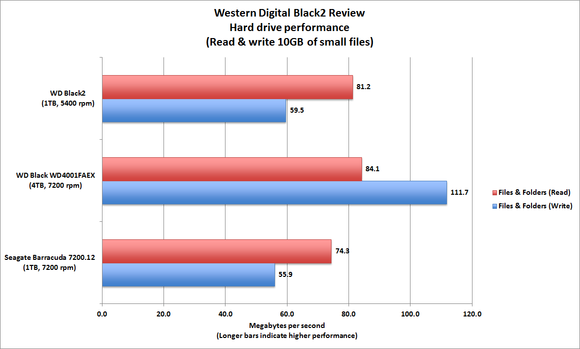 The drive delivers decent performance in every aspect aside from its SSD write performance, which is disappointingly slow. It wrote our 10GB collection of small files at just 150MBps, and it wrote our single 10GB file at only 151.1MBps. That's faster than most mechanical hard drives, to be sure, but we had to dig all the way back to an obsolete Corsair Force drive with asynchronous NAND to fine a slower-writing SSD.
The Black2's SSD read performance was a little closer to what we expected: 362.5MBps for our 10GB collection of small files, and 362.1MBps for our single 10GB file.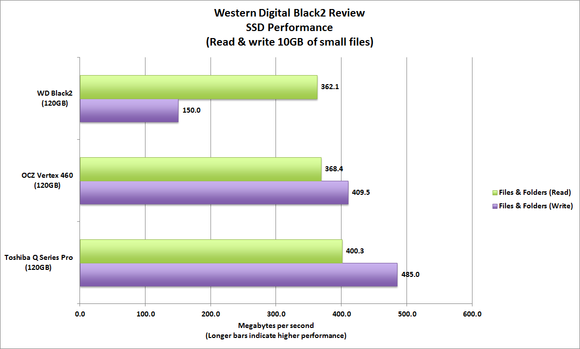 Turning to the drive's mechanical side, the Black2 wrote our 10GB collection of small files to its hard drive at 59.5MBps, and it read those same files at 81.2MBps. The dual drive wrote our single 10GB file to its hard drive at 112.2MBps, and it read it back at 85.5MBps. Those are good numbers for a 5400 rpm drive.
The WD Black2 is faster than a plain hard drive, but it lags far behind a state-of-the-art SSDs. Price per gigabyte–27 cents for the Black2, versus 60 to 80 cents for a good SSD–sounds like a good deal. But if you want the genuine wow upgrade experience that a real SSD can deliver, you'll be happier with a similarly-priced 512GB SSD, such as the Samsung 840 EVO or the Toshiba Q Pro.