At a Glance
Expert's Rating
Pros
Can scan virtually anything
Very small footprint
Fast
Cons
Not great at correcting for page distortion or curvature
Not suited to scanning transparencies
Expensive
Our Verdict
It looks like a table lamp, but the ScanSnap SV600 scans material quickly and efficiently, and it takes up minimal space when not in use. It's also a hoot to watch, but page curvature is a problem.
The Fujitsu ScanSnap SV600 overhead scanner is must-see technology. Priced at $800, it's too expensive for most users, but the way it scans objects placed in front of it with nothing more than a bar of light is simply cool to watch.
It scans without touching the source material, so it's extremely handy for scanning delicate documents and 3D objects as thick as 1.18 inches. Not having a platen that you can flatten documents against, however, is problematic.
If you saw an SV600 at a garage sale, your first thought would be "table lamp." Seeing it in action, however, would cause that perception to morph into "Star Trek table lamp." You'll find neither a scanner bed nor a lid, and no hulking box to hold the scanning element. It's just a base—dominated by large power, scan, and stop buttons—that stabilizes a thin tower with a swiveling scanning element at the top.
Align the object you wish to scan on the provided black background cloth, press the scan button, and then sit back and watch a bar of light travel hypnotically from back to front as it captures an image from photonic feedback. Growing up in the '60s, I fully expected technology like this to arrive 20 years ago.
A user-definable delay between your pressing the scan button and the device's starting the scanning operation gives you time to move your hand out of the way. If you're scanning a multipage document or several pages from a book or magazine, you can also configure the SV600 to initiate another scan after you turn the page.
I found the user-definable timed scan to be much more efficient, however, because the scanner's ability to recognize a page turn was accurate only about 75 percent of the time. I developed a good rhythm after setting the pause to 1 second, taking into consideration the approximately 6 seconds the device took to scan and then return to its start position. Scanning a 75-page magazine required less than 10 minutes. That's very fast, a result largely due to my not having to jockey material onto and off of a flatbed. Alas, that's not necessarily the end of the process.
Trouble with the curve
Fujitsu's engineers did a great job overcoming a couple of significant challenges when they designed the ScanSnap SV600. First, the scan head on the typical scanner remains equidistant from the object being scanned. With the ScanSnap SV600, in contrast, the distance between the two increases as the scan progresses. Second, the typical scanner doesn't have to contend with ambient light, because the source material is in such close proximity to the scan head. The ScanSnap SV600 has no mechanism to block ambient light.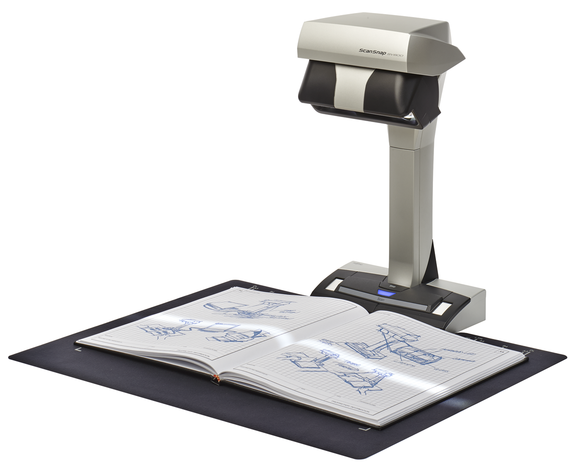 I don't know whether to credit Fujitsu's optics or its software, but neither of those issues affected the ScanSnap SV600's scanning prowess. The device easily handled all of the flat, 3D, and multiple-object challenges I threw at it. Good job, Fujitsu.
What does give this unusual scanner a little trouble, though, is the deceptively simple problem of vertical curvature, as found with magazines and books laid open. A flatbed scanner's lid flattens materials against the platen to minimize that issue, albeit with potentially damaging effect to the book or magazine's spine. A handheld scanner presses against the page and never "sees" the curvature, but dragging a scanner across the page has the potential to damage the page itself.
The overhead scanning element inside the ScanSnap SV600 never touches the source material, so it's as gentle as can be—but it does nothing to flatten curves. You can pull the book or magazine as flat as possible using your fingers, and Fujitsu provides functions for removing fingers from the image, but you must eliminate any remaining curvature via software. I found this operation to be more of a hit than a miss, but it wasn't perfect. And although you can find manual tools for editing scans, few people will have the patience to spend a couple of minutes straightening every scanned page in a book or magazine.
Fujitsu bundles its own ScanSnap Manager software, for setting options and directing scans; ScanSnap Organizer, a competent document librarian; CardMInder, which pulls information off business cards and routes it to various organizers; Abbyy Finereader, for optical character recognition; and Rack2 Filer, which facilitates ebook creation. All of these apps are capable, but ScanSnap Manager could present its options in a more intuitive fashion, and the editing workflow could use some improvement.
Considering the technical difficulty of the task involved, the Fujitsu ScanSnap SV600 is an amazing piece of scanning hardware. For everyday document archiving and making quick copies, the ScanSnap SV600 is more than adequate and very fast. It's a great match for public libraries and other environments where users might want to scan just a few pages without risking damage to the source materials. But the curvature removal needs some work, and the post-scan processing needs to be more automated. Still, I want one.