At a Glance
Expert's Rating
Pros
Excellent performance
7mm thick, so it will fit nearly any drive bay
Toggle NAND
Cons
No mounting hardware for desktop installation
Three-year warranty
Our Verdict
Though a couple of ticks slower than Samsung's 840 Pro, Toshiba's Q Series Pro SSDs are still top performers.
Many capable SSDs are out there, but don't overlook a relative newcomer: Toshiba's Q Series Pro. Toshiba's drives are among the very fastest we've tested, and in an unusual development, we saw no drop in performance in its smaller capacities. Throw in heavy online discounts, and you have an excellent bargain in a top-performing drive.
The Q Series Pro drives are only 7mm thick, so they'll fit in just about any laptop that supports a 2.5-inch drive. The controller is Toshiba's own TC358790XBG, as is the 19nm Toggle-mode MLC NAND. In our tests reading and writing a single 10GB file (using a 16GB RAM drive on our test bed), each of the three capacities Toshiba sent us—128GB, 256GB, and 512GB—proved excellent performers.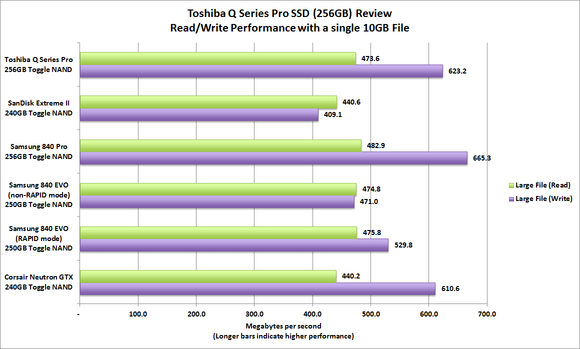 Until now, the rule as been that the smaller the capacity, the slower the drive (because of fewer chips and fewer channels), but the Q Series blew that up and then some. The 128GB drive actually ended up being the fastest capacity we tested, although the difference was so small as to be statistically irrelevant.
The 128GB Q Series Pro wrote our 10GB mix of files and folders at 409.9 MBps and read it at 412.25 MBps. With a single large 10GB file, that jumped to 635.4 MBps writing and 481.4 MBps reading. No single result was fast enough for first place, but where many drives shine at either reading or writing, the Q Series Pro is top-notch at both.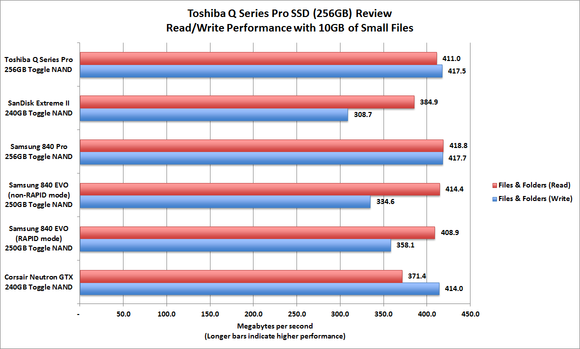 As mentioned, the larger capacities were slower, but only by very slight margins. Overall, the 128GB finished third among all the unaided drives (no software on the PC) that we've tested of any capacity, and it finished far ahead of other 128GB drives we've tested.
The 256GB and 512GB drives placed fifth and sixth respectively; you should note, however, that first and sixth place are separated in performance by just 3 percent.
The bottom line
The Toshiba Q Series Pro drives carry some rather hefty suggested retail pricing: $160 for the 128GB, $310 for the 256GB, and a sky-high $740 for the 512GB model. But a quick trip online revealed stunning discounts that drop the price below 80 cents per gigabyte. That's a bargain in a drive this fast. The only downside is that the Q Series Pro is warrantied for just three years, while its Samsung 840 Pro and OCZ Vector competitors carry five-year warranties.