At a Glance
Expert's Rating
Pros
Extensible and rock-solid
Free
Great psychoacoustic effects
Cons
Weak playback control on some file types
Doesn't handle photos
Our Verdict
WMP shipped with recent editions of Windows, and it can play anything with the proper DirectShow codec. It's also a decent librarian.
Alas, poor Winamp! We knew it well. One of our favorite audio and video player/streamers, we loved that it kept on kicking the Llama's butt year after year. Time and the competition caught up with it. Support and development have ceased. Sigh.
Of course, no support doesn't mean that a pretty darn good program doesn't work anymore. You can still use it. However, in light of the news, that's too painful to bear. Here are five ways to move on, plus one other historical-footnote player. Sorry if they're mostly corporate creations that may have hastened Winamp's demise. Life goes on.
AIMP 3
AIMP (free) is the player most likely to restore a Winamp fan's faith in the natural order of the universe. Indeed, tiny buttons and text abound. Wisecracks aside, I personally find AIMP a lot easier to fathom and use than Winamp.
It's also chock-full of surprises, such as very good pitch and tempo variation, a good bass enhancer, and even a decent spatial effect. I'm not much into chorus, echo, flange and reverb, when applied to entire songs, but those are there as well.
AIMP serves as a very good organizer without taking up a lot of space, provides top-notch tag editing, and is a surprisingly able format converter that outputs APE, FLAC, MusePack 98, OGG Vorbis, wave, WavePack, and WMA. There are dozens of other options to dig into, and you should—there's something about AIMP that inspires the inner audiophile.
Windows Media Player
It's tough to compete with a program that comes free with Windows.
Not only is Windows Media Player efficient at handling audio and video, it has the best psycho-acoustic sound enhancement in the business with SRS TruBass low-end and WOW spatial effects. You can add support for virtually any audio or video file type by installing a DirectX filter and it's a more than passable organizer. WMP rips and burns CDs, but it doesn't do photos.
iTunes
Though rendered in a style designed to invoke Mac-envy in Windows users, iTunes (free) is as competent a music player, organizer, and tag editor as you'll find.
iTunes also supports video, but doesn't understand DirectX filters, so it's limited in the types it understands. Still, that includes biggies such as MP3, MP4, and WMA in addition to its native AAC on the audio side.
The iTunes sound enhancer is nicely tuned, but can't be finely adjusted as WMP's SRS FX can. In a fit of evil genius, Apple originally made iTunes the sole connected conduit for iOS device updates and backups (though you can do without it now that OTA updates are supported and iCloud is in place). I mention this only to point out that you may already have it installed.
PowerDVD 13 Pro
Cyberlink has been laboring to morph PowerDVD from just a darn good DVD/Blu-ray movie player into a universal multimedia player that also supports music, photos, and video files. PowerDVD Pro ($65) is easy to use and supports an impressive number of codecs natively, but there's no support for DirectX filters to play those that it doesn't.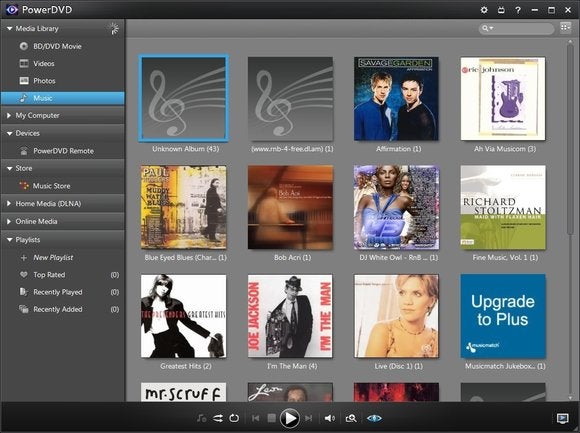 There's no psycho-acoustic enhancement, and it's slow to load files in bulk for organizing purposes, but it does a good job once they're loaded. If you watch a lot of Blu-ray movies on your PC and want to settle on a single player for everything, PowerDVD Pro merits consideration.
VLC
For some reason, I always head back to the VideoLan Player, aka VLC, as my default player. Not so much because it's free, or because it internally supports virtually every audio and video file type known to computer-dom, but because of its wide range of effects, playback controls, and video enhancement.
If you want one player to rule them all—without a lot of extra codec installations—this is the program. It's also available in a portable version, so if you're a have-flash-drive-will-travel type, it's the best thing going.
All that said, the program still doesn't play Windows video files very well, doesn't offer psycho-acoustic enhancement for audio, and offers little library functionality. The default look is clunky-looking ,and the myriad options are confusing as well. Regardless, you should have this one around for when the others won't play something.
Zune
Windows Phone and Xbox users probably have this player/device conduit on their system, but it's tagging onto this roundup because it's one of the first programs Microsoft fielded that showed it didn't intend to play perpetual second fiddle to Apple in terms of design aesthetic. Translation: It's pretty. A lot prettier than Windows 8, for which it was a harbinger. Sadly, it now seems to be as orphaned as Winamp—the last update removed a ton of features.
Zune rips, burns, and handles audio, photos, and video extremely well. Frustratingly, but understandably, it's limited to the file types that the Xbox and Windows Phones support (ah, for DirectX support). But I've used the program more than once simply for its ability to simultaneously play a slide show of my photos and a playlist of my favorite songs. If your audio and video are Windows-codec-centric, I say take a look. It's also interesting in that you can see what Windows 8 might have been.
Moving on from Winamp
Winamp had a good run, but losing it doesn't have to break your stride. Switch to one of these competent replacements, and soon you'll be enjoying your music and video again.