At a Glance
Expert's Rating
Pros
Very easy-to-use interface
Software monitors disks inserted into hard drive and automatically updates with movie's details
Can also manually type titles, or enter by barcode by holding up to webcam
Our Verdict
My Movies is easy-to-use desktop software which syncs with the My Movies website to provide you with your very own inventory.
Many of us have accrued a massive collection of DVDs and Blu-ray discs, but not everyone has gone to the trouble of cataloging what they have. But keeping a precise inventory has its advantages, and that is where the free and very capable My Movies more than ably fills the need.
First of all, if you only have a small collection, seeing what you have is easy enough. But if you have a huge collection of hundreds or even thousands of disks, it's very easy to lose the overview of your collection. You may start accidently buying duplicate disks.
Another thought: If you have a disaster such as a burglary, fire, or flood, you can lose your beloved collection. Home insurance requires exact property lists if you want to make a claim. Again, a few disks makes this an easy task, but if you have hundreds, that's another kettle of fish.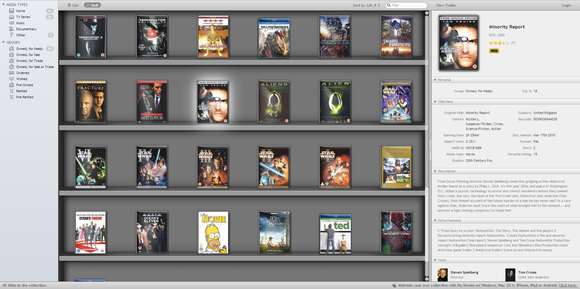 Even your own generosity can do you in. If you are in the habit of loaning disks to friends and colleagues, it can become easy to lose track of who has what, and for how long. Keeping a record will help you to recover disks from forgetful friends.
My Movies runs on multiple platforms and allows you to input the details of each DVD and Blu-ray that you own into the software. Entering a title can be done in a variety of ways: manual input; holding the barcode up to the webcam; and my personal favorite, entering the disk into the hard drive to watch as the software automatically detects it and enters the movie details for you.
Once you insert the title, My Movies will upload all of the relevant information for you, including the cover (if it chooses the wrong one, you can change it), plot, actors, production crew and information about the disk itself. You can also specify whether or not you are keeping it, selling it, trading it, or even if it is just on your wishlist.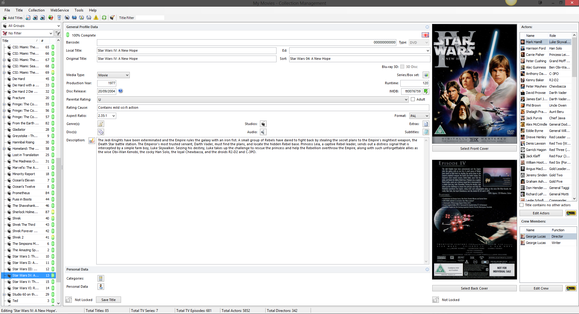 When the desktop software has all of your disks listed, you can then upload everything to your own free dedicated webspace on the My Movies server. I did this myself so you could look. The speed upon which everything is uploaded depends on how much you are sending over, but on the whole, it's quite a fast process.
What is stunning about My Movies is the breadth of systems that it is available for. There is a Windows 7 (Premium, Professional, and Ultimate) Media Center add-on that allows you to "play your titles, browse cast, play trailers and much more by using a remote control within your living room or home theatre". You can also run My Movies on Mac OS X (free for up to 50 titles or $15 for the unlimited Pro version), Windows Home Server, and iOS and Android (as similarly limited free apps and $5 for iPhone, $7 for iPad, $6 for Android from Google Play, and $4.50 from Amazon).
The only downside to the My Movies desktop software is that you can't rate your movies after you've watched them. But this minor quibble aside, this is one fantastic piece of software for anyone serious about cataloguing their media collection.
Note: The Download button on the Product Information page takes you to the vendor's site, where you can download the latest version of the software.