When I set out to shop the Chrome Web Store, I wasn't just browsing for fun. The Chromebook Pixel's many charms had lured me toward Google's Web-centric Chrome OS, but I needed to know whether it offered an ecosystem I could live with long-term—especially since I'd be leaving behind all the Windows applications I've used for years. The Chromebook's popularity has only increased over the past year, so I couldn't be the only Windows user with a wandering eye.
I already knew that the Chrome Web Store offered decent alternatives to the business apps that I use most of the time. The bigger adjustment for me required basic trust. A Microsoft application, whatever its faults, rolls out on the desktop like a marching band, with a drum major, fanfare, and neat formations. You know you're getting something from a big company with some level of oversight and accountability. But the Chrome Web Store has no marching band—just a mob of random players, all vying for my attention. Who are these people? Can I trust their apps? Finding the classy ones—and avoiding the creepy and the crummy ones—is a DIY job I didn't want.
Creepy: Bad Piggies malware and other epidemics
There are good reasons to be wary. Late last year, impostor versions of the popular Rovio game Bad Piggies created a malware epidemic in the Chrome Web Store. Before Google could get a handle on the situation, tens of thousands of users had downloaded fake Bad Piggie games that displayed extra ads and sniffed out passwords. And just a few months ago, another Chrome app scam hijacked users' Facebook accounts to generate fake Likes and bogus posts.
Malware isn't exclusive to the Chrome Web Store, of course, but the way Google handles new apps invites trouble. Apple and Microsoft vet apps before allowing them to post on their app stores, but Google's automated scanning procedure checks new apps after they appear in the store. "That's a losing gambit," says Paul Roberts, editor of The Security Ledger, "because it still allows a window of time for malicious content to appear on the Chrome Web Store."
Roberts says Google has addressed the biggest problem that led to the Bad Piggies malware: Chrome extensions, the little software programs that can modify the Chrome browser. "Google changed Chrome so that extensions could only be installed from the Chrome Web Store and not from third-party sites," he said. Google also disabled existing extensions that were installed by third-party applications.
What's puzzling is that Google's Android ecosystem is already plagued with malware, so you'd think the company would have tried to prevent a similar fate within the Chrome ecosystem. Google's reactive approach makes the thought of leaving the safe, cocoon-like environment of the Windows OS a lot harder, because we can never be quite sure about what lurks on the Chrome OS frontier.
Crummy: Chaotic app experience
The real danger may lurk in the chaos of app store. It's not just that some of the apps are simply bookmarks to websites—although this can be surprising, even when you remember that Chrome apps are expressly designed to live on the Web. As one PCWorld colleague and Chrome OS aficionado said, "If you can't deal with the fact that most 'apps' are actually websites, then Chrome OS probably isn't for you."
And it's not even that many of the apps are little rinky-dink things that hardly seem worth the bother. You can find those worthless trinkets in any app marketplace.
What really flummoxed me was how hard it can be to find the official versions of popular websites. If they exist at all, they often must compete with a crowd of third-party apps with the same or similar names. I'm not knocking the legitimate apps, which can improve a website's stock experience with a Chrome-specific viewer or a better interface. But other apps, unfortunately, simply co-opt a site's name to get you to look at an ad-ridden version of the online property.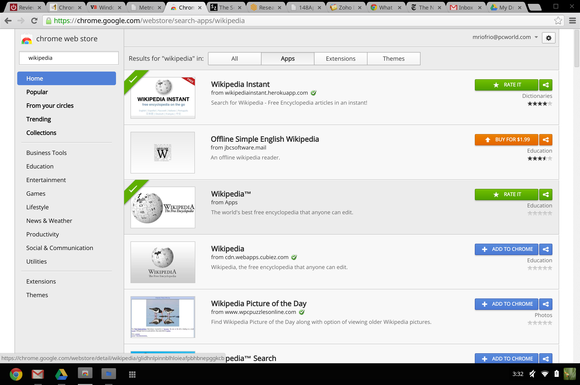 Let's take Wikipedia as an example. Searching for it in the Chrome Web Store yields a long list of apps with Wikipedia in the name.
The app at the top, Wikipedia Instant, sure seems popular, with more than 23,000 users, and a big green checkmark highlighting it. But when it launches, all that appears is a nearly blank page with ads on either side. The real Wikipedia is a nonprofit site with no advertising.
Where was the real Wikipedia? I found it a few items down on the list, also with a green checkmark, but with only 215 users. This was the app that I wanted, but somehow, a clearly inferior unofficial version had ended up the winner in the app popularity contest.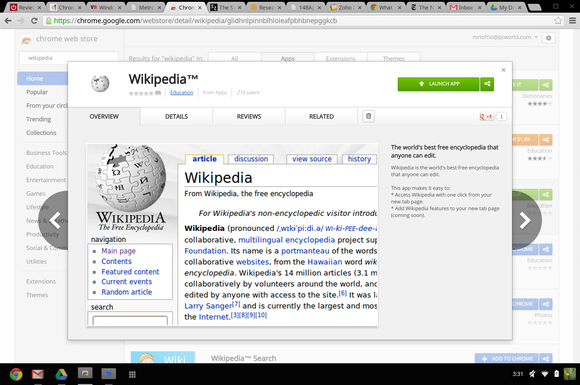 I found a similar situation with Reddit: Eight apps had Reddit in their names. The most popular app, called 'reddit', was just a link to Reddit's webpage, but it had 12,422 users. One called Minimal Reddit offered a colorful alternative interface and had 743 users. I had to search hard for the official, trademarked Reddit Chrome app, which had just 17 users.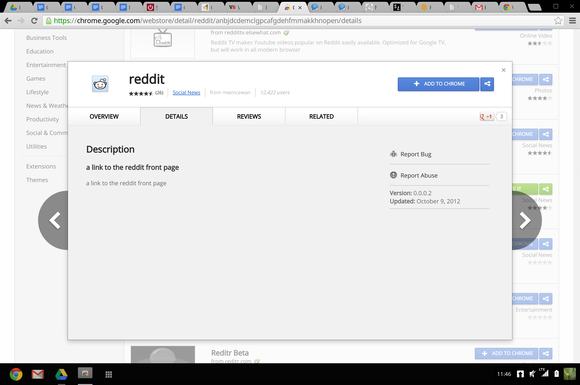 Classy: Authentic Chrome OS apps
It's too bad that it's so easy to get lost in the Chrome app weeds, because some great stuff is out there. Real Reddit is fine, but I preferred another app called Reditr Beta, as it offered a TweetDeck-like design and a much slicker look.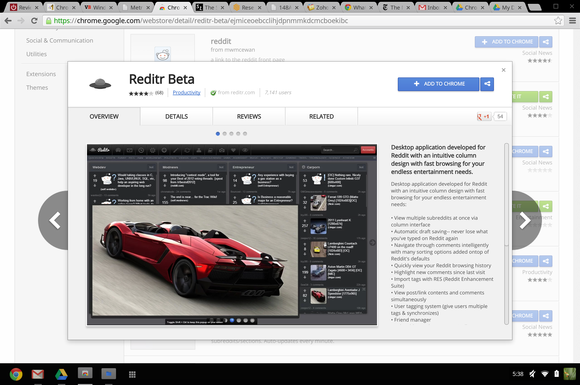 My favorite Chrome app, for The New York Times, is also much more than just a recap of the website. It has a wide layout for easy browsing, and right-hand navigation for getting to specific sections. It's touch-enabled, so I can swipe the screen from my Chromebook Pixel if I want to. I enjoy this version much more than the standard browser view.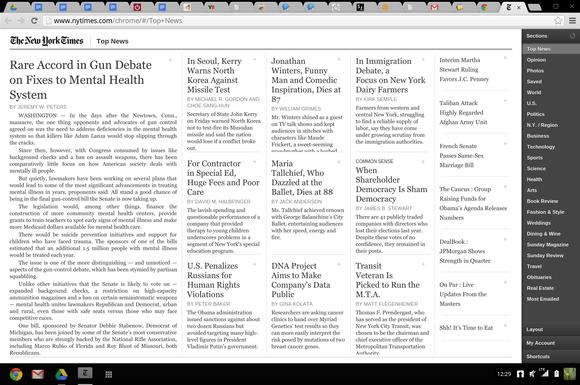 Native-like 'packaged' apps are Chrome's destiny
In an ironic twist that can't be lost on Google, the next step for Chrome apps seems to be moving away from the Web. Called packaged apps, "these apps provide app experiences that are every bit bit as good as native apps," said Rahul Roy-Chowdhury, product manager on the Chrome team. "They work offline by default, have a rich and immersive user interface, operate outside the browser, and have access to powerful new capabilities."
The apps download to and launch from your Chrome device, and they also allow for local storage and offline functionality. In other words, they look and act a lot like the native applications that the Chrome OS was supposed to forsake.
While packaged apps may take a while to appear in the Chrome Web Store, they can't come too soon for some people. Ben Bajarin, principal at market-intelligence firm Creative Strategies, believes the best way to feed the Chrome Web Store will be to port Android apps over to the Chrome OS. "The key to the Chrome store is getting developer support and a critical mass of applications so consumers find it valuable," Bajarin said.
Chrome Web Store needs more apps
The Chrome Web Store does need some help. It launched in December 2010 with 500 apps, and has grown to more than 32,000 apps as of mid-March, according to the Chrome OS Apps website. That number pales, of course, next to the 839,000-plus apps reported to reside in Apple's App Store. But it's not even as good as the much-younger Windows 8 store's 58,000-plus apps (per MetroStore Scanner)—and Microsoft struggled to get that far.
Of course, the typical user will download a very small fraction of any of these thousands of apps, but a repository needs a critical mass of popular apps to keep people coming back for more. Chris Sorensen of Chrome OS Apps notes that only 14,000-odd Chrome apps have more than 500 users. The app store population took a big hit late last year, Sorensen said, when Google dropped a lot of apps that had zero users.
After my deep dive into the Chrome Web Store, I realize it isn't just a place where you get apps. It's also an ecosystem barometer for the Chrome OS, just like the app stores are for iOS and Windows and, of course, Android. Users judge these ecosystems by the quality and quantity of the available apps, and they choose to participate based on what they perceive. Developers do the same thing. So if you're Google or Microsoft or Apple, you know your app store had better be good, or no one's going to want to join your ecosystem, which means developers won't make apps for it, and then your ecosystem could die the death of a thousand bailing users.
For the Chrome Web Store to avoid that fate, it's going to have to feel safer, better organized, and better curated. Branded apps should get some advantage over third-party wannabes, to increase the perception of quality. And when those packaged apps come along, give me a call.