At a Glance
Expert's Rating
Pros
Super easy to administer and unlock
USB 3.0 port
Good overall performance
Cons
Biometric feature adds considerably to the price tag
Slow write performance with large collection of small files
No FIPS 140-2 certification
Our Verdict
A biometric finger scanner makes this 1TB external USB 3.0 hard drive more secure than the typical external drive, and it's easier to use than models that rely on software or a keypad for security.
When properly implemented, as Apricorn has done with its Aegis Bio 1TB USB hard drive, biometric finger scanning is the quickest way to unlock secure storage. There's no messing around with a keypad, and it's far quicker than waiting for a software app to launch so you can then enter a pass code. Just a simple swipe and you're in. And since this method is operating system and device agnostic, you can use it with any device that has a USB port and understands storage.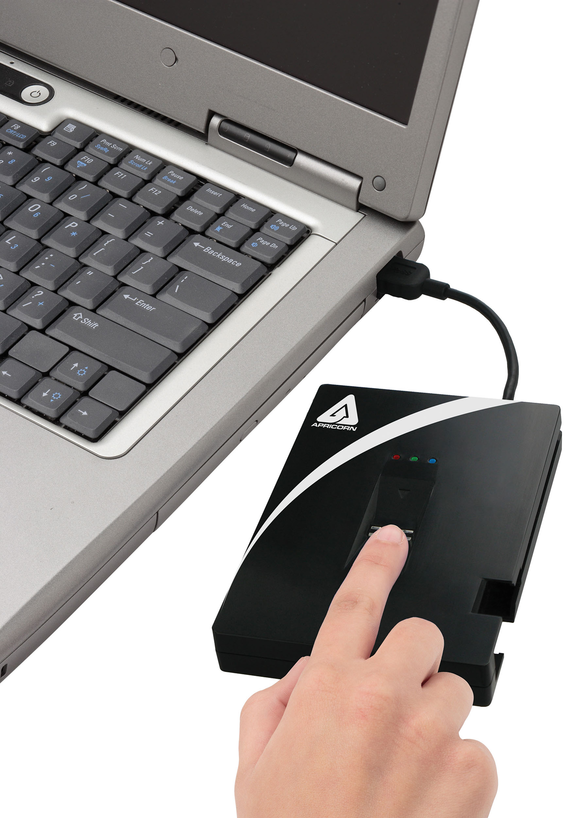 The Aegis Bio sports a USB 3.0, an integrated cable, and a ruggedized and sealed enclosure. Apricorn also includes a USB extension cable and a soft case for the unit to keep the finger-scanner safe and the unit looking pristine. Three small lights—red, green, and blue—on top of the unit blink or glow solid to denote the status of the Aegis Bio: locked, ready for fingerprint enrollment, unlocked, and so on.
You must enroll a finger before you can access the Aegis Bio. This is a process of watching the lights and repeatedly swiping a finger across the scanner. Once a finger is enrolled, you'll get steady green. You can enroll up to five fingers belonging to yourself or different people, but you should make sure there's at least one from each hand for extra security. To enroll subsequent fingers, simply press the enroll button within 15 seconds of a successful login and repeat the process. Be thoughtful with your finger choices, especially if you're sharing the drive with others, as there is no way to delete any single finger once enrolled. You can remove all of them with a drive reset, but this also erases all the data and creates a new encryption key.
In my literal hands-on time with the unit, I had no problems enrolling my heavily callused fingers or accessing the drive. Given the condition of my hands, I think the scanner should work with just about anyone's fingers. My hard drive-based model vibrated more than I prefer; it was distinct to the touch and with the unit hanging from the USB port on my display, you could see the centrifugal forces rocking it gently back and forth.
Other than that, the Aegis Bio delivered top-notch performance: It read our 10GB mix of files and folders at 212.9MBps, and it read a single 10GB file at 243.2MBps. It wrote the 10GB file at 107.5MBps; but for some reason, it wrote the 10GB mix of files at only 22.8MBps. That's three times slower than the 65.7MBps registered by our previous slowest mix writer, the G-Technology G-Drive Portable. While the 10GB mix is a stress test that you're not likely to face very often, the Aegis Bio's slow performance is puzzling.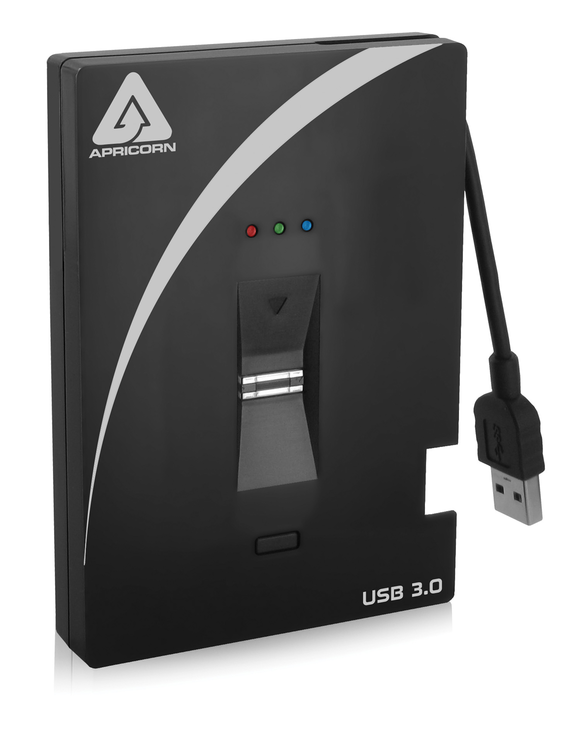 The disk-based Aegis Bio is available in three capacities: 500GB ($199), 750GB ($219), and the 1TB unit I reviewed ($249). There are also three SSD models available, which deliver a much higher shock resistance, but they're not cheap: The 128GB model sells for $329, the 256GB model costs $529, and the 512GB drive goes for $699. Shop around, as we found the 1TB drive discounted at several online stores.
While the Aegis Bios 3.0 utilizes 256-bit AES-XTS hardware encryption (on the mainboard, not the drive) it is not FIPS 140-2 certified (FIPS 140-2 is the U.S. Government's Federal Information Processing Standard used to accredit cryptographic modules). Apricorn informed me that the Aegis Bio is not currently on its list of products awaiting certification. This shouldn't bother most end users, but if you're purchasing requirements need certification, you might want to look to Apricorn's keypad model, which the company told me is awaiting certification.
The Aegis Bio is a good overall performer and swiping a finger is far less of a pain than entering codes on a keypad, or waiting for software to boot so you can enter a password. It's pricier than a plain drive of course, but if there are things you want hidden from prying eyes, the Aegis Bio is by far one of the most convenient ways to do it.