At a Glance
Expert's Rating
Pros
Large, lovely screen
Multiple input types, including DisplayPort 1.2
Wide color gamut
Cons
Over-saturated colors in default mode
Doesn't tilt to portrait mode
Our Verdict
If you're in the market for a high-quality, large display, the Dell Ultrasharp U3014 is worth considering.
A 30-inch desktop giant, the Dell UltraSharp U3014 offers resolution of 2460 by 1600 pixels on a matte IPS screen with environmentally friendly LED backlighting. The U3014 boasts several nice-to-have features and a long list of on-board controls for tuning your image on screen.
You might need to enlist some help in attaching the heavy monitor to its stand. But once you've done that, you can connect it to your computer using your choice of DVI, HDMI, DisplayPort, or Mini DisplayPort.
The U3014 supports DisplayPort 1.2, including multistreaming, so you can daisy-chain two or more monitors and display independent images on each one (provided your video card also supports DisplayPort 1.2).
The U3014 also supports picture-in-picture mode, but only with certain combinations of connections. DVI and HDMI can't be used together, nor can the two types of DisplayPort connections (DisplayPort In is used only in daisy-chain scenarios). I was also surprised to discover that the monitor doesn't scan all of its inputs on power-up, so I had to manually select the input I was using the first time. There is an input-scan button, but you must engage it by pushing a button.
Dell typically includes a four-port USB hub on its professional displays. This model sports two downstream USB 3.0 ports on its left side, along with a handy memory card reader, and two more downstream USB 3.0 ports (plus an upstream port) in the back. The display does not have built-in speakers, but you can attach Dell's optional speaker bar to the bottom of the unit.
The display is calibrated at the factory for both color and brightness uniformity, but the U3014 offers a comprehensive set of onscreen menus if you'd like to make your own tweaks. The panel on which the U3014 is based is a "wide gamut" model, which means it's capable of delivering more colors than you might be accustomed to seeing. To me, the U3014 rendered some colors so oversaturated that they looked fluorescent. An orange hat from DisplayMate's test photos, for instance, look bright red on Dell's monitor, while objects that looked lime green on other displays looked as though they'd been doused with a fluorescent-green highlighter pen. Photographs looked better, although skin tones looked too red, and a piece of orange furniture from my living room shifted toward red on the U3014.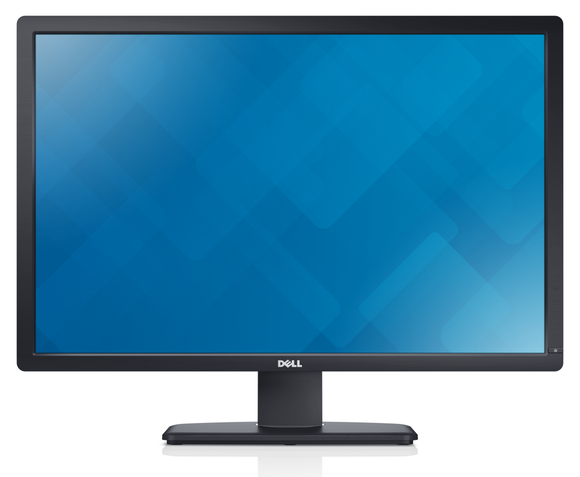 After consulting with Dell, I configured the U3014 to use the Adobe RGB color space, which provides a narrower gamut, and then Adobe sRGB, which uses an even narrower color space. These values helped rein in the colors. You can also manually adjust color-temperature values from the standard 6500K down to 5000K or up to 10000k, and you can independently adjust the hue, saturation, and sharpness. Finally, you can perform in-house calibrations using Dell's UltraSharp Color Calibration Solution software with an X-Rite i1Display Pro colorimeter (the hardware is sold separately).
All LCDs, including IPS panels, are somewhat susceptible to image retention. When a static image remains on the screen for a long period of time, a ghost image can remain behind. This usually isn't a permanent problem—since LCD technology, unlike old-school CRTs, doesn't rely on phosphors—but it can be distracting. If you detect ghosting on the U3014, you can push a button to launch an LCD Conditioning routine to get rid of the problem. I didn't encounter any image retention during my evaluation, so didn't have an opportunity to test this feature's effectiveness, but you can typically avoid the problem by using a screensaver or by allowing the display to go to sleep during longer periods of inactivity.
The U3014's matte IPS panel has a very wide viewing angle, which is important for a display of this size as you'll be looking off-axis at the top, bottom, and sides when you're sitting directly in front of it. Glossy screens can render photographic images with richer blacks and shadows, but they're also more susceptible to reflections and glare from lights and windows. In my work area, I experienced much less glare using the U3014 than with the Apple 27-inch Thunderbolt Display that I generally use.
With a 16:10 aspect ratio, the screen is just a little more square than the Apple Display, which has an aspect ratio of 16:9. The Dell is about an inch wider and 3 inches taller, and those extra few inches of real estate are very noticeable. I have four windows open as I write this, and I've found myself spending less time moving them around the screen as I switch between them.
Making the jump from a 27-inch display to a 30-inch display is a substantial investment: Dell's U3014 costs $500 more than either Dell's 27-inch U2713H or Apple's 27-inch Thunderbolt displays. And it's $200 more expensive than Dell's other 30-inch monitor, the UltraSharp U3011 (which has a less-sophisticated panel and supports only the older DisplayPort standard). But if you need a professional feature set in a very large monitor, The UltraSharp U3014 delivers.