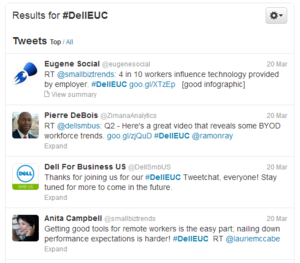 A Twitter chat is an awesome way to engage an audience, increase your brand's social visibility, and connect with an audience in a new way.
I've hosted and participated in several Twitter chats over the last few years. My number of Twitter followers has increased each time, as have the Twitter follows of the other participants. Plus, I'm able to connect with others in a way that's different from a traditional webinar or video chat.
A Twitter chat happens in real time. It's defined by a moderated posting of questions and answers on Twitter over a certain period of time, often one hour. Participants joining the conversation use a hashtag (say, for example, #pcworldtalk) to tag each tweet. Everyone who wants to follow in the live, online discussion can click on that hashtag to bring up a list of tweets containing the same hashtag.
Before you throw together an impromptu Twitter chat session, follow these steps below.
1. Be prepared
Don't do a Twitter chat on a whim. Instead, give some thought to who the audience is, who will be a part of the discussion, and what the questions and answers might be. Decide on a clear, short straightforward hashtag. You can research potential hashtags at Hashtags.org.
2. Communicate with chat participants
During the Twitter chat, keep in touch with the host and guests via another means of communication. Be on the phone together or use a separate chat system, such as Skype or GChat. It's important to speak with each other about what to post, and what to retweet and so forth during the Twitter chat. I've found the best way to do this is on the phone with my fellow participants.
3. Retweet a lot
In life the best people are givers, and the same is true in a Twitter chat. Retweet the tweets of other people who are engaged in the Twitter chat. The more you retweet, the more people will want to share your tweets, too.
4. Post a Twitter chat summary
After your Twitter chat, consider writing a summary of the key tweets. This is a great way to extend the Twitter chat beyond the dynamic, real-time conversation. One popular tool for archiving social events is Storify.
5. Use clear agenda markers
In your Twitter chat, use indicators such as "Question 1" or "Answer 2" so that your audience knows where you're at in the Twitter chat.
6. Promote the Twitter Chat ahead of time
One indication of a successful Twitter chat is the number of attendees you have and how often they are asking questions, answering questions, and engaging via email with you. To achieve these results, promote the Twitter chat at least several days ahead of time. Ask your customers, business associates and others to promote the chat to their Twitter followers and beyond. Use Facebook, email and whatever other outlets are at your disposal.
7. Keep things lively
There's nothing worse than hosting a Twitter chat without anyone chatting. Ensure that those on the Twitter chat are comfortable with Twitter, and that they know their roles and how the conversation should flow.