At a Glance
Expert's Rating
Cons
No way to browse past files without logging into Evernote
Our Verdict
Skitch Touch is well-suited for annotating images, especially on smaller screens.
Evernote-owned free utility Skitch is a great way to annotate images and screenshots. It comes in both Windows and Mac OS X editions, and mobile versions for iOS and Android are available, too. And somewhere between the mobile and desktop versions comes Skitch Touch, the version built for Windows 8's Modern Interface. It has the same simple and pretty annotation tools as the other versions, but being a Modern app, offers less power and features than the traditional Windows version.
Like many other Modern apps, Skitch Touch seems to be designed for screen in the 11- to 13-inch range. On a 24-inch monitor, it ends up displaying vast expanses of white, unused space. As you launch it, Skitch Touch shows a beautiful Create New area on the left side of the screen, letting you create a pull in material to visually annotate from a camera (presumably a tablet's built-in camera, but this feature also works with a regular webcam connected to a computer), a map, a photo or screenshot you've previously taken, an image saved into the clipboard, or a blank canvas.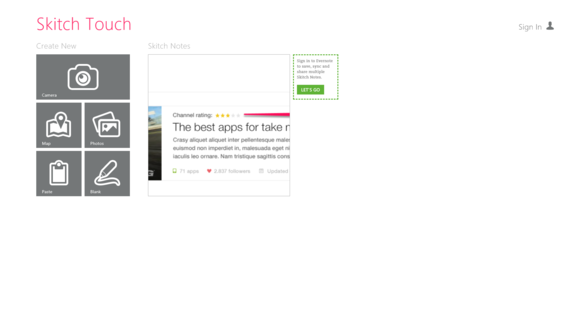 Notably missing is the option to capture a new screenshot. You'll have to use a third-party tool for this, such as Screenshot Captor or ZScreen.
Once you have an image open for editing, annotating it is just as easy as on other Skitch versions. Part of what makes Skitch fun to use is that it doesn't overwhelm the user with numerous tools: There are just seven of them to master. You can draw arrows on your image, enter text, demarcate areas with rectangles, and squiggle with a marker. Other tools let you style your annotations (pick a color and stroke width), pixelate areas of the image, and crop the image. That's basically it—but really, that's all you need to get your point across when annotating an image.
When you're ready to share your work with others, click the Export button, and you can save the image as a JPG or PNG file. This isn't as convenient as being able to drag the image off the window to save it (a feature Skitch for Windows offers), but it works. To save your work as a Skitch document for editing later, click the checkmark on the top-right corner of the screen. Saving files for editing later is another area where Skitch Touch could do better: Unless you log into your Evernote account using Skitch, you only have access your most recently edited file. Once you log into Evernote from Skitch, the main part of the window shows previous files, and you can easily click through to edit them.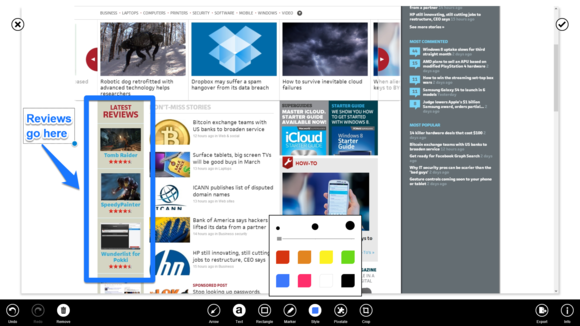 Skitch is a fundamentally simple tool, and it already offers mobile versions for iOS and Android, something that helps when designing a Modern app. It's also visual, which is a great quality for a Modern app to have. Thanks to these advantages, Skitch Touch offers a better Modern experience than most apps I've seen so far, and should work especially well on a touch-enabled tablet screen.
Note: The Download button on the Product Specs page takes you to the Windows Store, where you can download the latest version of the software.