Toshiba is launching a new luxury Ultrabook that's housed in a magnesium alloy case and boasts a 13.3-inch display with native resolution of 2560-by-1440 pixels. In a briefing with PCWorld earlier this month, Toshiba's group product marketing manager, Young Bae, described the Kirabook as having a "MacBook Pro screen on an Ultrabook that's lighter than a MacBook Air."
There's just one problem with that description: Toshiba has outfitted the Kirabook with an HDMI output that can drive an external display at only 1920-by-1080 pixels.
Apple provides HDMI out on its MacBook Pro, too. However, Apple's machine also delivers Thunderbolt, so it's capable of driving up to two external displays at resolution of 2560-by-1600 pixels each. While the HDMI standard is capable of resolutions higher than 1920-by-1080, when doing so it's limited to refresh rates of only 24- or 30Hz (4096×2160 pixels at 24Hz, and 3840×2160 pixels at up to 30Hz). Anyone connecting the Kirabook to a 27- or 30-inch display is likely to be disappointed with the image they see on the big screen compared to what they see on the little screen next to it.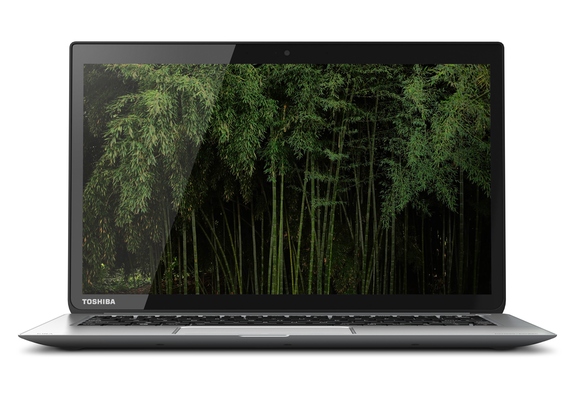 It's a curious design decision considering that Toshiba is positioning the Kirabook as a luxury machine. "We intend to deliver an upscale, premium customer experience," said Bae. "We will have a dedicated tech-support line for Kirabook owners. Their calls will be answered within 45 seconds. And the device will come with a two-year warranty during which we'll provide paid overnight shipping on warranty claims."
Bae also told us each Kirabook will be hand-calibrated to the Adobe sRGB color space before it leaves the factory, and that this will be stored at the BIOS level, so that it won't be impacted by device drivers or other programs the end user might install. Toshiba's press release provided a pricing range for the Kirabook, but Bae provided us with more specific information at the meeting.
The Kirabook will be available with an Intel Core i5 processor and a non-touch display for $1599, a Core i5 processor and a touchscreen for $1799, and a Core i7 processor with a touchscreen for $1999. All three models will be outfitted with a 256GB SSD and 8GB of memory. Bae declined to comment on which model Toshiba expected to be the most popular, but that their "materials planning is based on selling more touchscreen models."
Toshiba will bundle Adobe's Photoshop Elements 11 and Premier Elements 11 with each computer, along with two years of Norton Internet Security, Online Backup, and Anti-Theft service. The Kirabook will be available for pre-order on May 3 and for purchase on May 12.