We've had about six months to play with Windows 8 (like it or not) and with the first generation of hardware designed for the new OS. So now, with PCs based on Intel's Haswell CPU poised on the horizon, it's time to take stock of the best Windows 8 hardware available today. You may be able to snap one up for a bargain-basement price as the industry clears out inventory in anticipation of second-gen machines.
Our top picks among first-gen Windows 8 devices offer touch capability, along with something deeper: a new take on what it means to be a tablet, a laptop, or a hybrid that lies somewhere in between. As for desktops, members of the latest generation of all-in-ones provide generous screen real estate for both Live Tiles and touch features. We applaud all of the following machines for the way they've risen to the Windows 8 challenge.
Windows 8 tablets: The best and the boldest
Yes, the Surface Pro is the best available Windows 8 tablet. Though it's not quite the iPad killer Microsoft should have created, it's a huge improvement over Surface RT, thanks to a vastly better display, Ultrabook-caliber components, and a full version of Windows 8 Pro.
Surface Pro can run all of the legacy desktop applications you need for serious productivity—and run them well, outpacing many full-fledged Windows 8 hybrids. And who doesn't love its smart industrial design? Its VaporMg chassis still inspires us today, offering a level of fit and finish missing from competing tablets.
It's no easy feat to pack a full computer into such a small space. But given Microsoft's vast resources, we're disappointed that the Surface Pro is so much thicker and chunkier than the new iPad and the Surface RT. Also, its display, though very nice, isn't Retina-caliber—and is too small for serious work. And finally, Microsoft's two keyboard options are starting to look worse compared to those that other hybrids offer.
Our other favorite Windows 8 tablet makes no apologies for what it is, and what it costs. The Razer Edge Pro is a Windows 8 gaming tablet built expressly for playing PC games on the go. The tablet's Core i7 processor and discrete Nvidia graphics allow it to run graphics-intensive games at decent frame rates—and when playtime's over, the Edge Pro can run legacy desktop applications too. It's really, really fast.
It's also really, really expensive: $1450 for our test model, not counting the gaming accessories you'll likely want. Not surprisingly (given the horsepower), it runs a bit hot, and its battery life falls just short of 4 hours. But this tablet isn't interested in being practical. It just wants to play hard, and that it does.
Hybrids and laptops are merging
Tablets are just a decent keyboard away from being hybrids, and the laptop-shaped machines in this section blur the line we once drew between tablets and portable computers. You can't knock the versatility of a machine that can fold flat like a tablet, and then unfold for more intensive work, its keyboard willing and waiting. You also can't expect a hybrid to have quite the power or features of a full-fledged laptop, though many people will find that it comes close enough.
The HP Envy x2 offers a good-size, 11.6-inch display and a keyboard dock that packs a second battery. The Envy x2 lasts about 8.5 hours when running on its main battery, and the dock's battery provides almost 5 hours of service beyond that. Another plus: The keyboard's pretty comfortable to use. Though the tablet's Intel Atom processor is no barn burner, the device didn't feel sluggish during normal use. Its brushed-aluminum case will catch envious eyes in the café.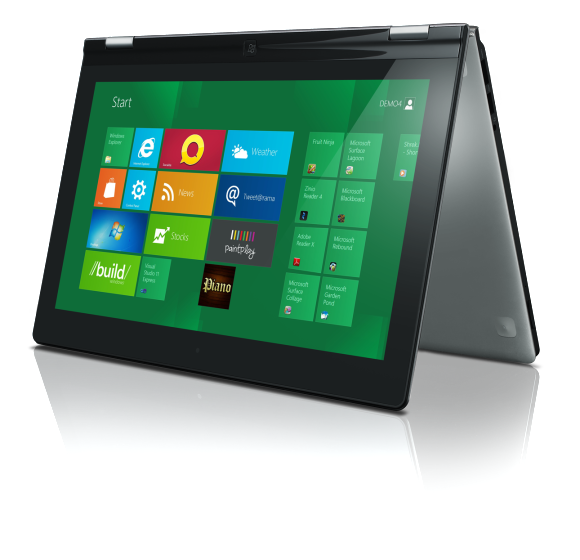 The Lenovo IdeaPad Yoga 13 is one of the most innovative designs we've seen in the first generation of Windows 8 machines. Its 360-degree hinge permits the laptop to fold over itself completely to become a tablet, or even to stand up like a tent for presentations. At 3.4 pounds, the Yoga 3 is less portable than a regular tablet, but its 13-inch, high-resolution (1600-by-900-pixel) touchscreen makes the additional burden worthwhile.
A full-fledged laptop like the Dell Inspiron 15z offers a more luxurious—though also bigger and heavier—experience, with a 15.6-inch touchscreen display and a gray brushed-aluminum chassis. It includes four USB 3.0 ports and even a DVD+-RW drive. Our test model (equipped with Intel's 1.7GHz Core i5-3317u CPU) delivered decent performance, and Dell subsequently upgraded the model with faster CPUs. The battery life is the only notable disappointment, at less than 3.5 hours.
Huge touchscreen all-in-ones let Windows 8 spread out
Dell also sells one of the best touchscreen all-in-one PCs we've seen, the office-ready OptiPlex 9010. Its 23.6-inch, 1920-by-1080-pixel widescreen provides a very sharp picture, but the coolest part of the design is a double-jointed arm that lets you move the display up and down and slightly forward, as well as tile it in the traditional fashion. It even has a standard VESA mount point so you can hang it on a wall.
The high-end configuration of our test model included a fast Intel Core i7-3770S CPU and 8GB of DDR3/1600 memory. The system's integrated Intel HD 4000 graphics managed playable frame rates at lower resolutions.
The HP Envy 23 TouchSmart is a consumer all-in-one that stuffs a lot into its 23-inch touchscreen design: A third-generation Intel Core i7-3770S processor, 12GB of RAM, an Nvidia GeForce GT 630M graphics card, and an impressively large 3TB hard drive. Its low-voltage processor reduces its power potential a bit, but the Envy 23 still outperforms other desktops in its class. It comes with a Blu-ray Disc optical drive, built-in Bluetooth 4.0, and Wi-Fi 802.11a/b/g/n. The stand, though sleek, can be a bit annoying, since it prevents you from storing any peripherals (such as the keyboard) under the screen.
The best Windows 8 machines are touch-friendly and increasingly versatile
Whatever else you can say about Windows 8, it has changed the way we look at computers and what we want to do with them. You can't enjoy the full Windows 8 experience without a touchscreen, though nontouch displays remain available in lower-cost models.
Tablets have definitely changed the way we look at laptops, making hybrids an increasingly popular middle-ground choice. We're looking forward to whatever comes next. Even if a Windows 8 watch seems far-fetched at this point, everything is still on the table.