Choice has always been a hallmark of the desktop Linux world, where users can select not just the distribution they prefer but also the desktop environment, among virtually countless other features.
Soon, however, the pool of desktop options will get even bigger thanks to a new project that recently launched.
The project, currently codenamed "KLyDE," for "K Lightweight Desktop Environment," aims to create a lightweight version of the popular KDE desktop.
'A kitchen sink approach'
"KDE is not intrinsically bloated," wrote Will Stephenson, creator of the project and lead maintainer for KDE at openSUSE, in a blog post earlier this month. "At its core, it jumps through a lot of hoops for memory efficiency and speed, and is modular to a fault. But most packagings of KDE take a kitchen sink approach, and when you install your KDE distribution you get a full suite of desktop, applets and applications."
The KlyDE project aims to put KDE's modularity and configurability to work toward the creation of a lightweight alternative. Specifically, it hopes to create a desktop environment with a minimal footprint, simplified configuration, and a fast startup.
Toward the first of those goals, KLyDE will separate out optional components of the KDE desktop into subpackages, allowing a minimal installation without them.
"This targets big lumps of RAM/CPU usage and objects of user hatred like Nepomuk and Akonadi, but also smaller items like Activities and Attica (social desktop support) and non-core window decorations/styles/etc.," Stephenson explained.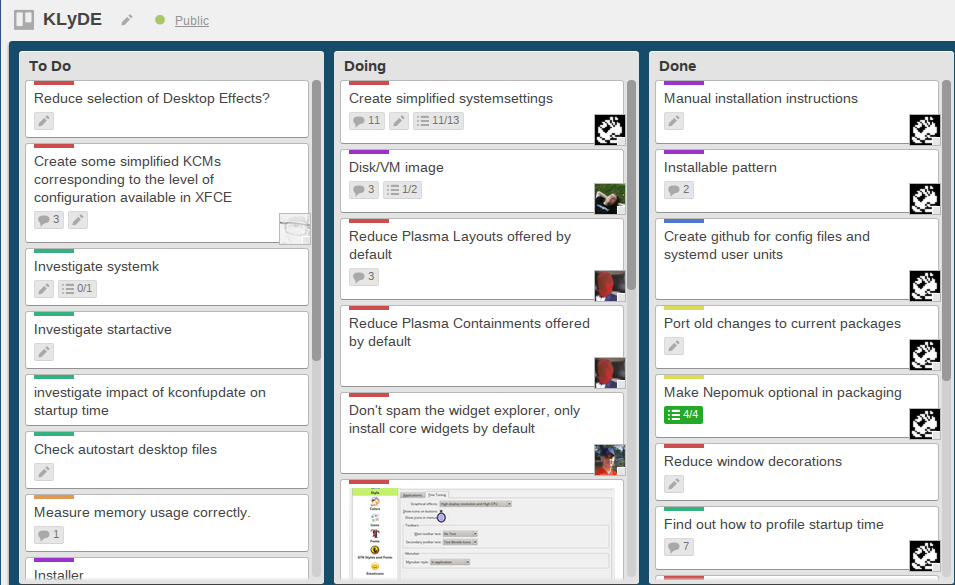 The optional components will always be available, he added, so those who want to can just add a particular package back.
Faster startup times
Focusing on configuration, meanwhile, KLyDE will also offer different profiles of the KDE desktop that are tailored toward different purposes but feature the same installed packages, Stephenson explained.
Finally, KDE's optional components are already highly optimized to not affect startup time, so the project is currently investigating alternate startup systems, he added.
Work began on KLyDE during a SUSE "Hack Week" event earlier this month. You can check out what's been accomplished so far through the openSUSE Build Service site and on the KLyDE page on Trello.
In the meantime, the video below offers a more detailed explanation of the project and its goals.