At a Glance
Expert's Rating
Pros
Slick design
Extra features
Cons
Requires extra steps in IE
Our Verdict
MightyText boasts a slick interface and an impressive set of features…and it's free.
Free texting service MightyText actually manages to live up to its name.
The hardest part of using MightyText is the initial setup. Like many desktop texting services, it works with Android devices only, and requires that you install a mobile app on your phone. Once the mobile app is installed and you're ready to use MightyText on your computer or tablet, you have to do a bit of tinkering with your browser's settings if you'd like to receive notifications of new messages. But MightyText guides you through the process— which involves changing some security settings in Internet Explorer or installing a third-party add-on in Firefox—and it's a one-time thing.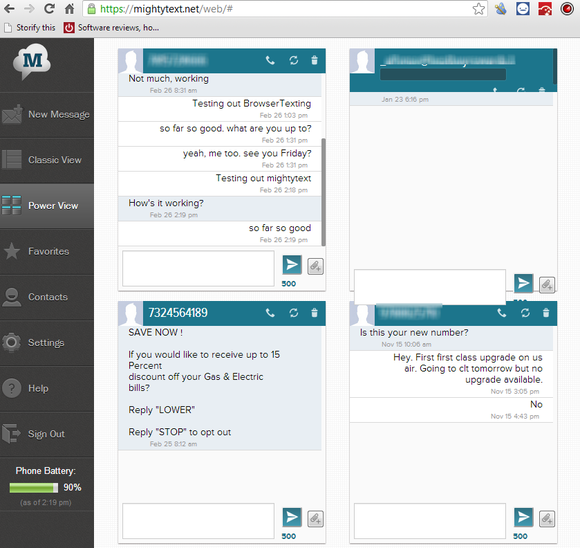 MightyText's Web app is slick, and it lets you choose between a "classic view" and a "power view." The classic view uses a layout similar to Microsoft Outlook, where you see information about the sender in the first column and then message details in the next column. The power view, meanwhile, displays phone-sized fields on your computer screen that display recent text messages in conversation form. The power view lets you see more messages at once (it fit eight on my screen), while the classic view gives you more space for viewing message details. Switching between them is easy.
To send a message, you click the new message button, and a small window for composing it pops up in the lower right corner of the screen, reminiscent of how Google's Gmail works. And, much like Gmail, MightyText also puts a message composition window at the bottom of the conversations you view, making it easy to send a reply message.
MightyText lets you mark favorite messages, browse through contacts, and easily adjust the settings (which include whether pressing enter should or should not send your messages and whether you want to get pop ups to notify you of new messages and calls). It also displays your phone's battery life and notifies you of incoming and missed calls via pop-ups.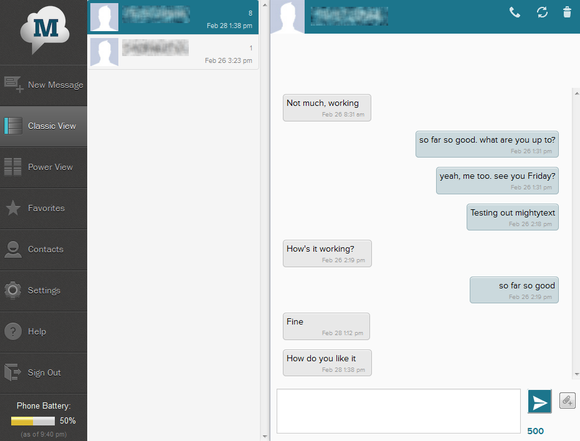 MightyText is slick, seamless, and—best of all—free. It's my desktop app of choice for my Android phone.
Note: The Download button takes you to the vendor's site, where you can download the latest version of the software.