At a Glance
Expert's Rating
Cons
No way to tweak effects
No way to independently change font size
Our Verdict
Fotor is no Photoshop, but it's simple, fun, and works well for basic image editing.
If Picasa has taught us anything, it's that not every image editor has to be Photoshop. Sometimes you just want a quick, fun way to enhance your photos, add some neat effects, and maybe create a collage or two. If that sounds like fun and you happen to be rocking a Windows 8 device, you should check out Fotor, a free photo editor that uses the Modern interface. It's fast, visual, and has virtually no learning curve.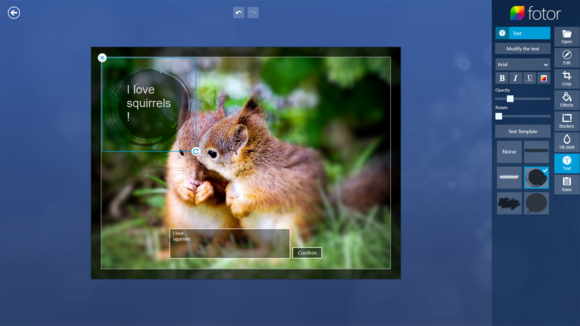 When you launch Fotor, it lets you open an existing photo to edit, or start working on a collage. It also comes with six sample photos arranged in an attractive grid, to get you started. The simplest way to get a feel for what Fotor is like is to click a sample photo. Do that, and you'll find yourself in the editing interface.
In editing mode, the image dominates most of the screen, and an editing toolbar lines the right side of the screen—opposite where you'd normally expect it, but in keeping with the Modern interface convention. The toolbar is subdivided into eight sections, six of which contain editing tools: Basic editing (color corrections), cropping, effects, borders, focus effects, and text tools. The other two sections let you open new files for editing, and save your work.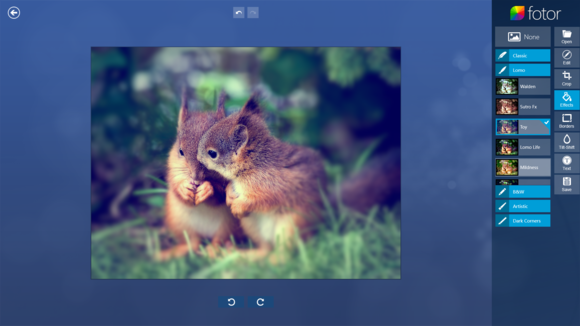 The color correction interface uses sliders, with live image updates: Just move the slider and see the change instantly. Cropping is similarly intuitive, with 11 preset aspect ratios, and a free-crop mode (to set your own aspect ratio). Just drag a frame across the image to set out your crop area, and click Confirm when you're happy with the composition.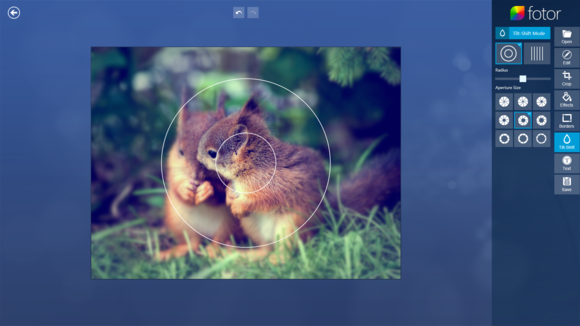 Image effects are divided into five categories, ranging from Classic to "Dark Corners" (i.e., vignette effects). While each category contains many different effects, individual effects cannot be adjusted in any way. Many of the image modifications are heavy-handed, and Fotor offers no way to tone down the amount of influence a given effect has. Also, you can't layer effects one on top of the other. You need to pick one effect for your image and stick with it. The Borders category is similar: There's a rich selection of borders, but you can't tweak anything, like the size of the margin or the color of a given border.
One category that does offer fine-grained adjustments is the Tilt-Shift Mode, whereby you can apply selective focus effects to your image. Tilt-shift (a "miniature look") isn't the only option: You can also apply a center focus effect, where the subject appears sharp and surrounding detail is blurred out. Both center focus and tilt-shift effects offer many adjustments: You can change the tilt shift's angle, and change either mode's blur radius and virtual aperture size. Of all the tools Fotor offers, selective focus is the most nuanced.
Finally, you can also overlay your image with some text. The text tool offers a limited number of fonts (you can't pick from any font installed on your computer), and lets you pick one of several overlay templates, such as speech or thought bubbles. There is no way to control the font size independently of the template: You can only resize the text along with the speech bubble it's in.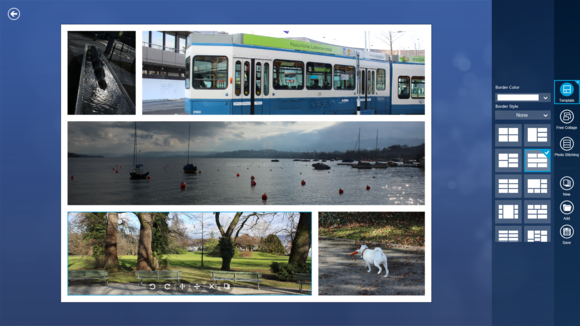 All in all, Fotor does what it does quite well. It excels in being quick, and quick to master. Few features are cryptic, and none appear to rely on hidden toolbars you need to slide into view. If you want to edit images in the Modern user interface, Fotor is a great option.
Note: The Download button takes you to the Windows Store, where you can download the software to your system.