We lead rich virtual lives on social networking sites like Google+, Facebook, and Twitter. So what happens when real life catches up, and our flesh-and-blood bodies succumb to mortality? For our virtual selves, at least, some concrete answers are available—ways to settle our digital affairs after death, while minimizing hassle and heartache for loved ones.
Google sets the standard by building a dead man's switch (one with a gentler name) into your Google account features. Facebook and Twitter also have processes in place for handling accounts of the recently deceased, though they're somewhat more cumbersome. A few good Web services can help for all other online cases, passing along login information based on triggers you can set yourself.
Google's dead man switch
Google's new Inactive Account Manager system is simple to understand and set up. Accessible from your Google account settings page, it helps you set up a time-out period for your account—the length of time you can go without logging in before Google assumes that you're never coming back. The default is three months, but you can dial it up in increments of 90 days until it tops out at a year and a half. I recommend setting it to at least six months, though you could vary this period based on how often you log in.
A fail-safe is built into the service: One month before the timeout period, Google will send you an e-mail reminder (and an optional SMS message, if you give them a phone number) to make sure you're not coming back. Once your account is inactive long enough to trigger the Inactive Account Manager, Google will send a message to up to ten people notifying them that your account is now inactive.
You'll need to provide a working phone number for every contact. Google will send each of them a unique verification code so they can download any data you'd like them to have.
You can choose which pieces of your Google data to share with each person. For example, you can arrange for close friends to get links to download Picasa photo albums, while you entrust a family member to have access to your mail, Google Voice messages, and everything else. They'll have a three-month window for doing so—after that, they'll be locked out for good.
Finally, you can configure your Google account to eradicate every trace of itself from the Google servers. That includes all of your public data, from YouTube videos to blog posts and the like.
Twitter and Facebook involve more hassle
Both Twitter and Facebook have systems in place to help you close out your accounts after you die, but neither is as thorough, nor as intuitive, as Google's new tool. You'll have to do a little legwork and assign someone to settle matters on your behalf.
Twitter will allow a designated party to deactivate your account without needing your password, but it requires a heck of a lot of paperwork. The full article on contacting Twitter about deceased users is worth a read, but in brief: Twitter needs your username and a copy of your death certificate, along with a signed statement from your loved one explaining who they are, how they know you, proof that the Twitter account belonged to you (if your username doesn't match your real name), and a copy of a government-issued ID (such as a driver's license) that proves their identity. They then have to fax or mail all of that to Twitter—the appropriate address and fax number are both on the page for the Twitter Help Center.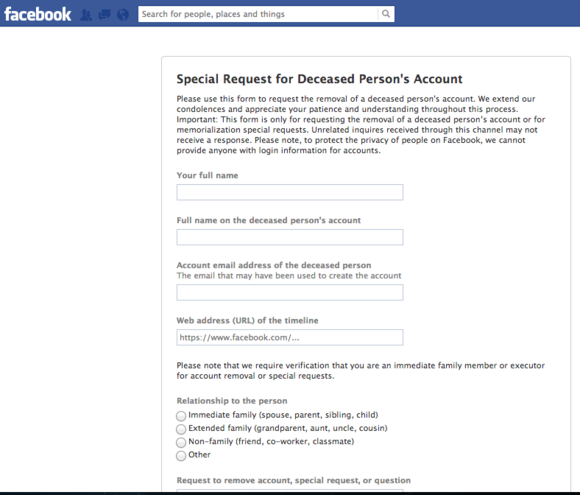 Facebook requires a similar amount of information, but it at least provides an online form to help your friend or family member submit the information quickly. Facebook also goes one step above and beyond deactivating or deleting your account: Your loved ones can convert your Facebook page into a memorial page that has higher security and allows friends and family to post memories about you on your timeline.
Entrust a loved one with your digital estate
Facebook's neat/creepy memorial account feature aside, in most cases, it's much faster and easier to provide your login information to a trusted friend or family member, along with instructions to delete your accounts after you've passed away. Asking a loved one to delete your Facebook account after you die is way more efficient than having to verify your death with Facebook, which can often take several days. Deleting your Twitter account is even easier—just head to "Deactivate my Account" at the bottom of your account settings page, follow a few instructions, and you're done.
Deleting your information isn't the only reason you should keep a record of your passwords on hand for loved ones. Because most online stores like iTunes are actually selling you a license and not the media itself, you can't count on retailers like Apple to help your loved ones get into your account. If you download or stream a lot of media, your passwords may be the only things that keep your music and movies in the family.
Build your own dead man switch
If you feel uncomfortable giving out your account passwords while you're still alive and kicking, you could always set up a dead man switch of your own to send out that information. I recommend using free services like the appropriately named Dead Man's Switch or Deadman. Both will securely provide the previously mentioned password and other personal information to your loved ones after your death.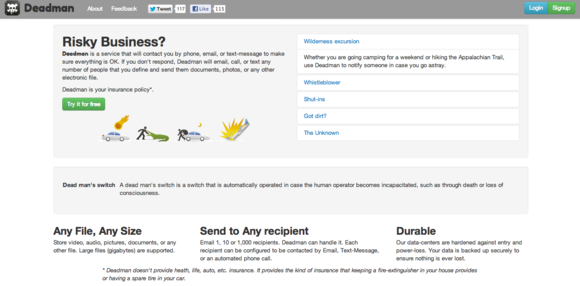 Just like Google's Inactive Account Manager, these services have variable time delays that you can configure to be days, months, or even years after your last login. Most will send you an e-mail a few days before the deadline. If they don't hear back by the time your deadline rolls around, they'll automatically send a prewritten message to your loved ones. Both of the services recommended here are free but also have premium options, such as the ability to add more recipients and encrypt your message until it's sent.
Of course, if you're not concerned with that extra security and you plan on setting up Google's Inactive Account features anyway, you can use Google to disseminate your passwords and instructions for downloading all your media and shutting down your accounts. Since you can customize the message that Google sends on a user-by-user basis, you can include any relevant passwords and instructions for other services in your post-mortem email blast.
Exiting gracefully from virtual life
It's a grim subject, but the process of preparing your digital estate can take as little as an hour once you've gathered your passwords and decided what to do with all your data. More important, it can save your loved ones weeks or even months of frustration and trouble.