As laptop and desktop sales plummet by record amounts, some PC manufacturers are wading out of their comfort zones in hopes of breathing life back into the market.
Two prominent examples have reared their heads recently. On the Wednesday of last week, Toshiba, a manufacturer perhaps best known for midrange PCs at competitive prices, took a swing at the ultrapremium market with the Kirabook, a thin and light laptop with an ultrahigh-resolution display on a par with Apple's Retina-packing MacBook Pros. And just one day earlier, HP placed a big bet on futuristic motion controls, announcing that it will bundle Leap Motion controllers with select PCs, and will embed the technology directly into future devices.
Other PC makers are trying their own experiments. Acer, for one, has teased about a "unique notebook" that may be able to convert into a desktop with a raised touchscreen. And Asus has launched a desktop that transmogrifies into a gigantic detachable Android tablet, while Lenovo is preparing a tabletop touchscreen PC designed with digital board games in mind.
These are early signs of a sea change among PC makers, companies that for years subsisted on selling unremarkable products—essentially, spec lists and price tags—with no major distinguishing features. That strategy no longer works in the age of tablets.
What we're witnessing now is an attempt to adapt.
Why humdrum laptops won't fly anymore
PC makers are being forced to experiment because the traditional laptop and desktop markets are drying up. It's not just unit sales that are in decline, it's revenues as well. HP, for instance, saw its PC revenues fall 8 percent last quarter, and Toshiba saw a 16 percent PC sales decline in its 2012 fiscal year due to falling demand in the United States.
But don't blame Windows 8 alone for the PC industry's woes. The reality is that PC sales were on the decline before Microsoft's operating system went on sale, largely because tablets have tweaked people's purchasing decisions.
As Gartner analyst Mikako Kitagawa noted in January, most households no longer feel the need to have one laptop or desktop for everyone. Instead, people are buying tablets for consumption uses, and hanging onto one or two household PCs for productivity. Computers, in that sense, have become like microwaves. Users replace them only when absolutely necessary.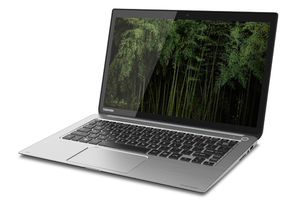 "The PC's not going to be an everyday device for most consumers," Kitagawa said in an interview. "Tablets will probably take that position."
As a result, PC makers are changing their focus. Instead of trying to sell lots of cheap computers, they're turning more attention to premium PCs, designed to attract shoppers who want a product built to last.
Toshiba's Kirabook and Acer's upcoming laptop-desktop crossover are examples of that trend, Kitagawa said. But selling on these new premium brands won't be easy. Acer, for example, cemented its reputation for dirt-cheap laptops in the netbook era. That may explain why the company is using a Star Trek tie-in to promote its next premium PC.
"It's been their strength, of course, to be a low-price leader, but that market is not going to go anywhere going forward, so they have to make changes," Kitagawa said.
That's not to say that PC makers are ignoring the low-end of the market. Later this year, consumers can expect touch-enabled Windows 8 notebooks running on Intel's Bay Trail processors, with prices as low as $200, along with touch-enabled Ultrabooks in the $500 to $600 range.
Still, whether these budget Windows 8 devices can compete with Apple's iPads and cheap tablets like Amazon's Kindle Fire is unknown.
But while the traditional PC market is on the decline, it's still a mammoth business, with 76.3 million units sold last quarter alone, according to IDC. As the market flattens out and tablets gobble up an increasing slice of the low end, however, PC makers will likely compensate by trying to sell more expensive machines—which is why we'll see more interesting products aimed at grabbing shoppers' attention.
To sell, a high-end PC needs to stand out.
Desperate times, desperate measures
Granted, PC makers have always offered expensive products, but in the past, the differences in prices have typically come down to component speeds. The higher the price, the heftier the hardware inside—it was as simple as that. But now PC makers are focusing on unique features, rather than raw performance, to justify higher prices.
Patrick Moorhead, president and principal analyst at Moor Insights and Strategy, sees PC makers' newfound experimentation as an offshoot of what began last year with Windows 8 hybrids and convertibles. HP's upcoming Leap Motion devices, and Acer's convertible notebook, are part of a "second wave" intended to make the PC cool again.
"I think what they're doing is trying to get a jump on this next wave of innovation, but also to find some sort of advantage that they can put out there competitively," Moorhead said in an interview.
Over the next year or so, he expects PC makers to refine those hybrid designs, while also introducing new technologies, such as eye-tracking, voice commands, and wireless connectivity to larger displays.
"In times of pain, new tech will tend to get more creative and take more risks," Moorhead said, though he also acknowledged that some companies go the opposite way, avoiding risky bets and trying to protect their core business.
To boldly go where no man(ufacturer) has gone before
While it's true that PC makers are taking risks by investing in fresh designs and new technologies, sticking to the status quo could be even more fraught with peril. PC makers have survived for years by doing little aside from pushing prices ever lower on barely distinguishable, borderline commodity products. Hey, it's what sold.
It's not what's selling any more, though. Unexciting, low-cost laptops don't catch the public eye as ferociously as tablets. Mix that meh with the fact that tablets often undercut cheap notebooks on price, and you have a recipe for future disaster.
On the other hand, tablets can't compete with the power or profit margins of high-end laptops, making pricier products a possible safe haven for PC makers. But first, manufacturers must convince consumers that dropping the extra bucks in these cash-strapped times is a worthwhile investment. Current luxury features such as backlit keyboards and beefy processors are nice and all, but they simply don't drive mass sales the way that eye-popping features might—repeat, might—be able to.
The winds of change are indeed a-blowing throughout the industry, but experiments like the Kirabook, the Asus Transformer AiO, and HP's Leap Motion support show that PC makers are well aware of the challenges they face, and are actively innovating to rise to the occasion.
Will such gambles pay off? We won't know for sure for some time. One thing is certain, however: PC makers, finally, are thinking outside the ho-hum black box.