At a Glance
Expert's Rating
Pros
Lets you save different configuration profiles
Customizable and easy to use snapping feature
Cons
Unattractive interface
Custom window configurations don't always work
Our Verdict
Chameleon Window Manager's interface leaves something to be desired, and while the features are useful, they don't always work right.
Snapping and tiling windows isn't everything. In your daily use of Windows, you may need more advanced features if you want to really tame your desktop. You might want windows to always open on a certain monitor or in a certain size. You might want easy access to transparency or always on top toggles. You might want certain program windows to automatically snap to one side of the screen every time you open them.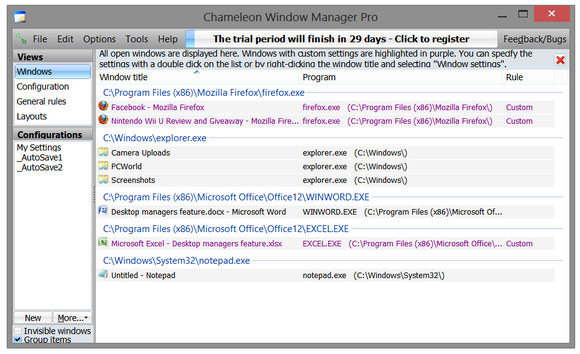 Chameleon Window Manager offers all these features and quite a few more, in one of three packages: a very limited free version, a $25 Standard version, and a $30 Pro version. Surprisingly, basic features such as drag to snap are included only in the Pro version, while the other, more advanced, features are part of the Standard version as well.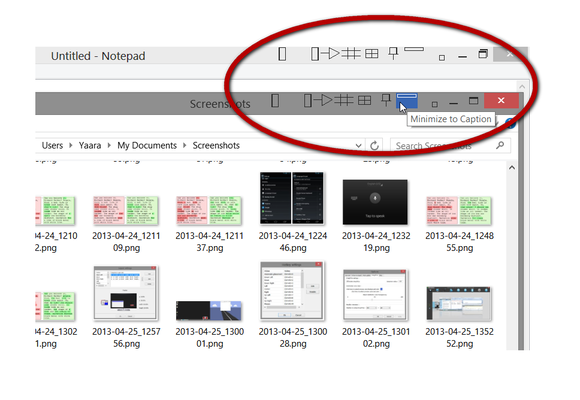 Chameleon Window Manager's somewhat cluttered and confusing interface includes a multitude of options which you can set for all your windows, for specific programs, or even for specific windows within programs. For each window, you can include various title-bar buttons for actions such as basic snapping, monitor switching, transparency toggling, etc. After spending quite a while setting everything up, you can save your configuration so you don't lose it, or switch between several different ones that you've saved.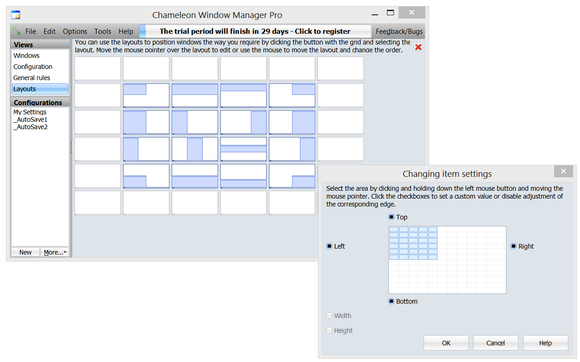 All this is great on paper, but in reality I found that Chameleon Window Manager is a very inconsistent performer. My settings worked some of the times and not in others, windows became transparent when they shouldn't have, and the title bar buttons disappeared without a trace for no apparent reason. Not a great loss, considering these buttons are not the most attractive thing I've ever seen. You can try the 30-day free trial and see how you fare, but considering other options, Chameleon is not the best value for money out there.
Note: The Download button takes you to the vendor's site, where you can download the latest version of the software.